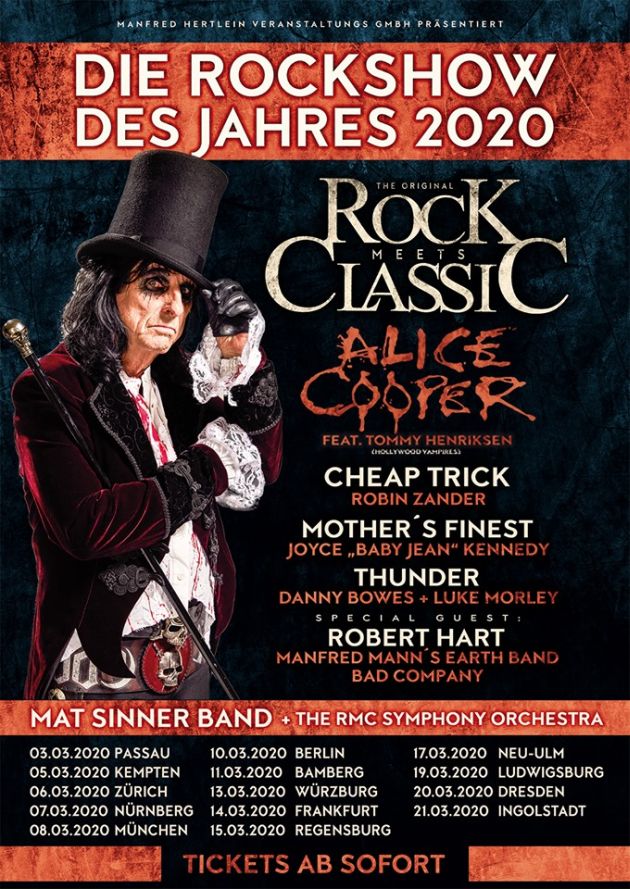 To all the fans of Rock music that meets Classic: Look forward to the Rock meets Classic Ensemble, that will go on a superb RmC Tour in 2020 to present real international stars and true heroes of Classic Rock.
First in the row is Alice Cooper! The shock rocker, who is a cult figure with the status of a legend, is headliner of the Rock meets Classic Tour 2020. His range of hits is huge and includes 'School's Out', 'I'm 18', 'Poison', or 'House Of Fire'.
Which songs ALICE COOPER will perform during the next year's Rock meets Classic, is still a secret. Mat Sinner, the musical leader of Rock Meets Classic, explains, what is defined so far: "After the acclaimed performances in 2014, Alice really wanted to return to our stage, and we also wanted him back there, because Alice is nothing but cult. So in 2020, we celebrate his 50th stage anniversary here on our stage, and we are very proud!" In 2020, Mr. Cooper brings his guitarist Tommy Henriksen, who is also part of the HOLLYWOOD VAMPIRES, a band project of Cooper and actor Johnny Depp!
Another artist eagerly awaited by the Rock meets Classic fans, is Robin Zander of CHEAP TRICK. It so special, because the likeable US rockers come to Germany very infrequently. Most recently, CHEAP TRICK were on the road across the US together with the Hair Metal heroes POISON and did a sold-out stadium tour. In spring 2020, Robin Zander will be on a German stage again; because Rock meets Classic makes it possible! He will perform mega hits like 'I Want You To Want Me', 'Surrender', and many more. More than 20 million sold records, more than 5,000 live performances and - the highlight of his career - the appointment for the glorious "Rock and Roll Hall of Fame" in 2016; CHEAP TRICK belong to the big players of the Rock'n'Roll circus!
The total girl power comes with Joyce "Baby Jean" Kennedy, the lead singer of the Funk Rock Soul band MOTHER'S FINEST that became suddenly famous in Germany (and Europe) with the unforgettable live performance at the WDR "Rockpalast" in 1978. Until today, top hits like 'Baby Love' or 'Mickey's Monkey' belong to the highlights of every concert of the US rock band, and also of the RmC!
For a fulminant beginning in 2020, there will be the British Rock legend THUNDER that regularly enters the Top 10 of their home country with their album releases since their reunion in 2011. In 2017, they achieved pos. 24 of the German charts with 'Rip It Up'. Experts know, that since 1989, THUNDER are one of the best Rock live acts all over the world. This is particularly due to the charismatic singer, Danny Bowes, the fantastic riffs of guitarist Luke Morley, and the great hits like 'Low Life in High Places' or 'Back Street Symphony'.
Further, the Manfred Hertlein Veranstaltungs GmbH is pleased to announce another highlight of the eleventh edition of Rock meets Classic: Robert Hart, current singer of MANFRED MANN'S EARTH BAND, and former shouter of BAD COMPANY, who will inspire the audience as special guest of the RmC. Mat Sinner, the musical leader of RmC, says about the obligation of Robert Hart. "We recently were allowed to see him during a private concert - and his singing and performance blew us away."
From March 3, 2020, tens of thousands of fans will have the chance to admire Cooper & Co. live on stage within the frame of the 14 Rock meets Classic concerts. Tip: Buy your ticket for the Rock meets Classic Tour 2020 right now and look forward to living legends and heroes of Rock music!
Here are all the artists of the Rock Meets Classic Tour 2020:

- Cult rocker and main act ALICE COOPER ('School's Out', 'Poison')
- CHEAP TRICK lead singer Robin Zander ('I Want You To Want Me')
- Joyce "Baby Jean" Kennedy, singer of MOTHER'S FINEST ('Baby Love')
- Robert Hart, singer of MANFRED MANN'S EARTH BAND ('Mighty Quinn')
- Britain's rocker THUNDER ('Low Life In High Places')
ROCK MEETS CLASSIC Tour 2020

March 3, 2020 – Passau / Dreiländerhalle
March 5, 2020 – Kempten / bigBOX Allgäu
March 6, 2020 - Zurich (CH) / Hallenstadion
March 7, 2020 - Nuremberg / Arena Nürnberger Versicherung
March 8, 2020 - Munich / Olympiahalle
March 10, 2020 - Berlin / Tempodrom
March 11, 2020 - Bamberg / brose Arena
March 13, 2020 – Würzburg / s. Oliver Arena
March 14, 2020 - Frankfurt / Jahrhunderthalle
March 15, 2020 - Regensburg / Donau-Arena
March 17, 2020 - Neu-Ulm / ratiopharm arena
March 19, 2020 - Ludwigsburg / MHPArena
March 20, 2020 – Dresden / Messe Halle 1
March 21, 2020 - Ingolstadt / Saturn Arena
Concert tickets for 2020 are now available at www.ticketmaster.de , www.eventim.de and at all known ticket shops as well as at www.tourneen.com.
More information here:
www.rockmeetscla
ssic.de
Source: Press Release