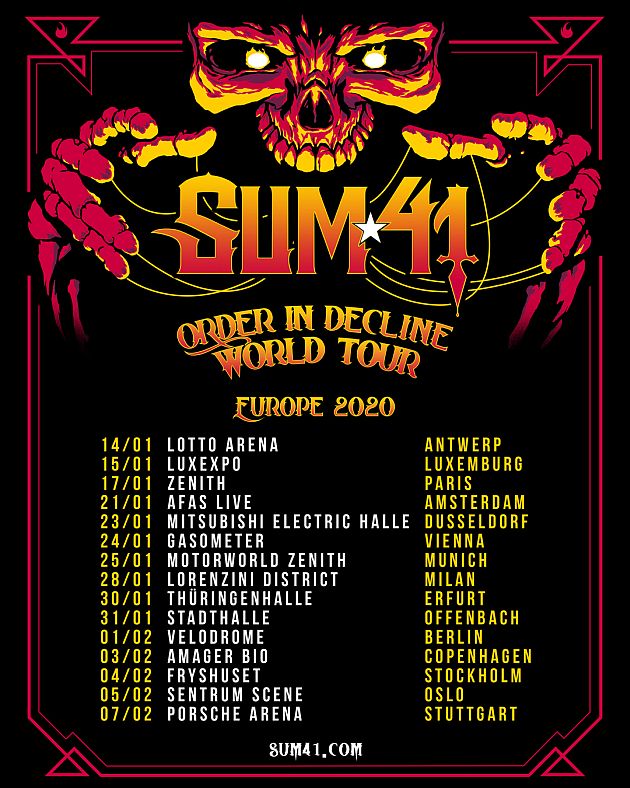 Luxexpo The Box, Luxembourg Kirchberg, Luxembourg
15th January 2020
Sum 41 - "Order In Decline" World Tour - Support: Zebrahead

In the late summer of 2018, SUM 41 frontman, Deryck Whibley, stepped off the tour bus after three solid years of worldwide touring, turned on the console in his home studio, picked up a guitar, and started pouring out song after song. Feeling incredibly inspired from 2016's critically-acclaimed Europe Impala Gold certified, #9 Billboard Top Albums charting, '13 Voices' album and touring cycle, Whibley feverishly started putting together songs from the cascade of ideas flying throughout his mind. Relentless touring and immense energy from some of the largest crowds the band had ever played in front of bred a multitude of ideas that Whibley had stockpiled and couldn't wait to record. Within three weeks, the majority of the music for the new album, 'Order In Decline' was written.
With much of the music written, Whibley focused his attention on the lyrics. "I've always just let words come out and whatever they are, they are," Whibley remarks, "I usually just follow and let them flow." Unconsciously, Whibley realized that there was a persistent theme in his stream of consciousness that ultimately became a critical response to the world and society at large. Travelling the world and observing how pervasive division, racism, and hate had become, punctuated by the repulsive social and political turmoil invading his own home nations of the United States and Canada, Whibley found himself writing about a great many things he didn't necessarily want to write about. "The last thing I wanted to do was write a social or political protest record, and 'Order In Decline' is not that," Whibley clarifies. Instead, 'Order In Decline' is a burst of uninhibited feeling, a page out of his journal, a window into his soul that reflects on extremely personal and vulnerable events, because as he confesses, "It's also very hard not to have feelings about everything that's going on in the world."
Armed with the most honest and personal songs of his career, Whibley continued to pour everything he had into the album. Producing, engineering, and mixing the album in his home studio, Whibley pain-staking crafted and fine-tuned each song, highlighted by Deryck's fast and full riffs, guitar solos from lead guitarist/backing vocalist Dave Brownsound, harmonious chords from guitarist Tom Thacker, and the heavy, heart-thumping rhythm section of bassist/backing vocalist Cone McCaslin and drummer Frank Zummo. The result is undoubtedly SUM 41's heaviest and most aggressive album in their storied career, while also being its most dynamic and raw.
For each fiery, arena-rock entry, there is an equally powerful, vulnerable ballad that hits just as hard. The honest process of writing 'Order In Decline', in which Whibley chose to not hold back any feelings, ultimately released a weight that has plagued the frontman in recent years. For the first time in SUM 41's 23-year career, Whibley excavated one of his most personal stories ever: 'Never There', a powerful track about the connection he shares with his absentee father, who he has never met. He also shares his feelings on mental health awareness the best way he knows how, by closing out the album with a beautiful ballad called 'Catching Fire' about those he has lost and almost lost throughout his life. The song holds multiple meanings, as at its core, it is also a love song about his wife and the prospect of loving and losing someone so significant to his life.
After over 15 million records sold worldwide, a Grammy Award nomination, 2 Juno Awards (7 nominations), a Kerrang! Award in 2002, as well as multiple Alternative Press Music Awards, SUM 41 is quite simply a rock band - uncompromising and honest with no intention of slowing down. SUM 41 consists of five members including Deryck Whibley, lead guitarist/ backing vocalist Dave Brownsound, co-lead guitarist/ backing vocalist Tom Thacker, bassist/ backing vocalist Cone McCaslin and drummer Frank Zummo
Additional Concert Info

Doors: 19:00
Start: 20:00
Tickets: 41.70 + fees via atelier.lu
Info: https://www.atelier.lu/shows/sum-41-2/
More on
Sum 41
&
Zebrahead