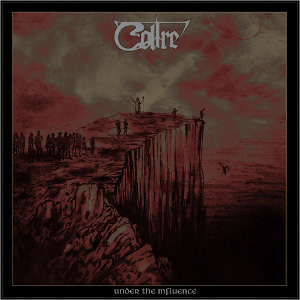 Artist: Coltre
Title: Under The Influence EP
Genre: Heavy Metal
Release Date: 31st July 2020
Label: Dying Victims Productions
Review Flash

All hail England! From the land of milk, honey and the legendary NWOBHM comes: COLTRE! Three guys from London that play kick-ass tunes in the ways of the old. But behold the label info first: "COLTRE was forged in London, England by guitarists Daniel Sweed and Marco Stamigna in May 2019. They met at a MIDNIGHT concert and decided to form a band inspired by the New Wave of British Heavy Metal. They started rehearsing, and by the beginning of 2020 had recorded the four-song EP Under the Influence, to be released in time for their first gig, supporting WITCHTOWER at Boston Music Rooms.
The band self-released 'Under the Influence' on CD and digital formats, but now Dying Victims steps forward to champion COLTRE's cause and release it as a five-song work, featuring an exclusive new track. Rough and rustic but brimming with an authentically ancient fire, 'Under the Influence' is moody metallic majesty: dark 'n' mysterious riffs, portentously galloping rhythms, epic-yet-direct compositions, and the sage-like pipes of Stagmina atop it all. One could be mistaken for thinking COLTRE were some unearthed relic from the original NWOBHM movement, so hot-rockin' is their swords-aloft surge, evoking high fantasy and urban grit in equal measure, and crucially retaining that pivotal rock 'n' roll thrust THIN LIZZY largely gifted to that movement."
I really like the press texts of Dying Victims Records (always imagine the writer doing the write-up only one handed because he has a burning sword in the other hand to feel the almighty power of metal while writing... yup, I need a sword). It is an understatement to say these guys sound pretty old-school and yes, they are clearly inspired by some of the bigger names of the NWOBHM (ANGELWITCH to only name one band) and of course the obvious bands apart from that particular scene like THIN LIZZY. The guitar-work is excellent, the bass is audible and works as a pacemaker together with the kick-ass drumming (for an example of awesome drums and riffs on end check 'The Edge Of The Abyss').
Conclusion: If you love epic melodies played with killer riffs and yet need a bit of dirtiness in the mix, check out COLTRE!
Rating: 7.5 / 10