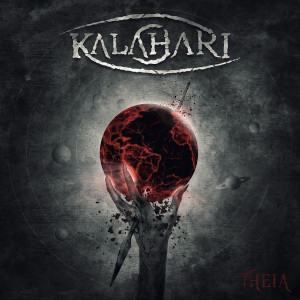 Artist: Kalahari
Title: Theia EP
Genre: Death Metal / Groove Metal
Release Date: 26th June 2020
Label: Self-released
Review Flash

Italian Death / Groove Metal you say? Yup but don't forget the mixed vocals and the Prog Metal moments in the mix which make it interesting for a guy like me that normally would never review a death band. The object of my confused delight is KALAHARI from Forli, Italy. KALAHARI was formed in 2016 and it is a band that has done quite a lot in that tight time-frame (1 Demo, 1 EP, 2 singles and the EP I am writing right now). The PR Agency says: "The band members have a musical background that touches different shades of the metal genre. Powerful break-downs and galloping riffs alternated with acoustic arpeggios and sinuous melodies: the result is an overwhelming sound, which remains clean, and still. Vocalist Nicola Pellacani stated:
''Theia' has been a hell of a ride. A 5-track EP might not seem that big of a deal on paper, but recording this thing was a real challenge for us. This record signs a transition for KALAHARI. We have always been an underground band and this represents our first approach with the environment of a professional studio. We understood there is still so much to learn, and this is the message we have for all the young bands like us out there: be hungry! Never stop learning and always listen, but chose well who you are going to listen to.'"
Listen: I am really not a fan of growling or Death Metal at all but if you do it occasionally to set a course and use it as a stylistic device instead of overdoing it to a point where it doesn't matter if there is an actual vocalist or an angry orang-utan in front of the microphone... you get what I intend to say. Vocalist Nicola does it all: thrash vocals, growling and actual singing (and he does it pretty good). My fave is 'I Am The Mountain' a prog epic with awesome vocals and a high pitch scream that was totally worth every growl on the way.
Conclusion: Even if you do not dig Death Metal growls you should give this a go, these dudes are talented as fuck and deserve your full attention.
Rating: 8.5 / 10