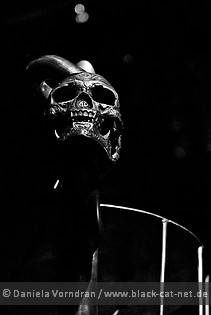 Matrix, Bochum, Germany
9th November 2012
18 Summers & Janosch Moldau

When 18 SUMMERS released the latest album, 'The Magic Circus', in spring 2012, it was the end of a nearly ten year lasting musical silence. After such a long time I had expected some more enthusiasm about their live shows. But maybe the band had been nearly forgotten and younger people don't know them anymore? Something like that must have been reason that only a little crowd was attending the show on this Friday evening, being supported by multitalented JANOSCH MOLDAU.



Janosch Moldau

With 'Redeemer' from 2005, the German composer, producer and musician JANOSCH MOLDAU celebrated his musical debut, which was independently produced all by himself. It took 18 months until he was completely satisfied and eventually released it and received overly positive critics. The fans had to wait almost complete four years until JANOSCH MOLDAU would come up with the successor to his critically acclaimed debut, called 'Motel Songs'. Now enough with that, he put out a remix album featuring many different versions of the well known Singles 'Clear + One with the Sinner' in 2009. Just a few days ago, on 2nd November 2012, Moldau released his new album, 'Lovestar'. http://www.janoschmoldau.com / https://www.facebook.com/janoschmoldauofficial / http://www.myspace.com/janoschmoldau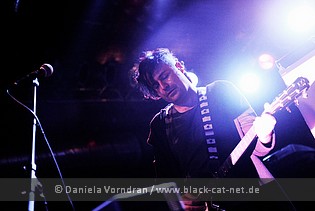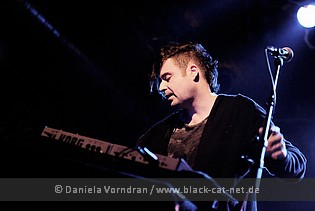 Music & Performance
It is always difficult when only a single person is on stage as warm-up act and also Janosch had a difficult game to play. Just like one of his big idols, Martin Gore from DEPECHE MODE, he wore some glitter under his eyes. This and his movements during the presentation reminded me a lot of the songwriter of this famous British band. But not only visibly, also musically JANOSCH MOLDAU is influenced by Gore, writing and singing music that comes from the bottom of his heart. The set in Bochum was with about 50 minutes much longer than expected. Some sounds take from 'Abraham' as intro were leading into 'My Love' from the new album, what was played live a little different to the album version. Moldau's set was accompanied by artistically well-crafted videos being projected onto a little screen. Most of the set, Moldau was handling his synth, moving his arms and dancing in his special way backwards and forwards. For some songs, he also grabbed a guitar, what was kind of change in performance. Even though the hall was not filled too well, Moldau had obviously some fans applauding hard after every song. But for most people, this one-man-show did not really work and so, JANOSCH MOLDAU got not much more than modest applause when he left stage.

Setlist
01. Abraham (intro)
02. My love
03. Into this life
04. Clear
05. The final show
06. Not with the son
07. Lovestar
08. Bleed on
09. Second best
10. In another world

Rating
Music: 8
Performance: 7
Sound: 6
Light: 5
Total: 7 / 10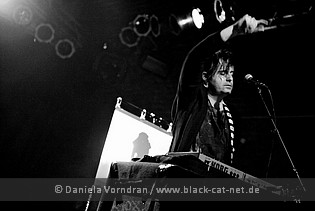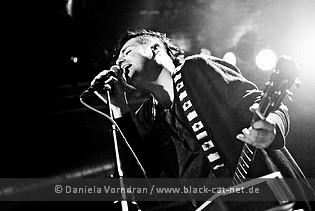 18 Summers

18 SUMMER is the project of Felix Flaucher (live: vocals), previously singer of the band SILKE BISCHOFF, and Frank Schwer (live: guitar) who also worked in SILKE BISCHOFF from 1993 as songwriter and guitarist. Back in history with the start of SILKE BISCHOFF, a band, whil Felix founded together with Axel Kretschmann in 1990. Already in the beginning, the song 'I don't love you anymore' developed to an underground hit, but the band's biggest success was 'On the other Side', a song developing to kind of hymn for the Dark-Wave and Goth scene of early 90s. The name SILKE BISCHOFF traces back to the victim of the Gladbeck hostage drama and was discussed heavily at the beginning. In 2001, the band had a first chart success finally with album 'Phoenix From the Flames'. After a lawsuit in 2002 with partner Axel Kretschmann, who wasn't in the band anymore, Felix and Frank changed the band name to 18 SUMMERS. As 18 SUMMERS, the band released three albums, 'The Magic Circus' from 2012 was the newest one after a nine-year break. Felix Flaucher is not only well-known as musician but also as photographer. He released the photo book 'Under Your Skin' containing lots of his band photographs as well as nude, fetish and portrait photography. http://18summers.eu/ / http://www.facebook.com/pages/18-Summers-official/286436224751177 / http://www.myspace.com/18summers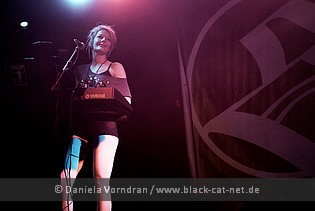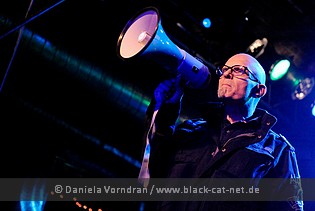 Music & Performance
It took not very long to re-built the stage for 18 SUMMERS, anything like the big stand for lyrics and stuff with his skull head, keyboard and guitar were already in place anyway. Just the desk of Janosch had to be removed and a new microphone to be placed in the middle of stage. Along with the intro and supported by starlight, Felig, Frank and life keyboarder Nicole Thorschmidt entered the stage. But already along with the first song, 'Virgin Mary', strange noises were sounding from one of the speakers and totally destroyed the song. When it did not became any better during following 'Sensation White', Felix asked stage technician Fritz to check the problem and soon, the hall was just screaming "Fritz, Fritz!" When "Superfritz", like he was called beside me, solved the problem, loud cheers sounded through the hall and wonderful 'Deep in your Heart' started. Sad enough that the sound in the front rows did not become really better. The balance just did not fit: voice was too low, guitar sometimes much too loud, sometimes nearly inaudible, bass lines were droning, just the keyboard seemed to be right, after a little problem there was solved as well. Du to those problems, I moved to the back rows later and there it was luckily at least a little better and sound better balanced. But back to the show. With 'Under Your Skin', a quite old song and one of the fan favourites followed soon.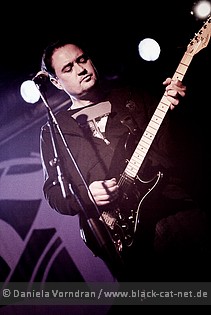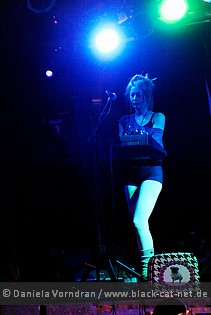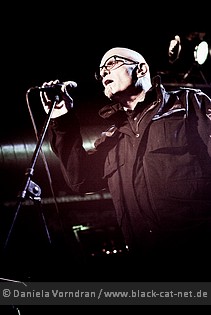 When the keyboard had to be adjusted after three songs, someone screamed "just play unplugged" and what happened in the middle of the set came quite close to that wish. The band presented an acoustic part containing all in all six song. First one of them, 'Ajna', was still played with electric guitar, but then, Frank took a seat and grabbed the acoustic one to start 'The Letter'. Having ended the acoustic set with 'Blue Eyes' and 'Golden Days', the set went on in the known setting with electric guitar and keyboard, presenting the very early scene hit 'I don't love you anymore' when surely lots of attendees were drowning in memories. Some newer songs were now changing with older ones and nearly at the end, finally one song was presented most people had been eagerly waiting for: 'On the other Side'. This one nearly made all sound problems been forgotten. Friday night's concert ended with 'Northern Lights' and soon, light were tuned on in the hall to clear the floor for the following party. It was great to experience a full 18 SUMMERS concert after such a long time. The only down was the bad sound which stole a lot of my excitement…

Setlist
01. Intro
02. Virgin Mary
03. Sensation White
04. Deep in your Heart
05. Chippewa Lake Park
06. Under your Skin
07. Underworld
08. Daddy's coming Home
---
Acoustic Part
09. Ajna (electric guitar)
10. The Letter
11. Merry me
12. Down in the Park
13. Blue eyes
14. Golden Days
---
15. I don't love you anymore
16. Phoenix from the Flames
17. Waste of Time
18. Girl of 18 Summers
19. No Paradise
20. On the other Side
21. Northern Lights

Rating
Music: 9
Performance: 7
Sound: 4
Light: 7
Total: 7.5 / 10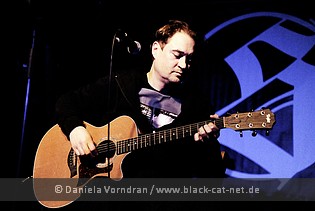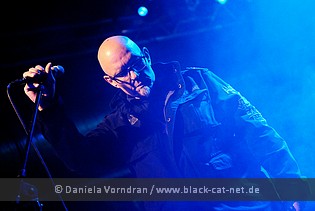 All pictures by Daniela Vorndran (http://www.vorndranphotography.com / http://www.black-cat-net.de/ / http://www.myspace.com/vorndranphotography / http://www.facebook.com/blackcatnet)