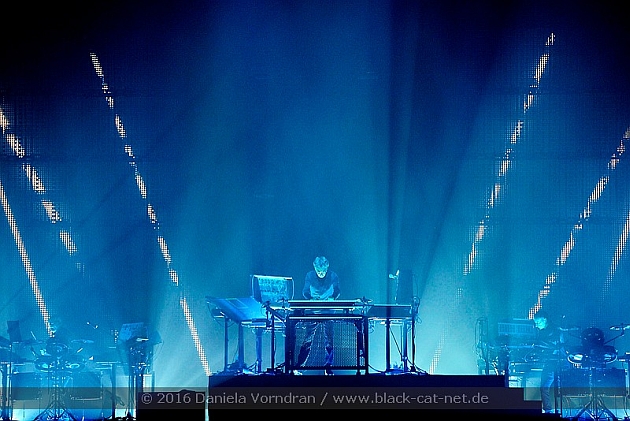 Halle Münsterland, Münster, Germany
21st November 2016
Jean-Michel Jarre - Electronica World Tour

One of the great pioneers of electronic music is without a doubt JEAN-MICHEL JARRE. Already since the early 1970s, the Frenchman works on his vision of electronic music. A vision that is pretty melodic, often rather airy and dreamy and, with few exceptions, purely instrumental. JARRE also holds several records in the Guinness Book of Records when it comes to live shows, so about time to check him out live.
Although he seems to be less often cited as one of the great innovators of electronic music as his contemporaries KRAFTWERK or TANGERINE DREAM, JEAN-MICHEL JARRE is without a doubt one of the spearheads and champions in the history book of electronic music. Classic albums as 'Oxygène' (1976) or 'Les Concerts en Chine' (1982) will sit on the shelf of your parents (or your own) and even people who don't know JEAN-MICHEL JARRE might be familiar with his key tracks as JARRE's music has been often used on radio and TV as jingles or background music. Detractors might say that this is because JARRE's synth music sounds like jingles, that is sounding a bit weightless and harmless without challenging the listener too much. Synthesized music that charms your ears but which is not really pushing boundaries musically. Truth is that JARRE found his signature style pretty early in his career and has been perfecting it since then.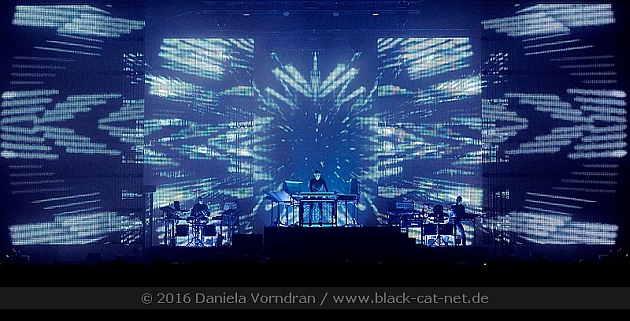 His sound might come across debonair and like easy-listening but if you dig a little deeper in his discography you will soon discover his more experimental, sinister side, as well. A great indicator for JEAN-MICHEL JARRE's legacy and influence are his two most recent albums, 'Electronica 1: The Time Machine' (2015) and 'Electronica 2: The Heart of Noise', released in May 2016. these two ambitious albums feature collaborations with musicians of all eras of electronic music, e.g. VINCE CLARK, PET SHOP BOYS, JOHN CARPENETR, GESAFFELSTEIN, GARY NUMAN, THE ORB, MASSIVE ATTACK, PEACHES, ARMIN VAN BUUREN and many others. As the long list of contributors suggests, 'Electronica 1' and 'Electronica ' are among JARRE's most eclectic and versatile works to date.
http://jeanmicheljarre.com
/
https://www.facebook.com/jeanmicheljarre/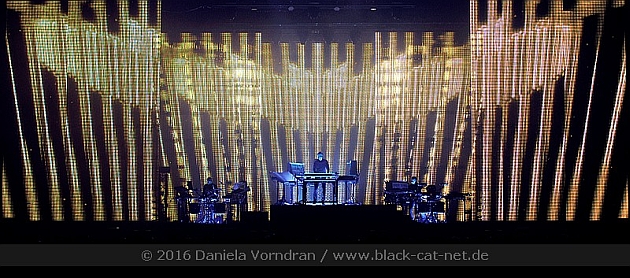 Music & Performance

JEAN-MICHEL JARRE has a reputation of performing some of the most spectacular live shows of all time. Several gigs were record-breaking in terms of attendance, starting with his first entry in the Guinness Book of Records for the largest outdoor concert crowd by then with one million attendees on the Place de la Concorde in 1979. Usually it's been only JARRE himself to break the record, leading up to his 4th entry in the Guinness book with his 1997 gig in Moscow, attended by 3.5 million people. JARRE is notorious for using cutting-edge technology for the visual side of his shows, and especially at those record-breaking gigs he made half of the respective city part of the show with massive laser installations, video screenings and the like.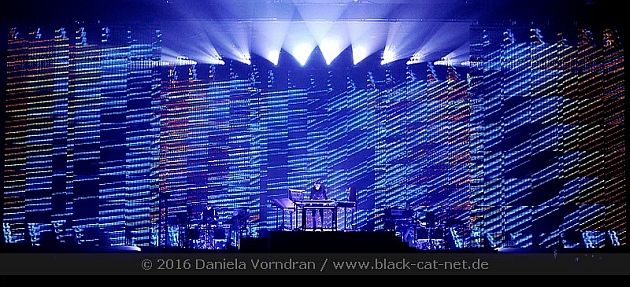 I was wondering how all this megalomania would translate to the (relatively!) small arenas on his "Electronica Tour" this autumn. Of course there would be serious downsizing necessary compared to his huge outdoor shows! However, since I never had the pleasure of seeing JARRE live before and as he did me the favour of playing the Halle Münsterland, just a ten minute walk from home for me, I didn't think twice and grabbed my chance. Although there was no support act announced there was already some DJ playing tunes on the stage when we entered the venue to look for our seats. The DJ stopped at 8 p.m. but it took a while until JARRE finally entered the stage. Time to look around – most people were in their 50s or even 60s, there were some youngsters who probably want to check out one of the pioneers of electronic music and some teens who simply had to go because daddy is a fan and bought tickets.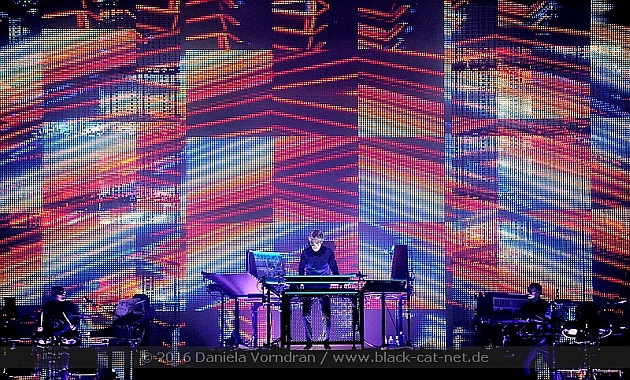 At half past eight, a noisy bass drone introduced the opening track, 'The Heart of Noise'. It was actually so loud that people were literally pressed into their seats and not few covered their ears with their hands. JEAN-MICHEL JARRE and his two live musicians, Claude Samard and Stephane Gervais, were still hidden behind LED screens at the brim of the stage, with another huge LED screen in the back behind them. The LED screens at the front was actually made of several moveable parts and slowly they opened up like some sort of high-tech curtain. JARRE appeared in the centre of the stage on a platform with his fellow live musicians on each side, placed behind towers of gear from synths to drums. JEAN-MICHEL JARRE was of course welcomed with a roaring applause but the real star, at least for me, were those LED screens which looked as they could move back and forth and from side to side, creating some sort of pseudo-3D effect.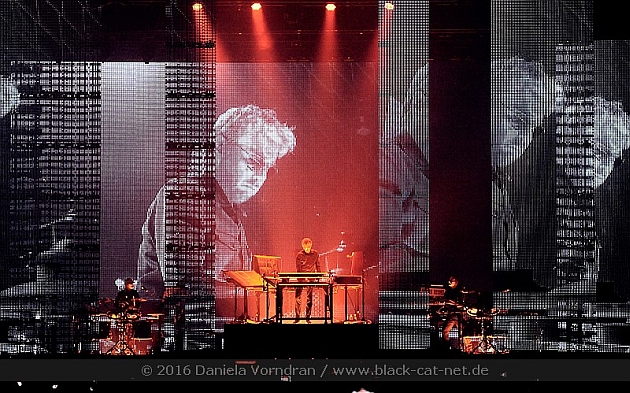 I've seen quite a few big, spectacular shows over the last three decades, including KRAFTWERK's 3D shows, DEPECHE MODE's huge "Devotional Tour" in 1993, the theatrical overkill of SKINNY PUPPY, U2's enormous "360°" stage, to name just a few. What JEAN-MICHEL JARRE delivers on his current tour is up there with the best, definitely one of the most amazing things I've seen so far when it comes to the visual side of a performance. Of course JARRE had to scale down to make his show fit the arenas he is playing at now. But he made up for it by using state-of-the-art technology, and using it cleverly and highly effectively! There were quite a few jaw-dropping moments and one of my favourite ones were when JARRE put on camera glasses to let the audience see on the screens what he is actually doing behind his tower of synths. He does come across a bit like some mad professor who is really into his little gadgets and when the 68-year old comes down from his platform between songs to speak a few explanatory words he seems like the friendly lecturer whose enthusiasm for his topic is just infectious.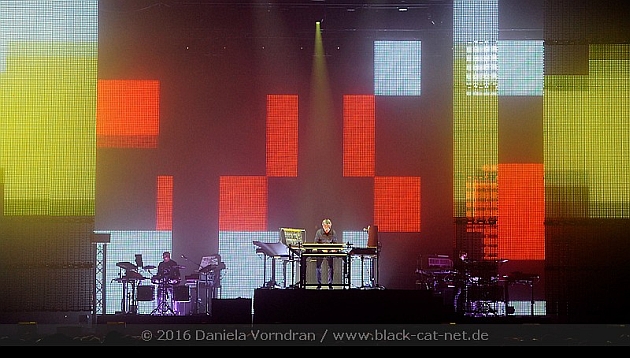 The first half of the show focussed on tracks from the two 'Electronica' albums, with some much welcomed classics as 'Oxygène 2' or 'Équinoxe 7' thrown in. JARRE stayed rather true to the originals when he played older songs but at the same time they were noticeably updated so that they blended nicely with the new material. The volume in the auditorium was still very loud and I wondered how the older fans in the auditorium cope with that? I've seen noisy Industrial acts who perform at a lower volume! Actually I saw a few people leaving early, maybe also because they expected cosy, pleasant 1970s synth music and not the modern techno beats of the new material. Well, it was the "Electronica Tour" after all and perhaps one should check that out before buying tickets! I for one loved the new stuff, especially as they came across edgier and harder live. In particular I loved 'Brick England', the track that JARRE produced with the PET SHOP BOYS, and 'Exit', the song that features a short address by famous whistle-blower Edward Snowden on the screen.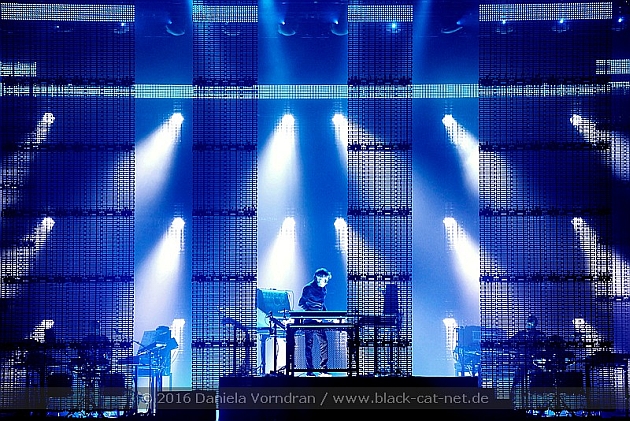 The second half of the show featured more classics, including the arguably most famous JARRE tune, 'Oxygène 4'. Probably the folks who left early should have waited for this part of the performance! JARRE tried to encourage the fans to stand up and dance which was a little awkward as most people were a little hesitant to do so. In the end he got most of the crowd in the all-seated arena on their feet and finished the show with 'The Time Machine' which he produced together with Techno-DJ BOYSNOIZE. For the encore, JEAN-MICHEL had a nice little surprise for us with 'Oxygène 17', a track from the forthcoming and rather unexpected third album of the 'Oxygène' series, and finished with 'Stardust', another track from the 'Electronica' project on which he worked with ARMIN VAN BUREN.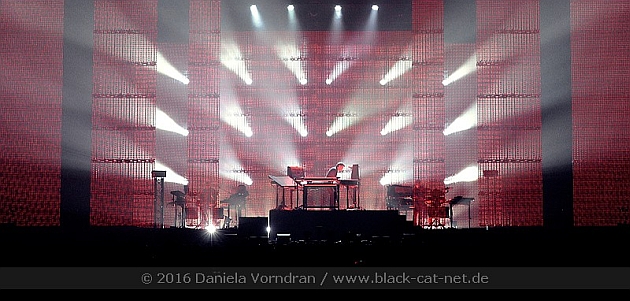 It was an amazing and spectacular two-and-half hours, and even though the loud volume was the fly in the ointment and the program didn't meet the expectations of all attendees I can only recommend to go and see JEAN-MICHEL JARRE live if you ever have the chance to! It's simply one of the most spectacular shows you will ever see.
Setlist

01. The Heart of Noise, Part 1
02. The Heart of Noise, Part 2
03. Automatic, Part 2
04. Oxygène 2
05. Circus
06. Web Spinner
07. Exit
08. Équinoxe 7
09. Conquistador
10. Oxygène 8
11. Zero Gravity
12. Souvenir de Chine
13. Immortals
14. Brick England
15. The Architect
16. Oxygène 4
17. Équinoxe 4
18. Glory
19. The Time Machine
---
20. Oxygène 17
21. Stardust
Rating

Music: 10
Performance: 10
Sound: 7
Light: 10
Total: 9.5 / 10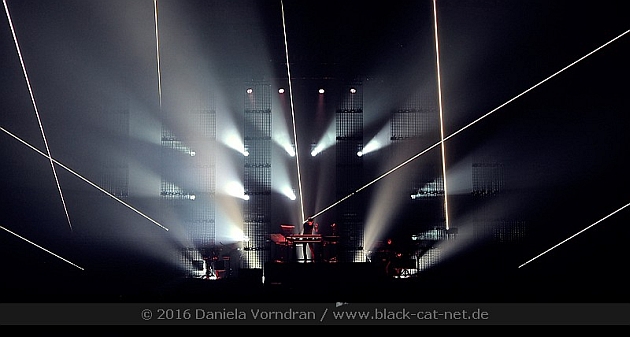 All pictures by Daniela Vorndran (
http://www.vorndranphotography.com
/
http://www.facebook.com/blackcatnet
)