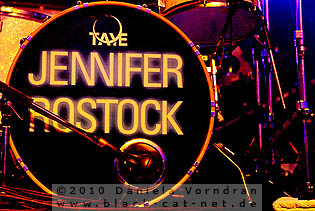 Zeche, Bochum, Germany
16th March 2010
Jennifer Rostock, Beta, Thoughts Paint the Sky
JENNIFER ROSTOCK was coming to Bochum for the "Der Filmriss" tour. When I arrived at the Zeche, already a long queue was waiting to enter the venue. Well, the concert was sold-out and this fact promised a packed venue with pretty good mood. Support acts during this evening were BETA and THOUGHTS PAINT THE SKY.
Thoughts Paint the Sky
Essen based band THOUGHTS PAINT THE SKY (TPTS) started out in 2005 as the creative sonic outlet for the emotions of their main protagonists. The band can already look back on an impressive discography of 9 releases, of which such records as the album 'Schlicht & Ergreifend' (2007) or the EP 'Komödie / Tragödie?' (2008) gained very positive reception in the press. Several support shows and a couple tours through Germany also make clear these guys are no newbies in the live circuit. The latest album 'Hier spielt die Musik' has been released in 2008. THOUGHTS PAINT THE SKY are Daniel (acoustic guitar, screams, vocals, drums), Mario (acoustic guitar, screams), Tom (bass) and Flo (drums, screams).
http://www.thoughtspaintthesky.de/
/
http://www.myspace.com/thoughtspaintthesky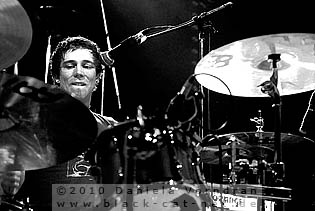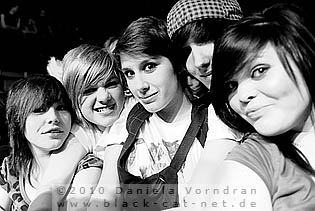 Music & Performance
First thing to recognize when I entered the venue: the stage was totally packed. And when TPTS entered the stage I was wondering where they should even step. Also something new for the live performance of the band: drummer and screamer Flo is currently in Australia, so Daniel took over not only vocal performance and screaming but also drumming. Pretty amazing if you ask me! As for the music and the sound during the evening… first of all I need to mention that the sound was not optimal, lyrics could not at all be understood. Out off (so far) nine releases, the band presented mostly songs from the latest one called 'Hier spielt die Musik'. The music can be described as acoustic Screamo with melancholic melodies but also powerful parts and screams. During the Bochum show screams were dominant and if there were melodic parts they were not recognizable. But anyway the band seemed to have some fans in the front rows (with very few exceptions girls only) who screamed a lot during TPTS's yet powerful show.
Setlist
01. Kleiner Drei
02. Da kann ich ein Lied von singen
03. Komm zum Punkt
04. Haarspalterei
05. Pustekuchen
06. Bis zum geht-nicht-mehr
Rating
Music: 6
Performance: 6
Sound: 5
Light: 5
Total: 5.7 / 10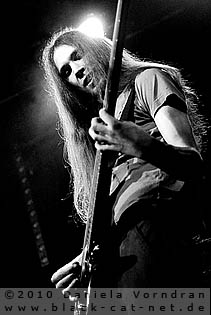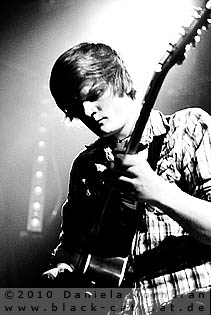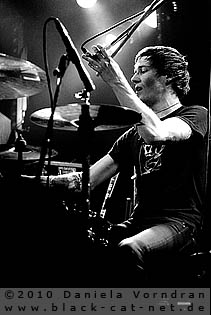 Beta
The ideas were circulating in the heads of the band members quite some time before the band came to life with its initial line-up back in 2007. First recordings took place with a drum computer that eventually got replaced by a real drummer, the recording quality became better and first gigs would be going down. Now they claim on their MySpace profile that even though they look like juveniles, Satan and the likes are still soft ice compared to them. We'll see. BETA is Hans, Erik, Passi and Christoph.
http://www.myspace.com/betamusik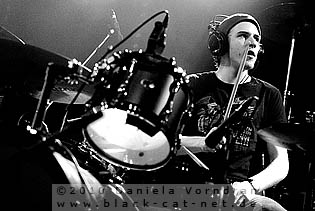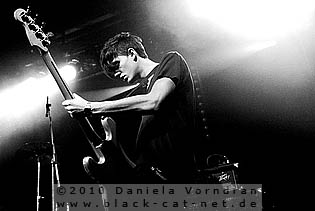 Music & Performance
Formerly, the band was known as FICKSCHEISSE (Fuckshit) but changed its name to BETA. Maybe they thought the old name was not really appropriate what I could understand… Well, the show… the stage remained as stuffed with equipment as before but now we got even four people on stage. Not much space to move for the musicians. I wonder if the drummer hurt his feet on the stuffed stage while walking (and playing) without shoes and even socks. Musically they were more my taste then the previous band. Cool Indie-Pop was mixed up with strong bass lines and drums as well as a lot of electronic fiddling. It was just a pity that the sound mix was not very good - alt least where I was standing - and the vocals were too low while drums and bass guitar were too much dominating. But anyway, I quite liked it and should dig more into the band's output… I just wish there would be more info about this band in the net and on their MySpace site.
Rating
Music: 7
Performance: 7
Sound: 5
Light: 6
Total: 6.6 / 10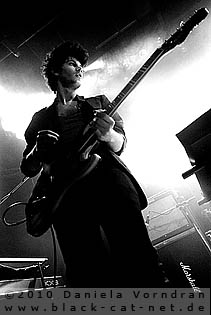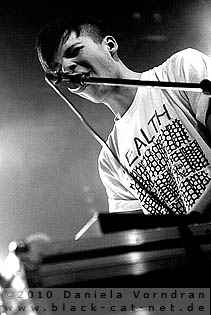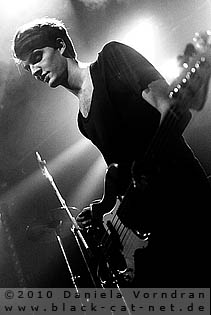 Jennifer Rostock
Following the release of their debut album 'Ins Offene Messer' in 2008 and more than 170 concerts, JENNIFER ROSTOCK are talked about everywhere and some might even say there's no way around them anymore. If you think they now took some time off first to gather strengths for the next strike again you're wrong. They've used the so called "Christmas Break" for creating the second album 'Der Film', released in June 2009 which has been composed as an aural thriller of the finest kind for the audiences' listening pleasure. JENNIFER ROSTOCK is Jennifer Weist (vocals), Johannes Walter (keys), Alex Voigt (guitar), Christoph Deckert (bass) and Christopher Kohl (drums).
http://www.jenniferrostock.de/
/
http://www.myspace.com/jenniferrostock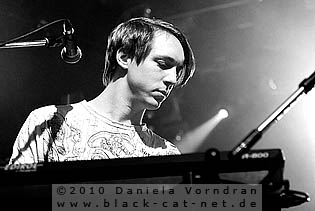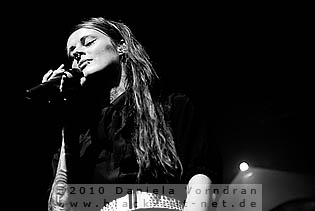 Music & Performance
It took a while until the five-piece could start. The rebuilding break took much longer than expected due to some technical problems. As we learned later, it was "only" the smoke machine not working. Finally, the stage design - a city view with some skyscrapers, all made of carton - was revealed and the show could start. Well, the band did not invent anything new concerning rock music. But they delivered a solid gig with lots of sassy and insinuating comments mixed up with a lot of power. Sometimes I wondered if all the girls in the first rows weren't too young for this kind of - partly sexual - comments, but no one really cared, Jennifer was babbling without fining an end and drinking as well as serving lots of alcohol. Musically, surely all the fan's favourite songs of both albums have been played, i.e. 'Blut geleckt', 'Nichts täte ich lieber', 'Schmutzig Schmutzig' or 'Feuer' and several more but also the song 'Es tut wieder weh' that was featured on the 'Twilight Soundtrack'.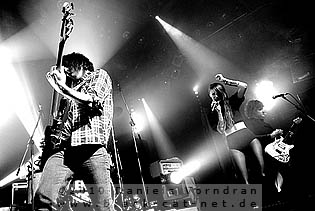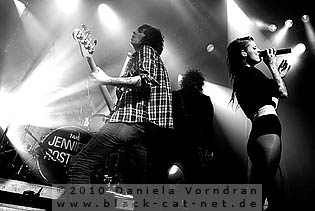 Performance-wise, the band showed a lot of fun being on stage and also communicating with the audience. When we reached the song 'Kopf oder Zahl' in the middle of the set, a girl was invited to stage to sing this song. And she did a very good job. It seemed as she felt like home on stage and entertaining the audience. Well deserved pay for the efforts was several beers. Speaking of getting people on stage… later during the song 'Mona Lisa' the only boy in the front row (at least the only one she spotted) was invited to join her on stage for some butt shaking and entertaining all the girls down there. And we got more beer as pay. Another funny highlight of the show was the medley presented by keyboarder Joe reaching from 'Material Girl' to 'Girls just wanna have fun' and fooling around with the fact he's gay. The show ended with a big bang and confetti rain. I am sure the audience was very much entertained and satisfied after the concert.
Rating
Music: 6
Performance: 8
Sound: 7
Light: 8
Total: 7.1 / 10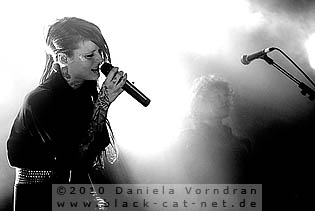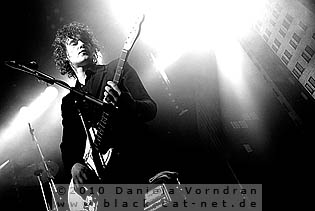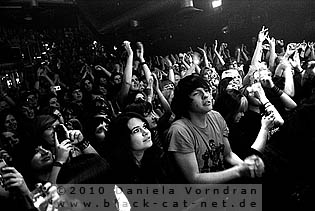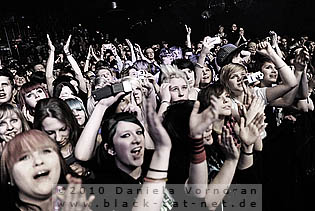 All pictures by Daniela Vorndran (
http://www.vorndranphotography.com/
/
http://www.black-cat-net.de/
/
www.myspace.com/vorndranphotography
)
{jos_sb_discuss:17}