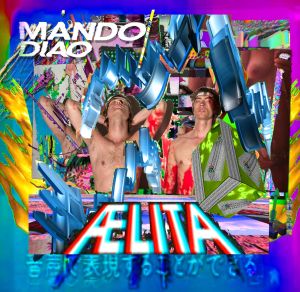 Artist: Mando Diao
Title: Aelita
Genre: Alternative Rock / Garage Rock / Indie Rock
Release Date: 2nd May 2014
Label: Vertigo / Universal
Album Review

Those who know MANDO DIAO's previous albums will most probably be surprised by 'Aelita'. It is their seventh studio album and will be released on May 2nd, 2014. Its style is very much different from their earlier works. With 'Aelita', MANDO DIAO have taken a quite unfamiliar path of development towards musical diversity and artistic freedom, as they have recently stated in an interview. The artwork of the album cover already suggests what the listeners have to reckon with. The songs are heavily inspired by 80s synth pop. The only thing that remained familiar are the vocals of front man and singer Björn Dixgard. Long-time fans who have got to know and to love the guitar rock of MANDO DIAO might be disappointed of the four Swedes' sudden change of heart.
With their synth pop laden tracks mostly dealing with feelings of jealousy and envy in interpersonal and love relationships, MANDO DIAO have revived and modernized an era long past in a musical sense. Out of all of the tracks, the first single release 'Black Saturday' can be connected more than anything else to MANDO DIAOS musical past. A continuous electro beat and string-like sounding synthesizer elements let their hit single 'Dance With Somebody' come to one's mind. 'Black Saturday' is in my opinion one of the few tracks with hit potential and it is the fastest as well as the most danceable track. The following songs on 'Aelita' for the most part lose momentum more and more and develop towards down to mid-tempo tracks.
Regarding the vocals, both of the front singers have nothing to forfeit and the voices of Dixgard and Norén are powerful as well as emotional and soulful, depending on the mood of the song. Concerning the instruments, not only with the use of the synthesizer producing the strangest sound effects that sometimes remind of Japanese video games do the guys of MANDO DIAO enter uncharted waters. Also the violin parts in 'Rooftop' and 'Child' are special, "non-MANDO DIAO-elements", which are nevertheless well-integrated into the song structure and musical harmonies.
A great deal of tolerance and open-mindedness is needed when listening to MANDO DIAOS new record. It can surely be stated that the guys have mastered the tightrope walk of taking the risk of developing a different musical style, although one could get the impression of them becoming untrue to their musical past. However, 'Aelita' sounds like a true and authentic endeavour into new realms and this is what MANDO DIAO can sound as well.
Tracklist

01. Black Saturday
02. Rooftop
03. Money Doesn´t Make You A Man
04. Wet Dreams
05. If I Don´t Have You
06. Baby
07. Lonely Driver
08. Child
09. Romeo
10. Make You Mine
Line-up

Björn Hans-Erik Dixgard – vocals, guitar
Gustaf Erik Norén – vocals, guitar
Carl-Johan Fogelklou – bass, backing vocals
Mats Björke – keyboard, backing vocals
Daniel Haglund – keyboard, backing vocals, guitar
Patrik Heikinpieti – drums
Website

www.mandodiao.com
/
www.facebook.com/mandodiaomusic
Cover Picture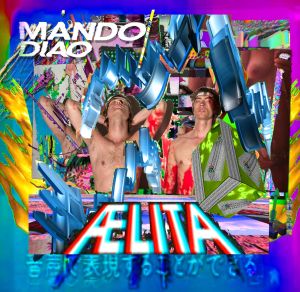 Rating

Music: 9
Sound: 9
Total: 9 / 10