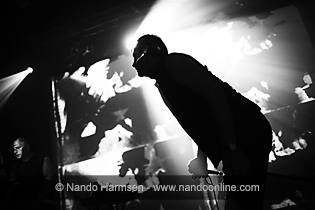 Tivoli de Helling, Utrecht, The Netherlands
September 13th 2014
The Klinik

Back in 1984, Marc Verhaeghen from Belgium started his project KLINIK. Soon Dirk Ivens from ABSOLUTE BODY CONTROL joined him and together with Eric van Wonterghem and Sandy Nys they formed ABSOLUTE CONTROLLED CLINICAL MANIACS, soon shortened to THE KLINIK. After a few years only Ivens and Verhaeghen remained. And thus the band was born and became one of the most influential Belgian industrial bands.
Ivens and Verhaeghen split and went their own separate ways with their own projects. THE KLINIK reunited in 2004 and released in 2013 their first album 'Eat Your Heart Out' in 22 years. This is the last album THE KLINIK will ever release. The year 2014 will be known as the end of an era since Ivens and Verhaeghen decided to end this legendary project. The concert at Tivoli de Helling is the last they will play in the Netherlands.
https://www.facebook.com/TheKlinikDiveSonarAbsoluteBodyControl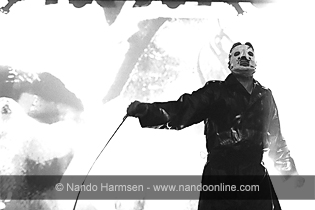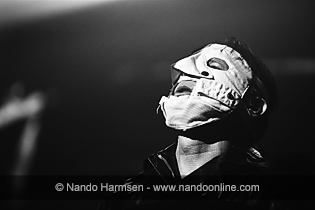 Music & Performance

It looked as if there weren't a lot of visitors at first. The venue looked quite empty when arriving. It seemed strange since it would be the last concert of THE KLINIK in the Netherlands. But ten minutes before the band made their appearance on stage Tivoli de Helling was flooded with visitors and fans. Of course THE KLINIK looked like we are used to: with clinical facial masks and black leather coats. The lights were minimal and sometimes it seemed the projection was the only lights available on stage. THE KLINIK doesn't need an introduction and with songs like 'Cold as Ice', 'Murder' and 'Walking with Shadows' they took the audience right into the dark EBM and electro world they are known by.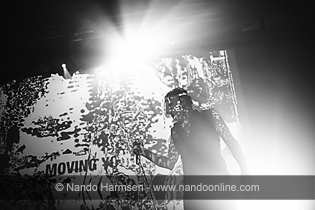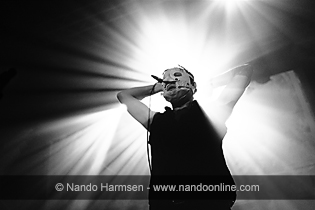 Only the song 'Bite Now Bite' from their 2013 album 'Eat Your Heart Out' feels not right. Fortunately this feeling is only momentarily when the old classic KLINIK songs follow next and make the concert almost hypnotizing, forgetting the world outside. The concert takes a tour back in time with a lot of old songs during the last song of the encore, 'Go Back', they take off their clinical masks as if they are finally revealing their identity. A total encore of three songs was given and finally they returned to play only one last song called 'Surviving in Europe'. That is exactly what THE KLINIK has done in their 30 years of existence and I am sure their music will still be a source of inspiration for many decades to come.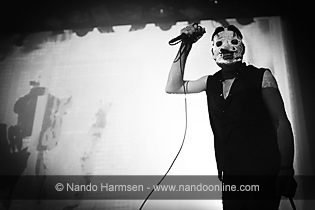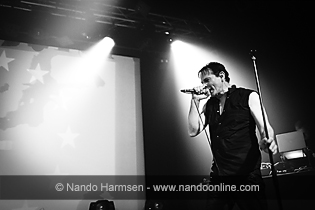 Setlist

01. Cold as Ice
02. Murder
03. Walking With Shadows
04. Bite Now Bite
05. Quiet in the Room
06. Black Leather
07. Hours and Hours
08. Mindswitch
09. In Your Room
10. Pain and Pleasure
11. Obsession
12. Sick in Your Head
13. Moving Hands
14. Memories
15. Lies
16. Braindamage
17. Talking To A Stranger
18. Go Back
19. Surviving in Europe
Rating

Music: 8
Performance: 8
Sound: 9
Light: 7
Total: 8 / 10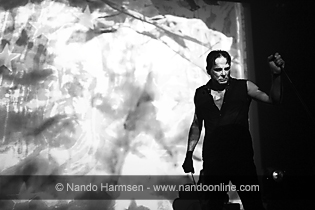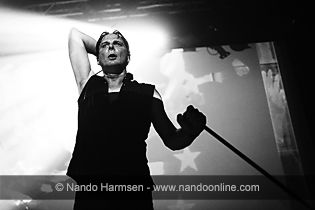 All pictures by Nando Harmsen (
http://www.nandoonline.com
)