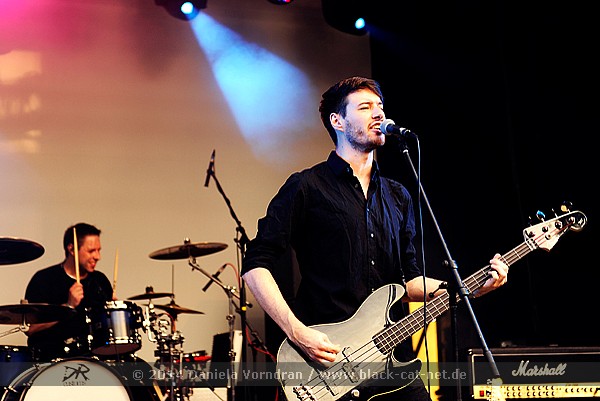 Interview with
Tino Wagner (vocals, bass) from Mundtot

Obviously I like leaning more about my favourite bands which are not so numerous and MUNDTOT has definitely become one of them thanks to its original style, great sound, meaningful lyrics and impressive vocals. And traditionally I was lucky enough to ask Tino, the lead singer, a few questions about the band, music, future plans and what not. The interview is below, just read and enjoy!
Reflections of Darkness [RoD]
: And the very first question. What does "mundtot" mean?
Tino
:
In Germany when someone is made "mundtot" they are not allowed to say what they really want to say. It means that the person can't say anything about this or that subject anymore.
RoD
: Great! It definitely reflects the meaning of your songs. So who influenced you? I mean any musicians, bands, styles.
Tino
:
Well it's hard to say because there was a bunch of different genres and different bands. For example on one hand I listen to more electronic stuff like Drum'n'Bass, on the other hand our guitar player listens to stoner rock and metal. Also we all like some big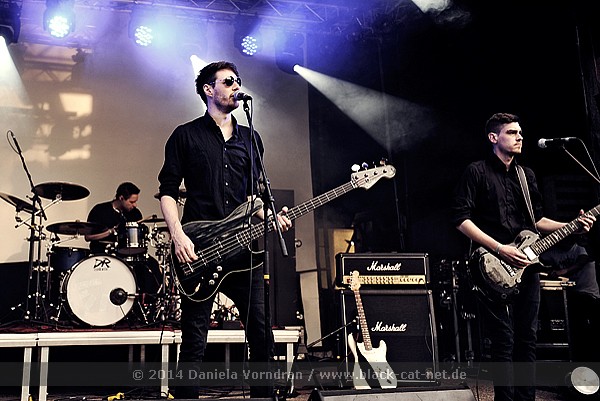 bands, JOY DIVISION or RAMMSTEIN but not everything by the latter, then MARYLIN MANSON, NIRVANA, PLACEBO. So there's really a big mixture of different bands and styles.
RoD
: Speaking about the guitar player, he's a new member of the band and he's really good.
Tino
:
Yes, he joined as last year in April, because the previous guitar player had left so we had a vacancy. And yes, I know he's good. That's why we took him.
RoD
: Sure. And when did everything start? Tell please a bit about the beginning of the project.
Tino
:
I was playing in a punk rock band as a drummer, also was writing the lyrics and wanted to do something new because that band was not serious enough for me. We used to play one or two gigs within a year and the rehearsals were mostly like sitting around, talking, drinking beer or something, so there was nothing really creative. That's why I started my own project. Actually I didn't know what I wanted to do, but I just started with my small groove box from the 90s, making beats and songs. I though it must be something darker and more serious that my previous band. I didn't intend to make such dark music, but it just worked that way and I liked that. I made my first track ever which was "Virus Mensch" and decided that kind of sound was good and I wanted to do that music in the future. It didn't fit the punk rock band anyway so I started MUNDTOT. When I thought about a name for the band, this word just came to me all of a sudden and I realized that it must be "mundtot".

About the live shows. At the beginning I wanted to do them solo, just me and the groovebox, but then I thought it wouldn't be good enough for a live experience people might want because there would be only one person standing onstage, playing and singing. So I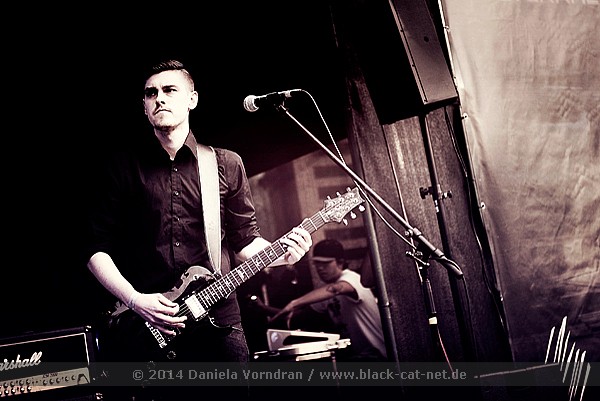 needed a keyboard player as I wanted to keep the band electronic. But later I realized that I was missing that rock feeling of my old band and I asked my friend if he wanted to join me. That was our first guitar player. Then I said that we had a guitar, a bass, a synthesizer so why not to get drums. That's when Flo joined us in 2010 and since then we have been a normal rock band. I think it's better because now we have a possibility to play electronic songs and rock songs as well.
RoD
: Nice story. And how many instruments can you play?
Tino
:
I don't know. I started with drums. Then I learnt how to play the keyboard but just the basics in order to write songs. Then we had a girl as a bass player for few weeks or months, but it didn't work out so she had to leave but someone had to play the bass and I began to do it. At the same time I also learnt to play the guitar. Now I can say that I'm not a really good guitar player but I can play some basic stuff which is enough to pre-record sounds for the other band members to show them what I want to play. Well I guess right now I'm a pretty decent bass player but not the greatest. As for the singing, I just figured out that when I wrote the lyrics I wanted to be the one singing live. I didn't sing before but I thought if there were so many bad singers out there, so I just needed to try. And when I started people used to tell me that my voice was nice and dark enough so I decided that it had not been the worst idea. And now some people say that they can distinguish that this is MUNDTOT just because of my voice.
RoD
: So the voice is one of the distinctive features but what inspires you to write such lyrics? Categorical, sad, about the live in a big city and all that.
Tino
:
That's just my experience. I moved to Munich alone when I was 18. So I've been living here for 10 years now. And when I moved here everything was pretty cold, people were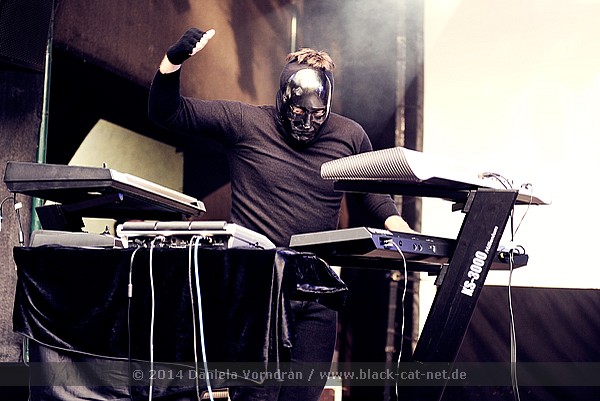 strangers. Actually in a big city people are strange and lonely yet everybody wants to be with another person to escape the loneliness. But it's getting harder and harder because the city is growing, the more people live here, the lonesome they become. This is what I see and think of. It's sad but it's something I've experienced on my own and that's why I want to write about it. Besides I also study some related stuff – philosophy.
RoD
: Oh wow. By the way do you express yourself through creativity in other spheres not connected with music?
Tino
:
I used to draw when I was younger. Don't know why but I quitted this. And now I try to write some short stories about apocalypse and kind of but I haven't finish that. I started about two or three times but never finished. Maybe later, maybe after my studies.
RoD
: Ok. The feedback of the audience is important to you?
Tino
:
Yes, but it's not that important and it's not like we would change our style if the audience said that we should do it. We do what we want to do but sometimes we ask people for a feedback and we try to modulate our style in some way yet we won't change it completely. Some people say that we should do only tracks like 'Virus Mensch', hard and heavy. But this is just one track and it was my first track. It was written in 2009 and it's 2014, we've changed. We grow as a band, we change our sound. This is an important thing for me and for the rest of the band that we constantly evolve, and never get stuck to just one song.
RoD
: You also shared the stage with ASP, STAUBKIND, END OF GREEN and other bands. Which band among all those was the most interesting or crazy?
Tino
:
I would say we had a lot of fun with LOST AREA but they split up, also with LACRIMAS PROFUNDERE and of course STAHLMANN. We already played with STAHLMANN last year in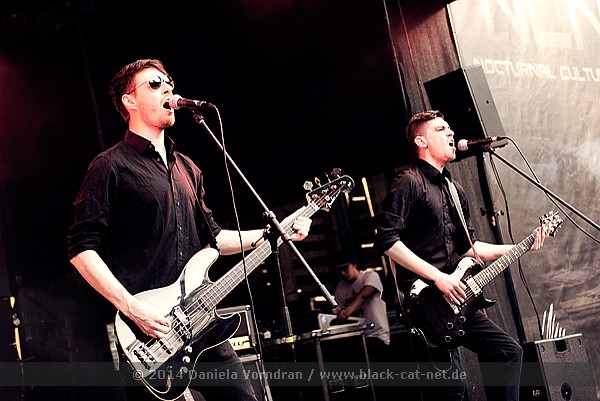 December and we'll go on tour together in October. I'm looking forward to that because it's fun to be with them backstage as they are easy-going, they don't try to show you that their band is more successful.
RoD
: And how do you spend you free time if you have any?
Tino
:
Well, not so much but if I have some free time I like to listen to other music or watch movies. Of course I have to read a lot of books because I'm studying so reading is not my favourite way to relax because I read so much in the university but I watch movies and also some TV shows. As for the movies I mostly watch stuff that may seem boring to other people. I don't like action movies, I prefer dramas or comedies but European ones.
RoD
: So if you song had become a soundtrack to a movie, what movie that would be?
Tino
:
I don't know. Well it's a good question because it was planned that we made a soundtrack for a movie but it didn't work out. I don't know if that movie is finished but the situation was that they didn't have enough time or money to bring us to Switzerland as the movie was shot there. Hopefully another movie will come around and maybe it will be a serious one or a drama or even something with zombies. Well I just like movies about zombies and apocalypse and as I said also serious dramas.
RoD
: Interesting taste. Is there any song you are most proud of?
Tino
:
'Kein Zurück' from our first album. It's still one of my favourite songs. I don't know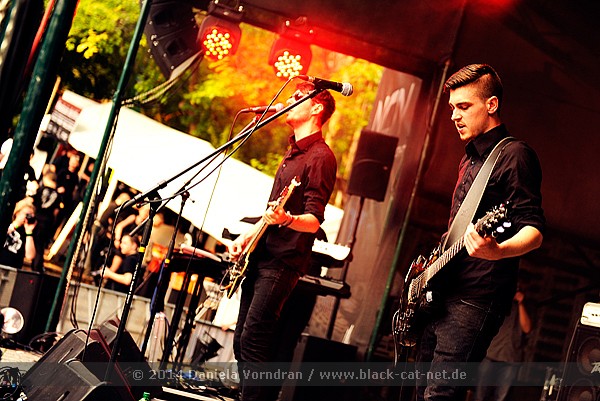 why but I like it. I like the sound of this song. Also 'Schwarz / Weiß' from the new album and of course 'Einsamkeit und Zweifel'.
RoD
: Great! And how did you come up with the idea to make such a video on 'Einsamkeit und Zweifel'?
Tino
:
Actually we wanted to do something different because the song's sound was something unusual for the dark scene. It's a kind of rap so to say. It wasn't planned, I just wanted to use that rap in this song because that kind of singing/speaking fitted the track. And then we were sitting together with Upclose, a friend of us who actually shot the video, listening to the song and agreed that it should be something more modern, not those metal clichés, but more hip hop like. So you just see me walking down the street and I think it's cool because it's something different. The camera man did a great job. It just took us about a week to make the video. All the scenes with me were shot on one day, the band playing – on the other day, so Saturday and Sunday and then the whole video was made one week later.
RoD
: The album came out in April. So now when the time has passed do you have any intention to come back and change something?
Tino
:
Yes, but I think that's normal. When I listen to a song after recording it I really have to hold myself back and because the song is done. Or I will change it over and over and over so I have to say that it's done and I won't touch it again. But then if you play it live you change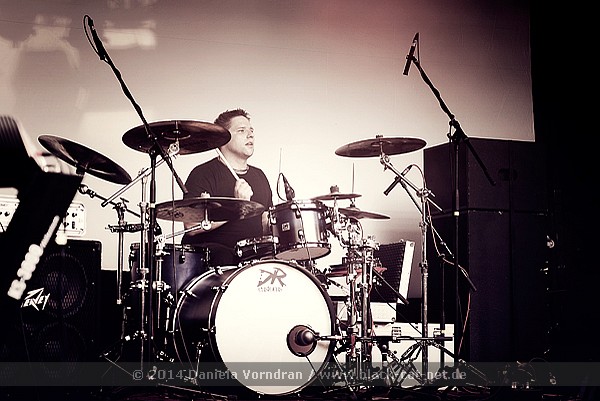 some small part, for example like in 'Schwarz / Weiß' we play it a bit different. So when you look back in time, you always want to change something. But I think it's good because if you don't do this you just copy your sound over and over again. It's something every songwriter should do: look at their old sounds and think what I could do better.
RoD
: Ok, and now imagine that one day you wake and realize that you become a world rock star with millions of fans, worldwide rotation, concerts at stadiums and all that. So how do you act/feel in that situation?
Tino
:
Well I guess if I just woke up and everything changed I would be excited for about a minute and then I would be scared, because I started thinking what all that would mean for my life. It would change and I wouldn't have any privacy, everything would be public. Also I thought that it would be impossible to have a family in that way. So I guess it would exciting and also scary at the beginning. And honestly to be realistic if I woke up one day and saw that I had millions of fans and all that, I would decide that I was still dreaming. I don't think this will happen.
RoD
: Going further. If you could become any other person in this world, what person would you be and why?
Tino
:
Maybe I would become Albert Einstein and then I would destroy everything I had found out about the nuclear energy so people would never make a nuclear bomb.
RoD
: Oh, great answer. And what are your future plans? Tour with STAHLMANN is for sure, but what else?
Tino
:
I think that we'll be back to the studio next year to write new songs. We've already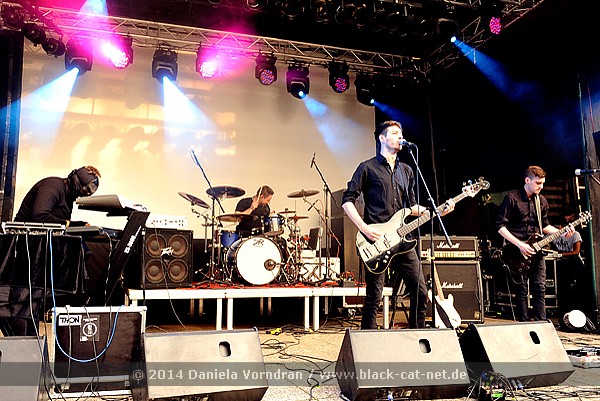 started doing this and have four songs done. So we will continue and then will take the best ones 12 or 10 for a new album or maybe we will also do an EP which will come before the album. It depends on how much sense that will have. Then we will continue playing as many gigs as possible because it's always a lot of fun. Hopefully we'll be getting bigger and bigger so someday I will earn enough money just making music and I won't have to work. It's not my first goal but it would be great to write music, to play music and to earn money. I don't want to be reach but just have enough money to pay my bills.
RoD
: Is there any band you can call yourself a real fan of?
Tino
:
Yes, I like almost everything by FOO FIGHTERS, and NINE INCH NAILS. I have all albums of SLIPKNOT, and I like PLACEBO.
RoD
: Great! Thank you! And finally, please say something to our readers.
Tino
:
Ok, thank you. I hope you like our music and our band, and if you do so don't forget to "like" us on Facebook, buy our merchandise, CDs and support us in any way.
RoD
: On 1st May 2015 you will be playing at the Dark Munich Festival for the second time. This time you are playing on the second day, not at the beginning but on smaller stage. What are you expecting from this show? Are you preparing some surprises for the audience? Maybe a few words for Visitors of DMF.
Tino
:
I think its' great that we play in the evening. Sure a bigger stage is always nice, but even the biggest stage is too big if you play at a time when most of the visitors are still in bed. We will definetly have something special for the DMF. We just don't know yet what exactly it will be. But no matter what. DMF will be great! I hope a lot of people will show up and party with us, because Munich needs a bigger scene for Alternative music.
Dark Munich Festival 2015 (30th April to 3rd May 2015):
http://d-m-f.me/
All pictures by Daniela Vorndran (
http://www.vorndranphotography.com
/
http://www.facebook.com/blackcatnet
)