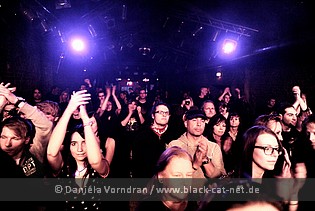 Matrix, Bochum, Germany
23rd May 2013
Lacrimas Profundere, Godex & Mundtot

LACRIMAS PROFUNDERE have a new album in stock! 'Antiadore' is released on 24th May 2013 and one day before release, the quartet was playing a release concert in Bochum, supported by GODEX and MUNDTOT.



Mundtot

Founded in 2009 as pure electronic project, the band was enhanced in 2010 by the classic rock instruments, bass, guitar and drums for an organic counterpart to the sterile synth sound. After shows with several known bands of the scene, the band released its debut EP in 2010 and the debut album 'Spätsommer' in 2012. Afterwards, the band returned to the studio to record a second album. Live, the band was seen in 2013 at the Dark Munich Festival and as support for KMFDM so far. MUNDTOT is Tino (vocals, bass), Cesco (synths) and Flo (drums). Live, the line-up was enhanced by live guitarist Andreas Kramer. http://www.mundtot.net / https://www.facebook.com/Mundtot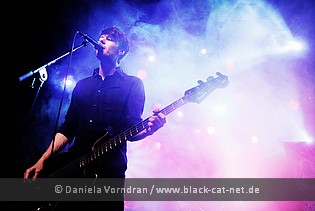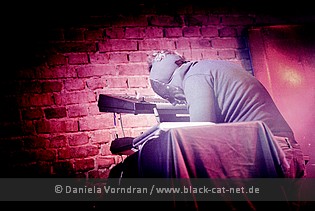 Music & Performance
It was ten before eight when the four guys of MUNDTOT entered the stage to start their half-hour set. MUNDTOT presented a melancholic sound without any kitsch, minimalist rhythms underlined with atmospheric synth sound and aggressive E-guitars. Live, somehow Cesco on synths was the most vivid person on stage. He moved like a madman behind his instrument while a black mask was covering his face. Tino's chant was also something special and uncommon, moving between deep sprechgesang and aggressive outbursts. Clearly you can hear influences from nineties rock bands (like i.e. PLACEBO or BLACKMAIL), but also from industrial rock bands and British post punk in the paths of JOY DIVISION or KILLING JOKE.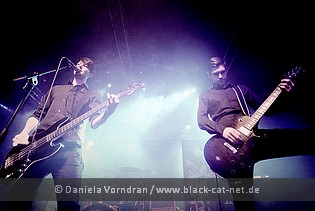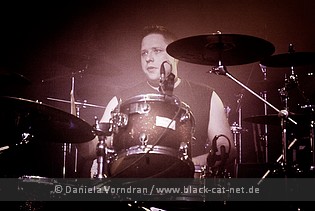 Setlist
01. Endzeit
02. Kein zurück
03. Lebensleid
04. Falscher Stolz
05. Spätsommer
06. Tanz den Untergang
07. Virus Mensch
08. Zweites Gesicht
09. Viel Zu Viel

Rating
Music: 7
Performance: 6
Sound: 7
Light: 6
Total: 6.5 / 10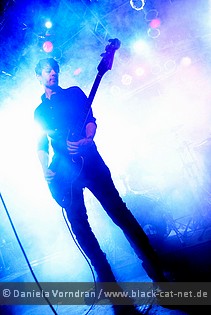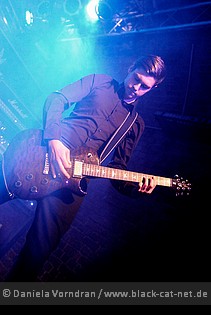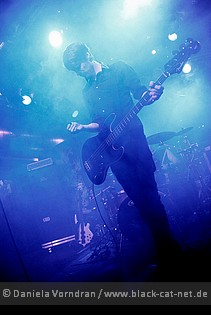 Godex

After several shows with HIM or festival appearances at Wacken and WGT, singer Tommy Tom founded GODEX after the split of his former Gothic band THORA beginning of 2009. The first album of GODEX bears the name 'Gates of the Universe'. Soon, the fans wanted to see GODEX live and so, the project was enlarged to a real band with Tommy Tom on vocals, Ingo Hey on bass, Casey Faßbender on guitar plus former THORA drummer Janusz Korzen. Mid 2011, the band returned to the studio to record the new album 'Lovesick', being more complex than the debut album. The album was released in 2013. First bigger concerts followed, like shows with CREMATORY or Finnish PRIVATE LINE. http://godex-music.de / https://www.facebook.com/godexmusic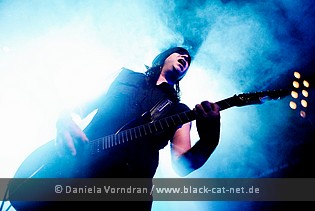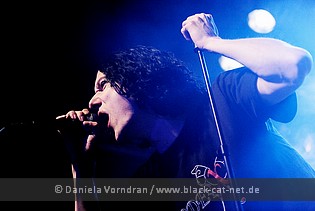 Music & Performance
GODEX were quite a surprise for me on that evening since they were not announced as support on the venue's website before. The quartet was more vivid on stage than the first band of the evening and presented songs of their two released album during their thirty minutes given. Musically, their style tended more into the dark rock direction, like being presented by such bands as HIM or THE 69 EYES. With their first album, the band already made some fans in the Metal Gothic and Rock scene. Live on stage, they convinced with a lot of power and a tight connection to the audience. The songs were straight, but combined with complex arrangements and some rougher and faster parts, but always with a certain catchiness. When the band left the stage with 'Love Salvation', they received quite some applause and probably made some new fans.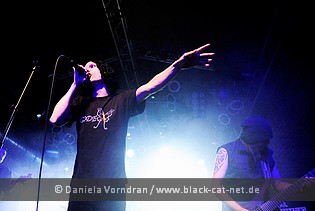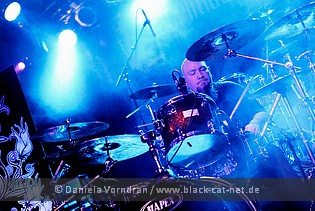 Setlist
01. Lovesick
02. For You
03. Million Flashlights
04. The Best
05. Dragonrider
06. Miss You
07. Heart Of Gold
08. Love Salvation

Rating
Music: 7
Performance: 7
Sound: 7
Light: 6
Total: 6.8 / 10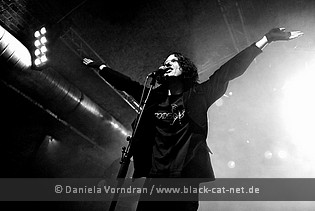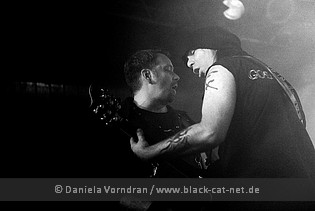 Lacrimas Profundere

LACRIMAS PROFUNDERE is a German band founded in 1993 by Oliver Nikolas Schmid. Short time later he was joined by his brother Christopher Schmid. But it was not before the entrance of vocalist Anja Hötzendorfer, they drew enough attention to themselves to be able to record their debut, entitled '...and the Wings Embraced us' which was released in 1995 followed by the second album 'La Naissance d'un Rêve' in 1997. Taking a look into the future now we'll notice there have been several substantial changes to the line-up and except for Oliver no one of the original crew remained. Same goes for the style of music which has become an emotive mixture of Dark, Rock, Gothic and Doom Metal. With 'The Grandiose Nowhere', they've released a new record in 2010. After renewing their contract with Napalm Records, the band releases its 10th studio album, 'Antiadore', on May 24th 2013. LACRIMAS PROFUNDERE is Oliver Nikolas Schmid (guitar), Tony Berger (guitar), Dominik Scholz (drums) and Roberto Vitacca (vocals). http://www.lacrimas.com / https://www.facebook.com/lacrimasprofundereofficial / http://www.myspace.com/lacrimasprofundere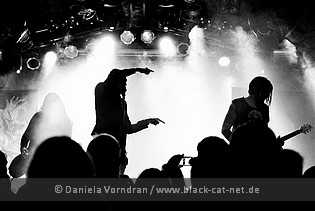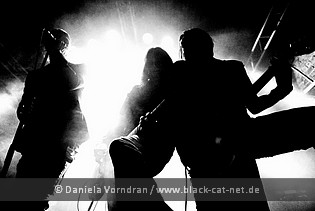 Music & Performance
After two bands it was getting kind of late during a weekday when LACRIMAS PROFUNDERE entered the stage. Playing just the day before the release of the new album, the band started with a new song, 'Dead to me'. From the beginning one thing was for sure: LACRIMAS did not want to show their faces! Lots of smoke was covering the stage and light from the back of stage were blinding the front rows. Only when I later stood far in back, I could see the musicians' faces. Robert was only illuminated from front when he was some announcements in-between the songs, like telling the audience that a new album is out and therefore, no one would probably mind if they'd play some more songs from the new album. But first, there were a few older once heating up the audience before the title song of the new release, 'Antiadore', was performed.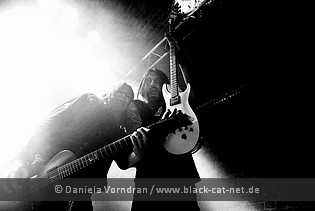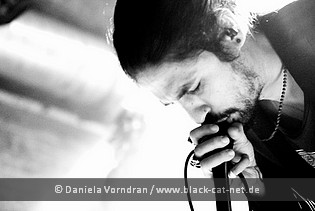 Even though you could see only shadows on stage – besides the drummer, he was brightly illuminated – you could feel how much energy there was on stage and that the band rocked like hell. In the course of the following set, constantly a few old gems, like 'Dear Amy', 'Amber Girl' or 'My Mescaline', were alternating with songs taken from the new album. The new ones fitted perfectly into the set and were well received by the audience. And even though the crowd was not so big, the fans were enthusiastic from the first second and enjoyed the time with their band. What we were presented was surely high-class Goth Rock, atmospheric and floating, but also pushing and fast… and overall gloomy and dark, just as were the lights. With the fan favourite 'Ave End', the set ended. But a release show, and btw the first show of the tour, wouldn't be a release show if there was no addition. With three more songs, the band rewarded their fans who happily left the venue after this show.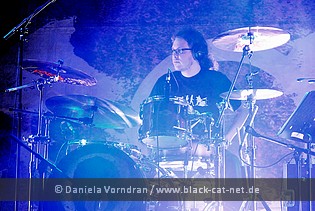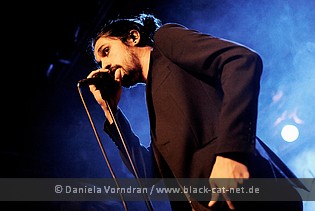 Setlist
01. Intro
02. Dead To Me
03. Be Mine
04. We Shouldn't
05. Again It's Over
06. Antiadore
07. Her Occasion Of Sin
08. Velvet Little Darkness
09. The Letter
10. Head Held High
11. Dear Amy
12. My Mescaline
13. My Release In Pain
14. Amber Girl
15. What I'm Not
16. I Don't Care
17. Should
18. Ave End
---
19. Abandon
20. A Pearl
21. A Sigh

Rating
Music: 8
Performance: 8
Sound: 7
Light: 4
Total: 7 / 10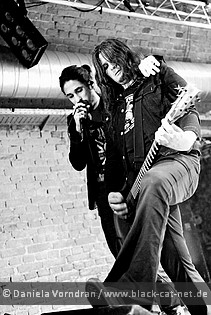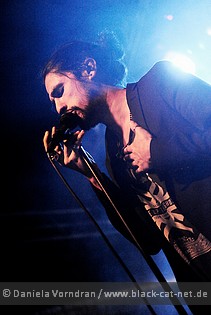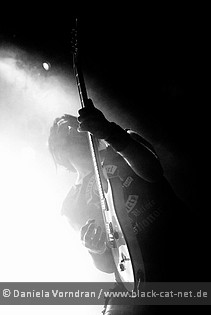 All pictures by Daniela Vorndran (http://www.vorndranphotography.com / http://www.black-cat-net.de/ / http://www.myspace.com/vorndranphotography / http://www.facebook.com/blackcatnet)



See also (all categories):