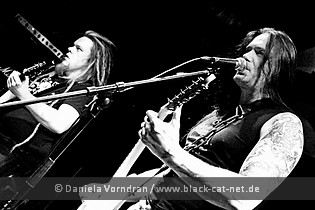 Matrix, Bochum, Germany
28th November 2011
Poisonblack, Battle Beast, Damaged Justice

For over 10 years, POISONBLACK is at the forefront of heavy Goth metal now and have released their latest album 'Drive' earlier this year. The release was the main reason for the guys to come back to Germany again to kick some asses. We thought, why not embracing the opportunity and checked them out for you.



Damaged Justice

German metal outfit DAMAGED JUSTICE has a history of over 15 years in the metal scene. Founded in 1995, they've released little more than 3 full-length recordings, the last one of which was released with 'IRIS' in 2009 following a period of restructuring after their former bass player called it quits. DAMAGED JUSTICE is Christian Michalak (vocals, guitars), Maik Stiens (guitars), Ron Michel (keyboards), Daniel Lucas (bass, backing vocals) and Mario Bänsch (drums). http://www.damaged-justice.de/ / https://www.facebook.com/pages/Damaged-Justice/63424153413 / http://www.myspace.com/damagedjusticeherne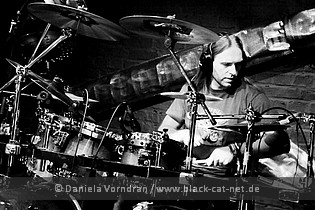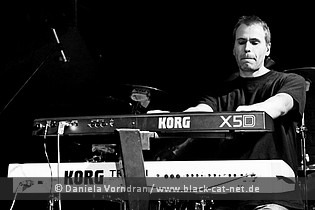 Music & Performance
DAMAGED JUSTICE had the honour to be my first show on that little stage at the Matrix club. Hooray! Aside from that exciting fact I'd like you to know that the band itself did quite a job, even though the sound was horrible. Many times you were just not able to hear the vocals properly, which is too bad because Christian's got a cool voice. Anyway, I mentioned the guys did a good job earlier, posed a lot for the photographers that hardly stood in anyone's way due to the lack of audience at this point. A little set of five songs was played ended with the 'United Church Of Rock'n'Roll' and applause.

Setlist
01. Shadows
02. Barricades
03. Bloodlust
04. Hold Me Tight
05. United Church of Rock'n'Roll

Rating
Music: 6
Performance: 7
Sound: 5
Light: 5
Total: 6 / 10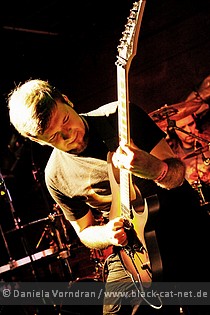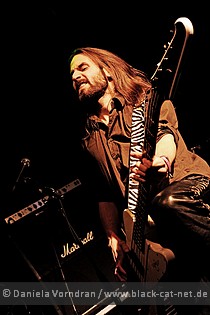 Battle Beast

BATTLE BEAST , hailing from Southern Finland, were born in 2009 and since have garnered considerable interest in the Metal scene with their debut release of 'Steel' and their appearance at last year's Wacken Open Air. BATTLE BEAST is Nitte Valo (lead vocals), Anton Kabanen (guitar, backing vocals), Eero Sipilä (bass, backing vocals), Janne Björkroth (keys, arrangements, backing vocals), Juuso Soinio (guitar) and Pyry Vikki (drums). http://www.battlebeast.fi / https://www.facebook.com/battlebeastofficial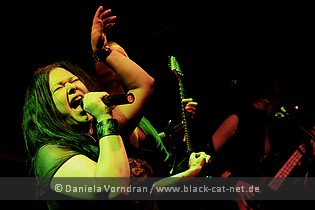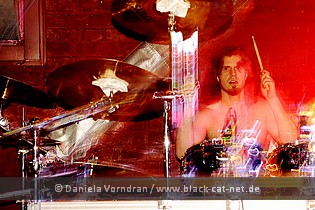 Music & Performance
Second support act of the evening was a female fronted band from Finland who looked like, no offence guys, like a group of students. I've been told of an abysmal video before the show which lowered my expectations considerably. Sometimes bands can even the score though. Within their set of eight tracks, BATTLE BEAST demonstrated that even though there's still a lot of work to do they have a solid base already. What they were already pretty good at was involving the crowd. I think that some fans were won over this evening.

Setlist
01. Justice And Metal
02. The Band Of The Hawk
03. Cyberspace
04. Steel
05. Armageddon Clan
06. Iron Hand
07. Victory
08. Enter The Metal World
09. Show Me How To Die

Rating
Music: 5
Performance: 7
Sound: 6
Light: 5
Total: 5.8 / 10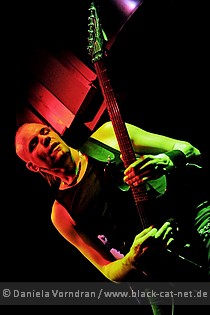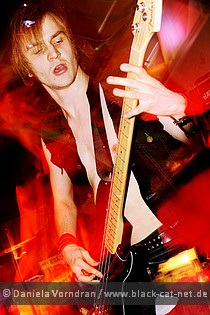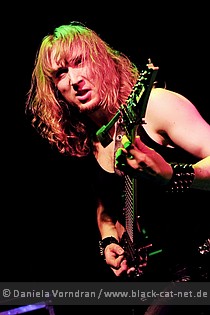 Poisonblack

POISONBACK is around since 2000. Three years after their inception the band released its first album 'Escapexstacy' after the release of which, their former vocalist quit the job. The band's guitarist then took over main vocal and still performs them today. Their second album release 'Lust Stained Despair' from 2006 enjoyed considerable chart success. To this day the band has released four albums in total with 'Drive' as their latest one. POISONBLACK is Ville Laihiala (vocals, lead guitars), Antti Remes (bass), Marco Sneck (keyboards) and Tarmo Kanerva (drums) plus on tours Antti Leiviskä on guitar. http://www.poisonblack.com/ / http://www.myspace.com/officialpoisonblack / https://www.facebook.com/pages/Poisonblack/11232455756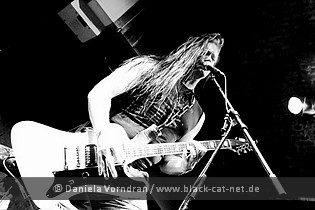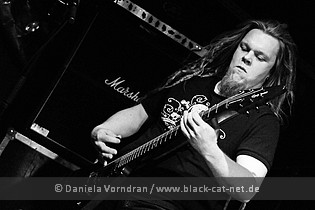 Music & Performance
Half an hour of rebuilding followed before POISONBLACK finally entered the stage to give us 'Piston Head' as a small opening and taste of what's to come. The next one followed right off its heels with the pounding 'Casket Case' and heaviest head banging in the front rows. Much to the likes of Mister Laihiala! The Northern groove followed with 'A Good Day For The Crows', a literally rolling rhythm and brooding, down-tuned riffs were his trademarks. With 'The Living Dead' things cooled down quite a bit. The first rather balladry track and a surprisingly good performance on the clean vocals left a good impression with me. 'Love Infernal' brought us one of the classic POISONBLACK tracks from the very first album that has a rousing chorus. Could pass for a mainstream Goth Metal charts topper for that matter. Better leave that in favour of the ass-kicking 'Buried Alive'.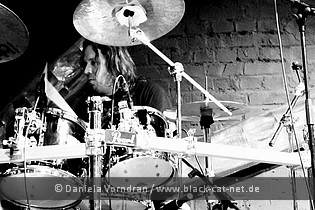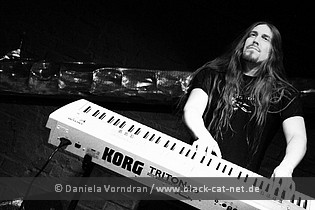 A little bit of a quiz game followed where Antti Remes failed to know the name of the next song. Shame on you! The track was called 'Scars', a song about the road and one that came across very melancholic and more melodic than others of the set. 'Soul In Flames' made the end of the main set which was inevitably followed by a little encore, including the highly regarded 'Rush', at the beginning of which some people let all hesitations fall and elbowed their way towards the front row. Regardless of that little incident I really enjoyed the show. Little club shows always have that special bit of atmosphere.

Setlist
01. Piston Head
02. Casket Case
03, A Good Day For The Crows
04. Sycophant
05. The Living Dead
06. Left Behind
07. Love Infernal
08. Buried Alive
09. Raviotar
10. Scars
11. Nothing Else Remains
12. Maggot Song
13. Invisible
14. Soul In Flames
---
15. Bear The Cross/Spinal Tap
16. Rush
17. Mercury Falling

Rating
Music: 8
Performance: 8
Sound: 8
Light: 6
Total: 7.7 / 10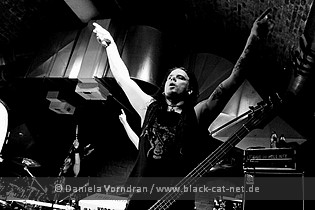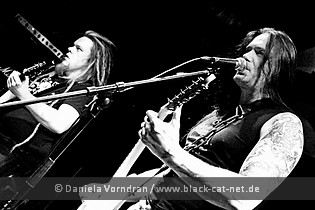 All pictures by Daniela Vorndran (http://www.vorndranphotography.com / http://www.black-cat-net.de/ / http://www.myspace.com/vorndranphotography / http://www.facebook.com/blackcatnet)