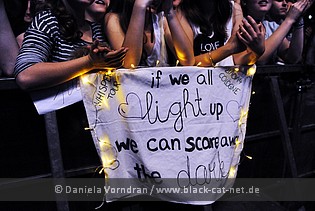 Palladium, Cologne, Germany
21st October 2014
Passenger & Special Guest The Once

PASSENGER is the pseudonym of the British singer/songwriter Mike Rosenberg. His music is assigned to folk and Indie-pop. With his song 'Let Her Go' of 2012 he reached place 1 of the charts in several countries. In 2013, he began a tour through Europe and Australia. He is really popular by now so there was nothing to wonder about the fact that the Palladium Cologne was sold-out this evening.
The Once

Support act on this cold, windy and rainy autumn evening was Canadian band THE ONCE. In May 2014, the trio (Geraldine Hollett, Andrew Dale and Phil Churchill) released 'Departures', and is supporting PASSENGER on his world tour. In their home land, the band already was making a name for themselves over the past five years with their acoustic music. THE ONCE is rooted in essential musical elements consisting of Geraldine's voice, gorgeous harmonies and the spirited acoustic instrumentation. In 2009, the band released the first album. In 2012, the band self-released a Christmas CD being followed by recording the new album.
http://www.theonce.ca
/
https://www.facebook.com/TheOnceBand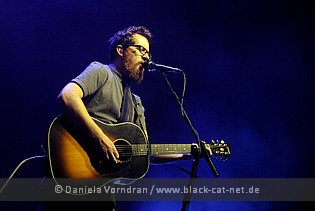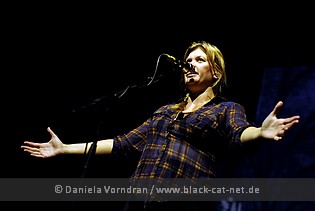 Music & Performance
Very aptly fitting the following PASSENGER concert, the show was presented totally acoustic using utilize guitars, mandolins, banjos and even a bouzouki to build a rich musical tapestry. Musically, even though based on Celtic music, the trio includes a wide range of influences, shown also in their genre-spanning cover selection. During their concert, they presented ELVIS PRESLEY's 'Can't Help Falling in Love With You', for those who are feeling romantic tonight. Over the pure instrumentation, Geraldine's voice is enthroning. THE ONCE did not have much time and the time was used merely by presenting songs from the new album, like the mentioned cover or 'The Town Where you Live' and 'We are all Running'. As last song, we got 'Heart's on Fire', being presented together with PASSENGER.
Rating

Music: 8
Performance: 6
Sound: 7
Light: 7
Total: 7 / 10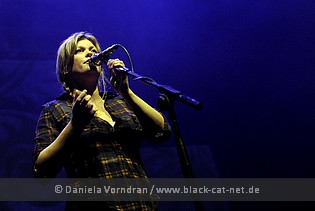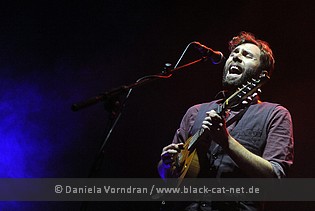 Passenger

Beginning of last year, Mike Rosenberg, aka PASSENGER, surely knew his life would change. But not how much. The singer/songwriter from Brighton entered the top chats positions of twenty countries with his ballad 'Let her go' in 2013. Even more exciting is the fact that several thousand fans are coming to concerts just to see him performing all alone on stage. With 'Whispers', the artists already released his sixth studio album in June with a first single, 'Heart's on Fire'. This song also was very successful in the charts. But still after the huge success, the artist is doing his street music, just like when he started. During his concerts, he works very often as soli musician as well, pure without a band in his back. But he also is playing shows with a full love band. During his show in Cologne, we got the rare and pure version, just PASSENGER all alone with his guitar.
http://passengermusic.com
/
http://www.facebook.com/PassengerOfficial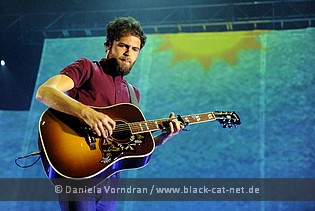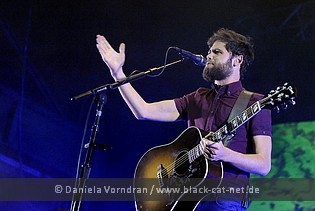 Music & Performance

PASSENGER is by now really popular with many fans around. And about 4,000 people came to Cologne to see him and show their admiration. The fans brought wonderful designed posters to show. And for the second song in the set, their held up signs with "Thank you" written on, much to the pleasure of PASSENGER, who during the show could really convince musically. Between his acoustically presented songs, he told little stories, for some he even talked too much. He over and over thanked the audience for their support, fooled around with the fans a lot. There was really close contact between stage and fans. It was incredible how this one man could entertain the audience, but of course, for some songs he also needed the singing support of the fans. His set lasted about one hour plus three encores and of course contained a lot of songs from the new album, including the 'Heart's On Fire' single, and of course the big hit 'Let her Go'.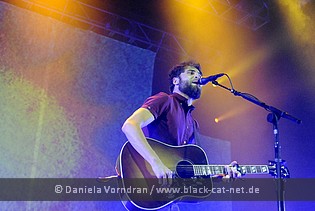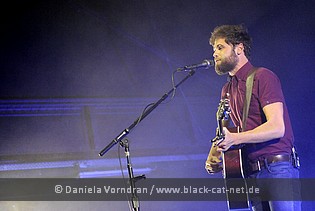 As already known, he also presented the SIMON & GARFUNKEL cover 'The Sound of Silence'. During the whole show, PASSENGER managed that the audience did what he wanted… from singing over clapping to snap their fingers. When he left the stage after an hour, he was loudly commanded back for some encores. One of them was 'Start a Fire' that was presented together with THE ONCE. Along with the song, PASSENGER told about how he met the band. He was playing in Scotland at a Folk radio, was much too early and got goose bumps when he heard them, making him a real fan boy… and so he spoke to them. The whole evening was not very long, but intense and leaving a good impression within the audience. There were many happy faces when people left into the cold night.
Setlist

01. Rolling Stone
02. Life's for the Living
03. The Wrong Direction / What is Love
04. The Sound of Silence (Simon & Garfunkel cover)
05. I Hate
06. Coins In A Fountain
07. Heart's On Fire
08. Let Her Go
09. 27
10. Whispers
11. Scare Away the Dark
---
12. Golden Leaves
13. Start A Fire (with The Once)
14. Holes
Rating

Music: 9
Performance: 8
Sound: 7
Light: 8
Total: 8 / 10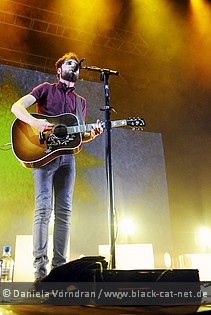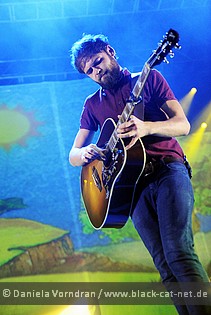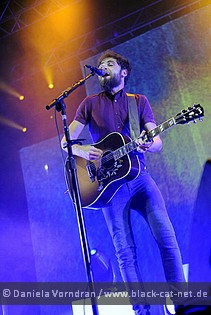 All pictures by Daniela Vorndran (
http://www.vorndranphotography.com
/
http://www.facebook.com/blackcatnet
)