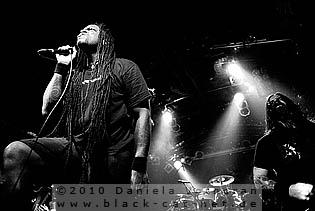 Matrix, Bochum, Germany
14th April 2010
Sepultura, Crowbar, Hamlet, Armed for Apocalypse

Four bands were on schedule this evening to let the apocalypse rain down on the attending crowd with the crowing event being the performance of legendary SEPULTURA. But before they'd be taking the stage there were still 3 bands to watch.
Armed For Apocalypse
ARMED FOR APOCALYPSE is composed of members of some bands gaining some credibility out there already. Amongst them are names such as WILL HAVEN or GHOSTRIDE. That four-piece has released their debut album 'Defeat' in September 2009. ARMED FOR APOCALYPSE is Kirk Williams (vocals, guitar), Cayle Hunter (guitar), Corey Vaspra (bass) and Nick Harris (drums).
http://www.myspace.com/armedforapocalypsesludge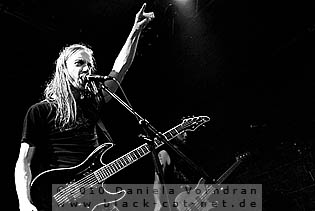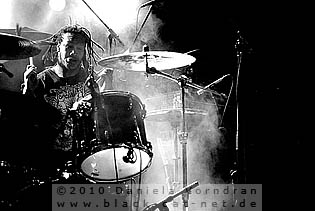 Music & Performance
The first one of which being ARMED FOR APOCALYPSE who just in time came on stage with singer Kirk Williams screaming into the microphone to greet the crowd, before hell was coming down with an ear-wrenching force. The vocals were screamed, growled and anything you'd expect from violent guitar music. But it did not resemble singing. The rhythmic constructions the noisy guitar walls were founding on were insane and mad, and I'm just lost for other superlatives now. You might be astounded by the technical proficiency this was all performed with but I couldn't get into it. It's been too far away from normal music for me and that means something if it's coming from me. However one thing deserves credit and that was the drummer who treated the instrument like a madman but in a way that was awe-inspiring and a feast to watch.
Rating
Music: 3
Performance: 6
Sound: 7
Light: 6
Total: 5 / 10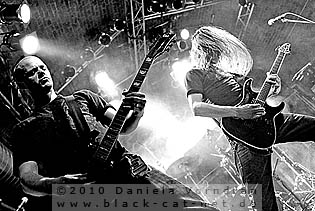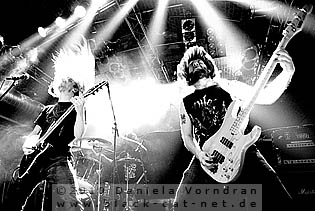 Hamlet
The Spanish Metal five-piece from Madrid started their career way back in 1987 when the members were still kids. First they'd play show after show until the recordings for a first little EP by the name of 'Hamlet' took place, followed by the first official record 'Peligroso' in 1992 that went mostly unnoticed. The band itself never was that fond of the final material so it's likely not a big problem for them. In 1994, the band members moved to Florida to record 'Sanatorio de Muñecos', which showed large progression in sound and style in all departments. Their consistent strive to improve brought forth an incredible total of ten albums and in 2007 HAMLET celebrated their 20th anniversary. Their newest album was released on Roadrunner Records in early 2010 and is called 'La Puta Y El Diablo'. HAMLET is Molly (vocals), Luis Tarraga (guitars), Alberto Marin (guitars), Alvaro Tenorio (bass) and Paco Sanchez (drums).
http://www.hamlet1.com/
/
http://www.myspace.com/hamletirracional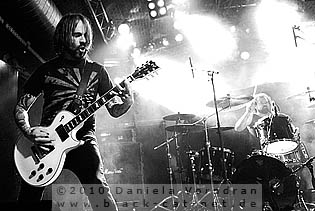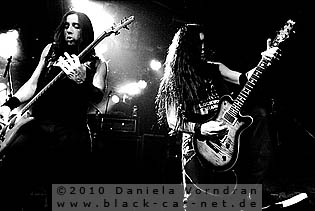 Music & Performance
Some Spanish temper was coming up with the next band HAMLET from Madrid and I was so glad they were not following the same route as the first band did. I mean, their style of Rock was harsh but had a more melodic undercurrent in the arrangements and vocals, whereas the latter ones still were mostly hard as on the opener 'Revolucion'. Much more interesting however was the performance, especially of front demon Molly. He had hardly entered the stage as he already started running and dancing around. At first only on a part, but later on every corner of the stage, and for a photographer that man, who especially posed for them as well, was a dream come true. During 'El Trajo Del Muerto', he even jumped on the barrier to the photographer's pit to keep on hyping up the crowd from there.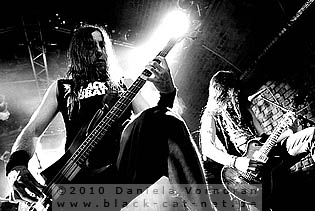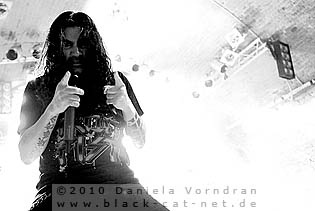 Amazing how much energy that guy has. The other band members wouldn't stand still either however they were not as vivid as him, except the one guitarist maybe. It was a splendid performance and musically much better than the first one
Setlist
01. Revolucion
02. El Habil Reino
03. La Tentación
04. El Traje Del Muerto
05. Creerse Dios
06. Siete Historias
Rating
Music: 7
Performance: 8
Sound: 7
Light: 7
Total: 7.3 / 10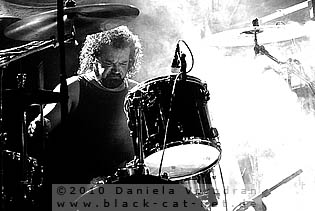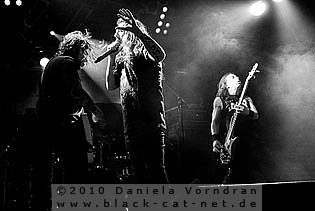 Crowbar
CROWBAR, founded in 1989, hails from New Orleans and released the debut album 'Obedience through Suffering' in 1991 and even met with recognition outside of America. The second eponymous album then refined the style with a little more catchiness. The successful album release was followed up by a tour with PANTERA e.g. through Europe, seeing the band developing quite a live reputation with their stage presence. To the present day CROWBAR has put out 8 varied albums of which 'Lifesblood for the Downtrodden' is the latest on from 2005. CROWBAR is Kirk Windstein (vocals, guitars), Matthew Brunson (guitars), Patrick Bruders (bass guitar) and Tommy Buckley (drums).
http://www.crowbarmusic.com/
/
http://www.myspace.com/crowbar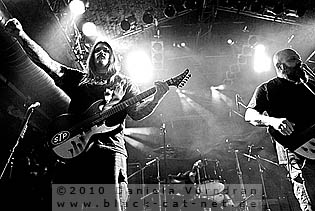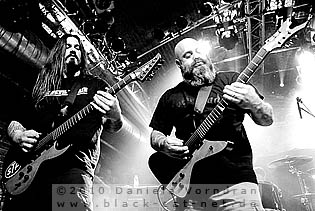 Music & Performance
CROWBAR were the exact counterpart to the aforementioned HAMLET; both in terms of music and performance. They've cultivated a style called Sludge, which is basically Doom Metal with extremely hard riffing and screaming vocals. That says already how fast the tunes were CROWBAR played. They were mostly creeping forward, with occasional outbreaks, with their glowering riffs and the armour piercing screams of Kirk Windstein, who celebrated his 45
th
birthday yesterday by the way. Therefore the performance itself wasn't as energetic as the last one but not less passionate which you could see best on 'Lasting Dose', introduced by a plaintive melodic riff, seeing Kirk playing it with kind of painful expressions on his face before the rhythms and the rest of the band kicked in. Speaking of the rest of the band means mentioning the bassist Patrick Bruders for his intriguing way of playing the bass; he had a more vibrant style and technique than Matthew Brunson for that matter.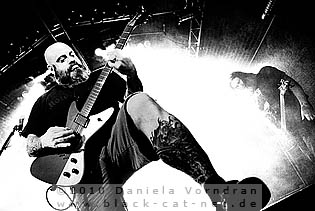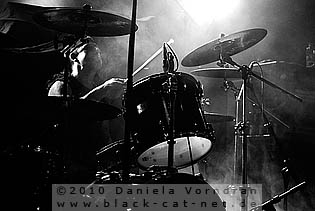 Amongst the crowd there were apparently many fans of the band, often screaming to get particular songs and celebrating CROWBAR heavily. But when 'Self-Inflicted' had sounded the bells for the end, they kept on screaming for an encore which never came as stage hands already started rebuilding the stage for the main act.
Setlist
01. All I Had
02. I Am Forever
03. Lasting Dose
04. New Dawn
05. Burn Your World
06. High Rate
07. Conquering
08. Planets Collide
09. Self Inflicted
Rating
Music:7
Performance: 7
Sound: 8
Light: 7
Total: 7.2 / 10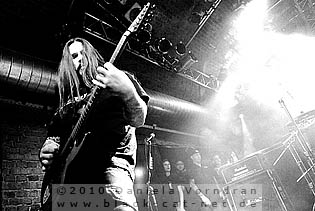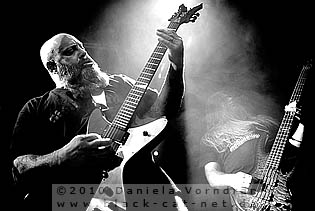 Sepultura
The band whose name is the Portuguese word for "Grave" came to life in 1984, releasing their first EP 'Bestial Devastation' the next year and the album 'Morbid Visions' another year later. Afterwards, the former guitarist left the band and was replaced by Andreas Kisser who's still holding that position. The band's second studio album, 'Schizophrenia', was released in 1987. It saw a stylistic change towards a more thrash metal-oriented sound, while still keeping the death metal elements of 'Morbid Visions' and became a success among critics. By 1991 and the release of their fourth album 'Arise', they'd become one of the most acclaimed bands of their genre. After the split with founding member and singer Max Cavalera they quickly found someone to fit into the huge footsteps he left with Derrick Leon Green with whom they have release five albums already, the latest one being 'A-Lex' from 2009. SEPULTURA is Derrick Green (lead vocals), Andreas Kisser (lead guitar, backing vocals), Paolo Jr. (bass) and Jean Dolabella (drums, percussions).
http://sepultura.uol.com.br/v6
/
http://www.myspace.com/sepultura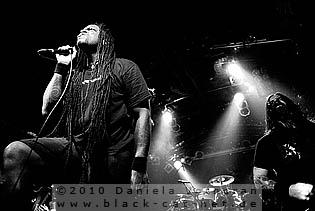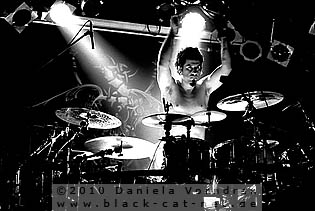 Music & Performance
The sentence "Hell was cut loose" has been overworked by many people in context with many things and I'm perfectly aware of that. But if a certain band called SEPULTURA enters the stage, there's nothing fitting better for what's going on. The band came on stage to the electronic 'A-Lex' introduction one by one and euphoric screams came from the audience. However that was nothing compared to what happened when the violence of 'Arise' broke upon with front giant Derrick Green appearing and spitting to the ill speed of the rhythms and guitars. People freaked out completely and two of them started dashing to the front row and in the course spilling their beer on my jeans and afterwards head banged like maniacs. Obviously very devoted fans of SEPULTURA! Latest with the third song 'Refuse/Resist' we had a massive mosh pit forming in the midst of the crowd, which sent its waves to the farthest corners of the audience.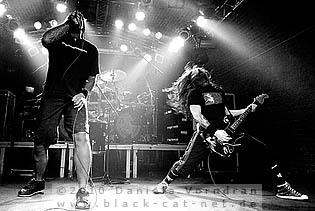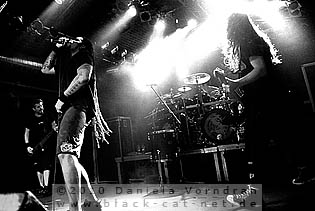 Also on this song, Derrick was delivering vocals while playing the percussions built up in front of the heightened drum set. On 'Filthy Rot', amidst the noisy environment, SEPULTURA incorporated a kind of folklorist choir into the track which gave the thing a little touch of world music. All of the time the mood was on a peak and it wasn't even necessary for the band to do anything but perform. Merely seeing these guys up there on stage was enough for a collective state of ecstasy. Maybe the fact they played also many old-school material and crowd pleasers such as 'Troops of Doom', 'Attitude' or 'Territory' added to that. After such an inferno and exhausting procedure, you could come to think the audience would be glad to get some reprieve. But they wanted more and got more with 'Conform' and 'Roots Bloody Roots'. A marathon of hard Metal was over now and people completely wasted but content when leaving the Matrix.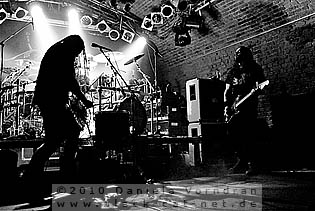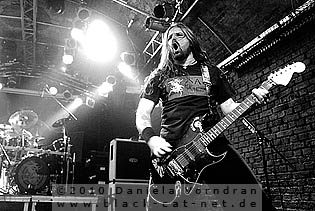 Setlist
01. Alex I / Moloko
02. Arise
03. Refuse/Resist
04. D.F.C
05. Filthy Rot
06. What I Do
07. Convicted In Life
08. Attitude
09. We've Lost You
10. Alex II / Treatment
11. Troops Of Doom
12. Septic Shizo / Escape
13. Sepulnation
14. Slave New World
15. Territory
16. Inner Self
17. Orgasmatron
---
18. Conform
19. Roots Bloody Roots
Rating
Music: 7
Performance: 8
Sound: 8
Light: 7
Total: 7.5 / 10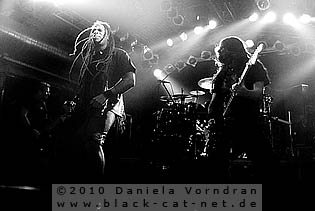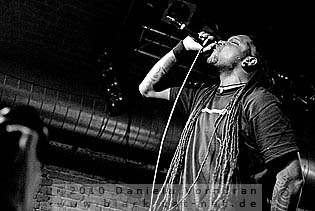 All pictures by Daniela Vorndran (
http://www.vorndranphotography.com/
/
http://www.black-cat-net.de/
/
www.myspace.com/vorndranphotography
)
{jos_sb_discuss:17}