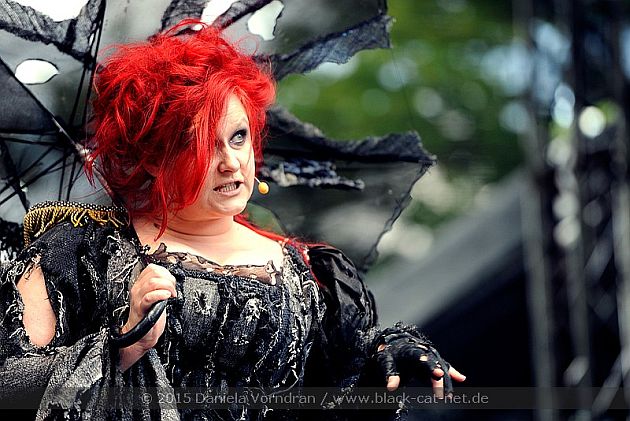 Interview with
Sonja Kraushofer (Persephone, L'Âme Immotelle, Coma Divine)

Before the Dark Acoustic Festival will be taking place in Kiev on April 21, we want to draw your attention to our interview Sonja Kraushofer. PERSEPHONE will be headlining the Dark Acoustic Festival and will be presented in Ukraine for the very first time! So, let's get started!
Reflections of Darkness [RoD]
: You are currently living in Germany. It is known that Germany is one of the largest and most developed branches of the dark scene. How are things in Germany and Austria with the gothic industry? Are there any festivals?
Sonja
:
I live in Germany, but I'm from Austria. There are many festivals in Germany, maybe too many already. The most amazing festival according to my opinion is the Wave Gotik Treffen in Leipzig, because the whole city is involved and Leipzig is a beautiful and charming city. Austria is way smaller than Germany and so, of course, there are less people who are interested in gothic music. There's one festival I heard of called "Schattenwelt – Festival", but I've never been there so far. Most of the concerts take place in Vienna, so it's very concentrated in the capital. When I started to go to gothic clubs and met other people who were interested in, let's call it, the gothic lifestyle it was way different than I experience it nowadays. It was a very creative scene, people enjoyed being different and were interested in art, music and philosophical questions about live and death. I mean of course we also had a lot of fun dancing and drinking, but it was not only about having a party and amusement.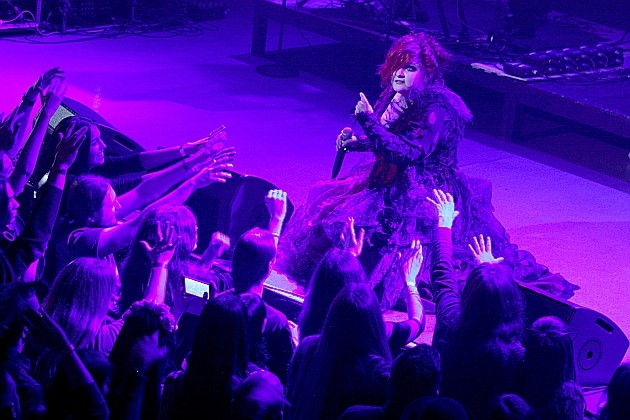 RoD
: You've already performed in Ukraine as part of an L'ÂME IMMOTELLE concert. What impressions did you have from Kiev? What was most memorable from staying in Ukraine and why did you want to return to us with a concert?
Sonja
:
I was so impressed by the ancient and pretty city, I loved the old buildings and was fascinated in general, so my first thought was, that I'd love to go back soon! The audience at the L'ÂME IMMORTELLE show was very enthusiastic and gave us a warm welcome. We met very friendly and cordial people, so I'm glad to be back with PERSEPHONE next week! That's fantastic!
RoD
: What influenced your aesthetic preferences in general? Why Gothic became the inspiration for you?
Sonja
:
Since I was a child I was captivated by melancholy in art and music and caducity. I had a great and happy childhood, but these thoughts were always there, no idea why or where they came from. That's the main inspiration and the reason I`m singing and trying to express myself in music and lyrics.
RoD
: April 21 PERSEPHONE will perform at the Dark Acoustic Festival in Kiev. How do you like the idea of holding such festival? And what exactly will you play this evening?
Sonja
:
I really hope that many people will join the festival, it will be an evening celebrating handmade music, with acoustic instruments. I think that's something special. All concerts I did with PERSEPHONE were very unique, close and intimate - no concert is similar to the other, because everything happens at that very moment. In January we released a new album called 'Perle', which is inspired by the novel 'The Other Side' by Alfred Kubin. We'll present the current songs in Kiev, but of course we'll play tunes of all our PERSEPHONE CDs to give the audience an impression of our music.
Tickets: https://concert.ua/en/eventpage/dark-acoustic-festival
Facebook: https://www.facebook.com/events/2055470961359067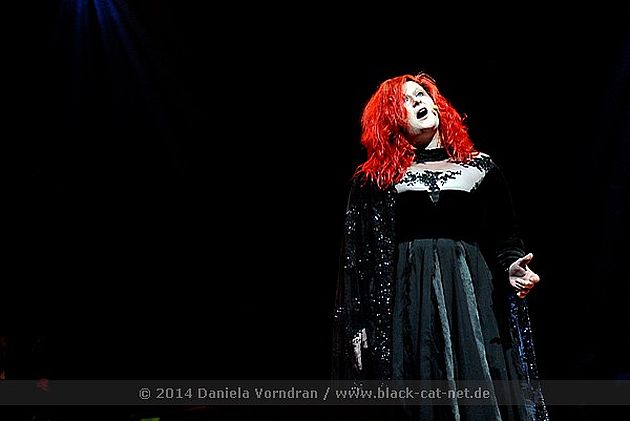 RoD
: You have several musical projects… do you cope with them on the principle of "ordnung ist ordnung" or do you have any other campaign?
Sonja
:
Hahaha, well, "Ordnung" is important! We love to do long-term plans, so it never collided and we talk to each other… that helps. ;-)
RoD
: Most journalists especially focus on your catchy and colourful appearance. You do invent herself your stage outfits? How long has your hair been fiery red?
Sonja
:
I can't remember when my hair was not that red! All my outfits (for all bands) are made by Andreas Ossowski. Often I have ideas how the dress should look like, but Andreas brings my rough ideas to life. Find his work here: www.arts-and-visions.com
RoD
: What song of PERSEPHONE was given you the hardest? Please tell us the story of this "most difficult" song.
Sonja
:
Believe me, all PERSEPHONE productions were stirring, so far. The goddess is demanding it, I always say. But 'Sweetest Pain' (of the album 'Atma Gyan') is a song which is always very emotional for me, for example.
RoD
: Why it was necessary to create PERSEPHONE? Was it not possible to publish everything under the brand name L'ÂME IMMOTELLE? Like experimental albums, for example.
Sonja
:
No. It's something completely different. When we work on L'ÂME IMMORTELLE songs the lyrics and main topics are devised by my bandmate Thomas Rainer and for PERSEPHONE I do the lyrics myself and write about my inner thoughts and feelings, fears and dreams and I did the music together with Martin Höfert, so it's a completely different approach in general and has nothing to do with each other, except that I am the singer of both bands.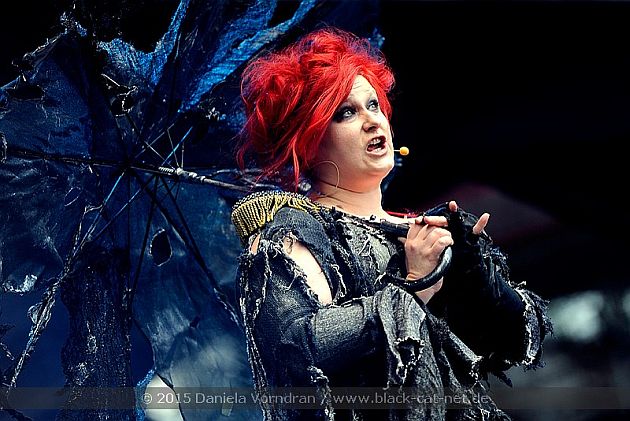 RoD
: I'm almost sure that you will not answer the question about your personal life, so I'll ask a bit differently: does the artist's personal life affects his stage activities?
Sonja
:
Yes, of course and so does the daily condition as well - but that makes the live concert in the end.
RoD
: Scorpios on the zodiac sign people are very peculiar. Do you also have Scorpio features?
Sonja
:
Peculiar? O.k., yes maybe a little bit. Some points could be true… I'm very passionate, persistent and not interested in shallowness, just to mention a few Scorpio characteristics.
RoD
: You, as an expert in the field of theatre, do you think that theatricality is the important source of the Darkwave? Do you feel it?
Sonja
:
Oh, that's hard to tell, I mean what is theatrical? Sometimes this term is used in a negative way, at least in the German language. But I think that many artists in the genre of dark wave and gothic are not afraid to express themselves in an edgy way, let's say it like this.
RoD
: What is the reason of such a long break between albums 'Letters to a Stranger' and 'Perle'?
Sonja
:
Back to question number 9, please. ;-) We had to face personal changes, so that was one reason 'Perle' took us a bit longer. Further we worked on another band at that time. We produced the album 'Dead End Circle' of the band COMA DIVINE, went on tour and played several concerts. In addition, PERSEPHONE productions are always quite extensive, because of all the real instruments and arrangements, so it always takes some time.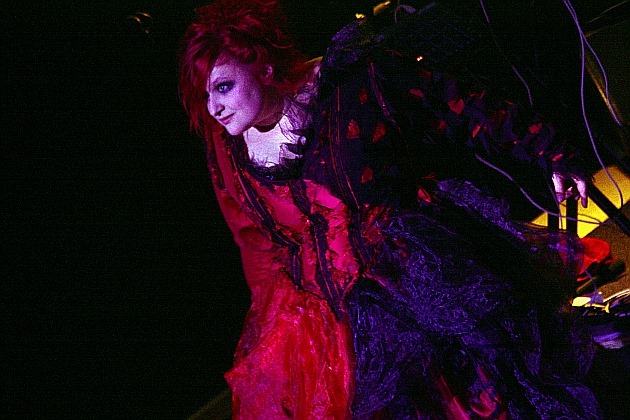 RoD
: What are your creative plans for this year?
Sonja
:
We'll play some shows with PERSEPHONE, for example at the H.R. Giger Museum, the Amphi Festival or at a lovely theatre in Belgium. We already started collecting ideas for a subsequent release. With L'ÂME IMMORTELLE we just finished our tour, presenting our current CD 'Hinter dem Horizont'. We'll also be in the studio again soon, working on new material and will play at this year's M'era Luna Festival.
RoD
: A few warm words for your fans in Ukraine, who are eagerly awaiting your arrival.
Sonja
:
We are counting the days already and can't put into words how excited we are already! It's a great honour and pleasure for us to present PERSEPHONE to the Ukrainian audience. See you soon!
Pictures by Iryna Kalenska & Daniela Vorndran (
http://www.vorndranphotography.com
/
http://www.facebook.com/blackcatnet
)