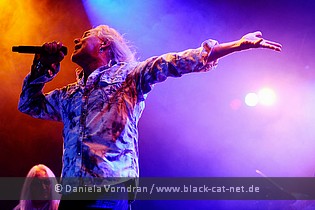 Turbinenhalle, Oberhausen, Germany
20th May 2011
Rocklegends in Concert: Uriah Heep, Nazareth, The Brew

Both URIAH HEEP & NAZARETH need no too detailed introduction to rock fans. Both bands are icons in their own right and their respective genre. Third one in league THE BREW might not have such a long history, emerging in 2005 and fusing a wide range of influences like modern rock or experimental 60s stylistics just to name a few. The young guys were making the kick-off to an evening of great rock music.



The Brew

British band THE BREW came to existence in 2006. Since then, the trio released three albums, the latest one being 'A Million Dead Stars' in January 2010, an EP and even a DVD. Over the past five years, the band has expanded their audience by a lot of touring and TV appearances. THE BREW is Jason Barwick (Guitar, Vocals), Kurtis Smith (Loud Drums) and Tim Smith (Bass, Vocals). http://www.the-brew.net/ / http://www.myspace.com/thebrewinfo / https://www.facebook.com/pages/The-Brew/36669392940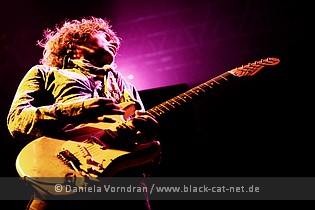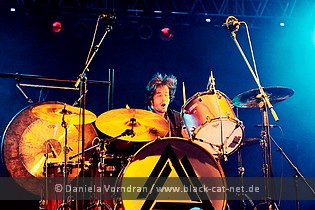 Music & Performance
When THE BREW, who btw. will play in Bochum in October, entered the stage already at 19:15, it first looked that they would play in front of a small audience. But in the course of the show, which lasted btw. 1:10, the venue filled up and the trio got well-deserved applause. They convinced with their delight in playing blues-laden Hard Rock. They started the set with two songs from the latest album 'A Million Dead Stars'. Then, Tim on bass wanted to announce the next one being from… and his son on drums answered "Spice Girls" receiving his father's reply "Felix the Cat". When Kurtis finally answered "Boy George", this caused a lot of laughs. Anyway, they went on with the music. Especially singer Jason was very vivid on stage, jumping around a lot and presenting virtuous guitar play with a lot of psychedelic elements. Vocal parts were alternating with longer jams and improvisations presenting the musical talent of the band. Finally, Jason was treating his guitar even with a fiddlestick. Awsome! With an extended drum solo (for my taste a little bit too long), the set ended, but even though THE BREW were the first band of the evening, they returned for more music. Really good start of the evening!

Rating
Music: 8
Performance: 8
Sound: 7
Light: 7
Total: 7.7 / 10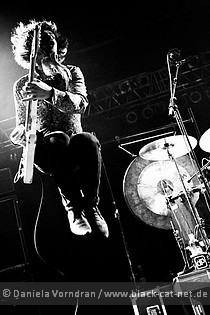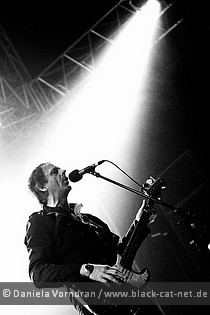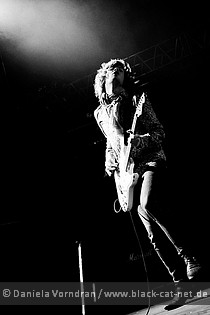 Nazareth

Founded in 1968, the Scottish Hard Rock band NAZARETH celebrated the first successes in the 1970s even though the breakthrough came with the EVERLY BROTHERS cover version 'Love hurts'. In the 1980s, NAZARETH's career reached a low due to a stylistic change that led to a kind of softer Hair Metal and many ballads. Furthermore, there were several line-up changes. By releasing the album `No Jive´ (1991) that showed a return to straight Hard Rock, the Scots could replicate their former successes. However, NAZARETH was struck by disaster in 1999. The drummer Darrell Sweet, who was one of the founding members, died from a heart attack just before a concert. In 2008, they released their comeback album 'The Newz' followed up by 'Big Dogz' in April 2011. NAZARETH today is Dan McCafferty (Lead Vocals), Jimmy Murrison (Guitar), Pete Agnew (Bass) and Lee Agnew (Drums). http://www.nazarethdirect.co.uk / http://www.myspace.com/nazarethdirect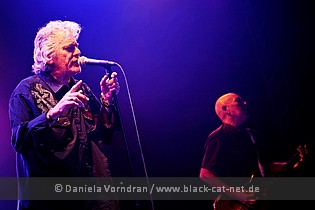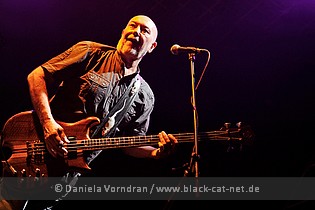 Music & Performance
When some bagpipe sounds floated through the hall you knew that it was time for Scottish band NAZARETH to enter the stage. Enlightened by lots of pink spots, the crew around singer Dan McCafferty entered the stage to start up with 'Silver Dollar Forger' followed by 'Big Dog's gonna howl' from the current album 'Big Dogz'. Especially Pete Agnew on bass and singer Dan are not the youngest anymore, already are past their 60s, but they still radiate pure Rock'n'Roll feeling. Especially Dan's hoarse voice, being one of the band's trademarks, convinced the audience. Even though there were also some minor down since guitar player Jimmy did not always hit the beat receiving one or another angry view from Dan who btw did not always was vocally on top either. But back to Friday night's show which went on with 'This Month's Messiah' before one of the really big NAZARETH hits (besides 'Love Hurts the only one in the set), 'Dream on', followed accompanied by a bug audience choir. After the JONI MITCHELL cover 'This Flight Tonight' surely being also one of the old fan favourites, two more songs from the latest album, 'Radio' and 'When Jesus comes to save the World again' followed. Every now and then, the grey-haired singer announced the upcoming song and was acknowledged with applause due to his humorous comments. He also made some advertising for the new CD of course trying it in German but finally realising his "Deutsch ist Scheiße (my German is crap)".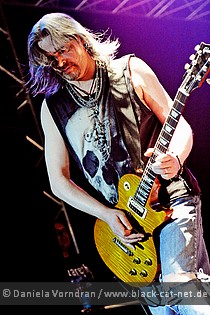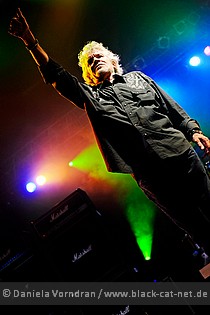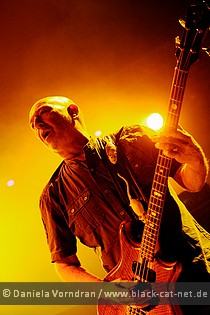 Following the new songs was "a little older sweet little diddy" called 'Changin' Times'. Last son of the main set, 'Hair of the Dog', started with a little drum solo before the whole band joined in. From a stage hand clothed in a kilt and Scottish hat wearing an artificial beard - looking btw really silly - a bagpipe for Dan was brought. With it, he was creating really strange sounds. After not even an hour, the band left the stage but of course came back for a three song encore containing of course THE EVERLY BROTHERS cover 'Love Hurts'. With 'Morning Dew', the show, lasing also 1:10, ended. All in all, it was a little too static performance where some of the big hits were missing.

Setlist
01. Intro
02. Silver Dollar Forger
03. Big Dog's gonna howl
04. This Month's Messiah
05. Dream On
06. This Flight Tonight (Joni Mitchell cover)
07. Radio
08. When Jesus comes to save the World again
09. Changin' Times
10. Hair of the Dog
---
11. Razamanaz
12. Love Hurts (The Everly Brothers cover)
13. Morning Dew

Rating
Music: 7
Performance: 7
Sound: 7
Light: 8
Total: 7.2 / 10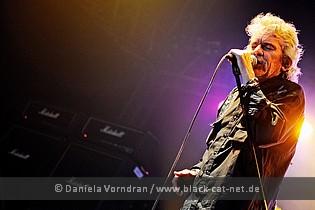 Uriah Heep

As one of the first bands to fuse progressive with metal, URIAH HEEP - formed in 1969 - are a precursor to the progressive metal genre, but they also draw influence from progressive rock, hard rock, heavy metal, jazz, and sometimes even country. The first album 'Very 'eavy, very 'umble' from 1970 already featured a Top 30 hit with 'Gypsy'. The second instalment 'Salisbury' (1971) included the band's most famous song to date 'Lady In Black'. Subsequent releases would find the group's ever-shifting line-up (between 1969 and 1980, the band changed drummers five times, bassists four times, and lead singers twice). Throughout their log career the band released more than 20 studio albums, but for the 2008 album 'Wake The Sleeper' the fans had to wait 10 long years. For the new album 'Into the Wild', waiting time was much shorter since the album was released in April 2011. URIAH HEEP is Bernie Shaw (vocals), Mick Box (lead guitar, vocals), Trevor Bolder (bass, vocals), Phil Lanzon (keys, vocals) and Russel Gilbrook (drums, vocals). http://www.uriah-heep.com / http://www.myspace.com/uheep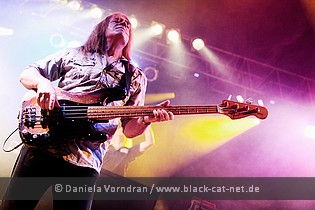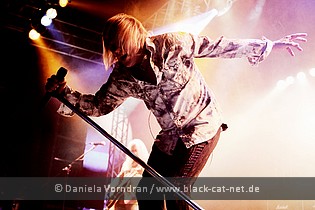 Music & Performance
URIAH HEEP were up to finish a great evening of Rock music. And they really did it very well. There was a lot of action and movement on stage and singer Bernie was constantly animating the audience to scream, join in the singing or simply to clap along. The show offered a good mix of old and new songs. Since the band also has a new album out, the band of course played several songs out off it during the night, such as the album's title track 'Into the Wild', 'I'm ready', 'Kiss of Freedom' or 'Money Talk', last one followed by an amazing drum solo leaving you with open mouth. The hall was filled with people eager to sing along to big hits the performance mainly consisted of. The whole band had a lot of fun on stage as well, which was perfectly transported to the audience. The temper on stage was really infecting!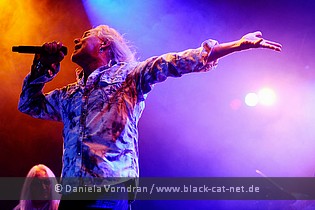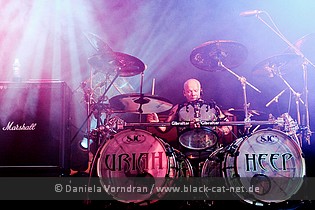 Following that solo were the opening song of the current album, 'Nail on the Head', and 1974 (in fact the year I was born) 'The Wizard' opening up with acoustic guitar and vocals only before it developed to a full instrumented piece. After the new album's title track, some old gems were coming up. i.e. we had 'Gipsy' from the very first album 'Very 'eavy...Very 'umble' which was already back than in 1970 a top 30 hit in Germany. We got 'Look At Yourself' from the same titled album out off 1971, 'July Morning' and of course the band's biggest hit, 'Lady In Black' (also from 1971) ending the main set. Magic when a thousand fans sung this title! When the band left, loud clapping and screaming for encores arose and as you might have guessed, the band came back to present some more songs, namely 'Free 'n' Easy', 'Bird of Prey' from 1971's 'Salisbury' album and last but not least 'Easy Livin', also from the mid 70s. Underlined with good sound and a fantastic light show, this show was another great moment in rock history.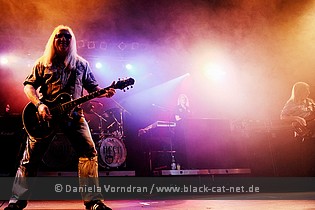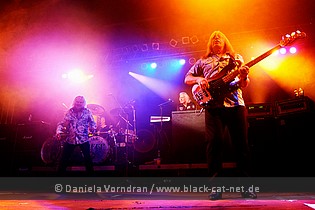 Setlist
01. I'm Ready
02. Return to Fantasy
03. Stealin'
04. Rainbow Demon
05. Money Talk - Drum Solo
06. Nail on the Head
07. The Wizard
08. Into The Wild
09. Gypsy
10. Look At Yourself
11. Kiss of Freedom
12. July Morning
13. Lady In Black
---
14. Free 'n' Easy
15. Bird of Prey
16. Easy Livin'

Rating
Music: 9
Performance: 10
Sound: 9
Light: 10
Total: 9.5 / 10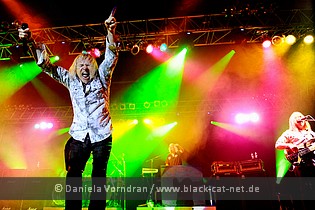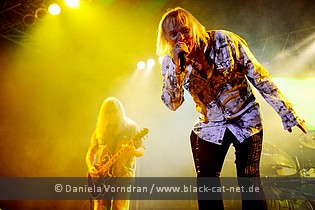 All pictures by Daniela Vorndran (http://www.vorndranphotography.com / http://www.black-cat-net.de/ / www.myspace.com/vorndranphotography / www.facebook.com/blackcatnet)


See also (all categories):