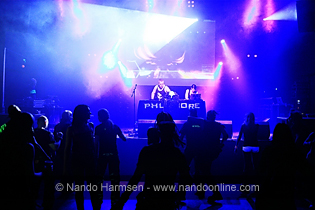 P60, Amstelveen, The Netherlands
25th April 2014
Blacksun Corp Festival: Phosgore, Die Sektor, Nitro/Noise, Benjamin's Plague & Synthetica

The evening prior to the festivities of the Dutch Kings Day we find the Blacksun Corp festival in the cavern that is called P60. It is an evening full of dark bass and harsh industrial EBM music that can not only be heard, but also be felt deep inside the bowels. But the evening before Kings Day is also a disadvantage because there are so many activities throughout the Netherlands. It is therefore not surprising we find an almost empty venue when the evening starts. Fortunately it doesn't bother much of the bands performing, or so it seems.
Synthetica

SYNTHETICA creates music which is inspired by events causing the end of everything. And indeed, the themes of their two full length albums are all about the suffering of humankind. The brain behind SYNTHETICA is Robert Palmen and he originates from the project NAFTA-2. The sound that describes the band is a mixture of EBM, Dark Electro with nice soundscapes that fit the apocalyptic theme of their albums.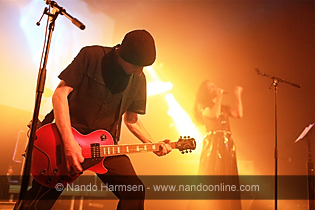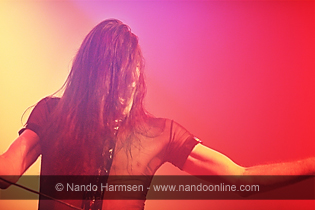 Music & Performance

It is always difficult to start off a festival. SYNTHETICA is forced to perform for an audience of no more than ten persons, perhaps a few more. Nevertheless they play with enthusiasm and it is clear they like what they are doing. The music is programmed very tight so singer Palmen has no change to speak in between songs. He tries but fails every time again. SYNTHETICA has about three quarters of an hour to perform their show and they succeed to impress. The use of guitar and percussion on stage has value and adds to the live experience.
Rating

Music: 7
Performance: 7
Sound: 6
Light: 7
Total: 7 / 10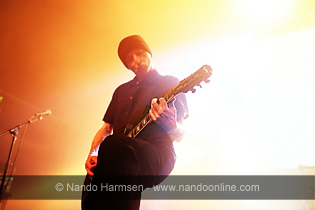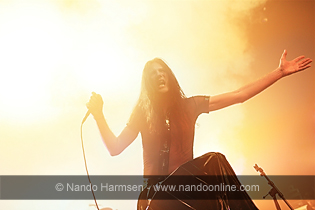 Benjamin's Plague

One of the new acts in the dark-underground world is BENJAMIN'S PLAGUE. Although… new? They have been around from 2010 already. This band, led by Benjamin Schoones and Guido Bergman, bring songs of life, desperation and deconstruction, mixed together with feelings and dark atmospheric melodies. Their latest work 'Lost' can be downloaded for free from Bandcamp. There is not a lot of information available online, but the music of BENJAMIN'S PLAGUE speaks for itself. It is a promising band from the Netherlands that has the potential to make name in the scene.
https://www.facebook.com/BenjaminsPlagueMusic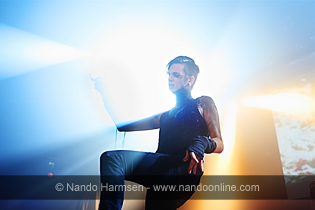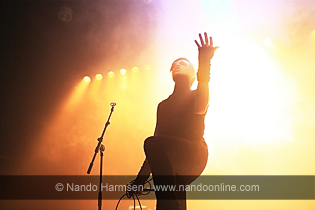 Music & Performance

BENJAMIN'S PLAGUE is more up-tempo than the previous band. Schoones is energetic, running up and down the stage. The two members form a traditional EBM/ Industrial band with one member behind the keyboard and computer (Bergman), and one member singing (Spooner). They are also have make-up, just what you would expect, and it is not difficult to make the link to bands like Combichrist. Nevertheless, their music is less aggressive and more catchy and danceable. And that can be seen because the audience is dancing to the sound of their music.
Rating

Music: 7
Performance: 7
Sound: 6
Light: 7
Total: 7 / 10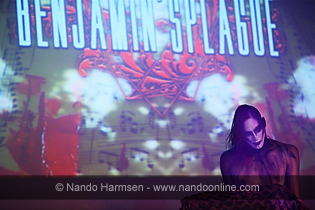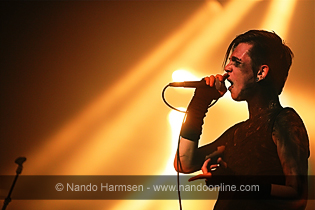 Nitro/Noise

NITRO/NOISE is an harsh aggrotech band from Canada. They just released a brand new album called 'No Cure for Apocalypse' full of songs that, according to some reviews, is the album that COMBICHRIST wanted to make after their 'What the Fuck is Wrong With You' album. This year they are touring through Europe and Russia together with DIE SEKTOR.
https://www.facebook.com/nitronoisemusic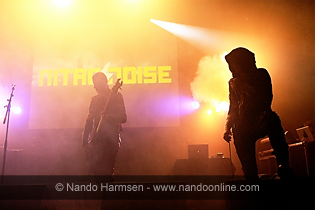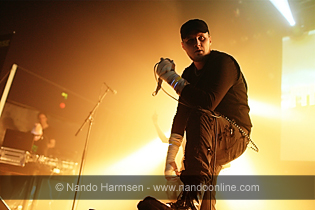 Music & Performance

The first appearance of NITRO/NOISE is promising. Hooded and surrounded by smoke they resemble SUNN O))) a bit. But it takes only a few moments before the hoods are thrown back and a harsh distorted voice takes over. Singer Kold is accompanied by a guitar and bass player. By the looks of it they add a lot live experience of NITRO/NOISE. But it after a few songs it becomes clear they don't use their instruments a lot. It is only for show and that show is not convincing a lot. The three members of NITRO/NOISE are not really driven and lack enthusiasm. Although Kold is acting like the aggressive one, the guitar and bass players are looking almost bored.
Rating

Music: 5
Performance: 5
Sound: 6
Light: 6
Total: 5 / 10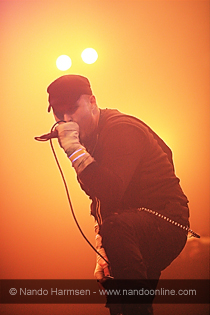 Die Sektor

DIE SEKTOR was founded in 2004 and released a couple of albums known as "The Void Trilogy". The last part of this trilogy, called "(-) Existence", was released in 2013 and is claiming to be their most accessible, experimental, darkest, emotional and complex work yet. DIE SEKTOR has gained a reputation of exciting and powerful live performances and one of the top remix producers in the genre.
https://www.facebook.com/pages/Die-Sektor-Official/139271376102530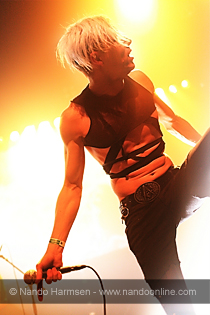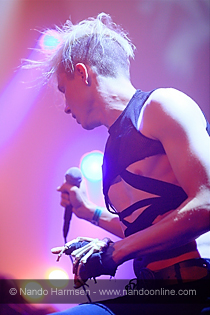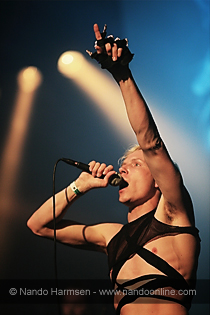 Music & Performance

The performance of DIE SEKTOR starts with a little sound problem. The voice of singer Edwin Alter cannot be heart at all. This takes about a few minutes or so before the problem is solved. Fortunately. If we thought we saw an energetic performance this evening, we haven't seen Alter yet. He is running down the stage like a complete insane person. His energy is tantalizing and the power and emotion of the performance is like none we have seen. When the first songs have been played it is clear we witness the best performance of this evening and it doesn't stop when we think the show is over. DIE SEKTOR is allowed to play two more songs and none of the audience is grieving about it.
Rating

Music: 8
Performance: 9
Sound: 6
Light: 7
Total: 8 / 10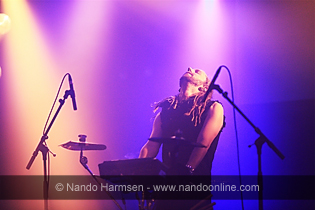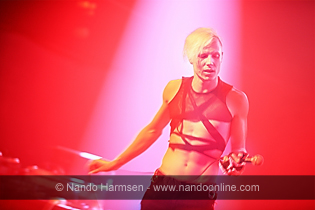 Phosgore

The music of PHOSGORE are called ass-kicking beats, thundering bass lines and screaming synths without any compromise. Founded in 2008 by Flo D. PHOSGORE have released two albums of which the last one 'Warhead' has managed to enter the Top 10 of the German Alternative Charts and German Electronic Web Charts.
https://www.facebook.com/phosgore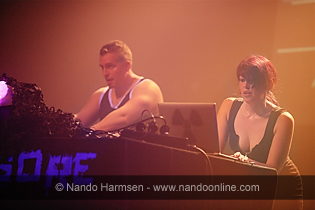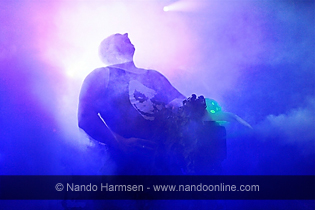 Music & Performance

PHOSGORE is different as the previous bands of the evening. Standing behind their enormous mixing deck Flo D. and Sonja produce the darkest, most harsh Industrial and Electro sounds. Flo D. doesn't stay behind the table and screams through his microphone and is making sure the audience is dancing. He succeeds without any problem and the two members of PHOSGORE make a show like we haven't seen often. A couple of plague-masks play an important role during their performance, spilling a curtain of smoke from their fiery eyes. It looks like a nice link to the former band of the evening, BENJAMIN'S PLAGUE and thus the circle is round.
Rating

Music: 9
Performance: 8
Sound: 7
Light: 7
Total: 9 / 10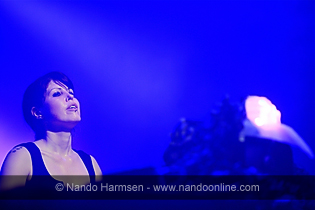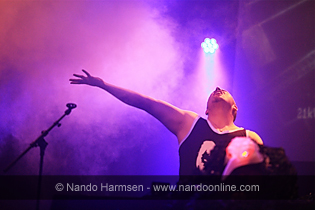 All pictures by Nando Harmsen (
http://www.nandoonline.com
)