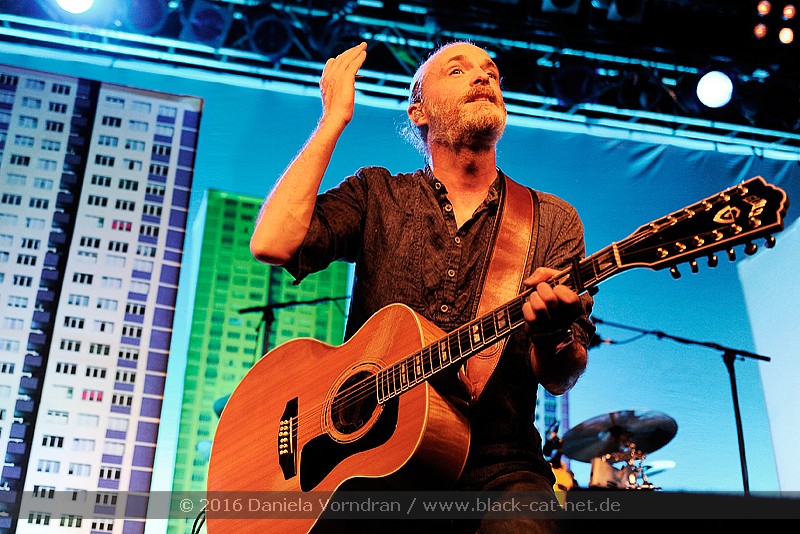 Live Music Hall, Cologne, Germany
24th May 2016
Travis & Chester Travis (Great Danes)

'Everything at Once' - That's the title of the new album TRAVIS released on April 29th. Shortly after the release, the Britpop rockers from Scotland were bringing their music to Cologne's Live Music Hall. TRAVIS are vocalist Fran Healy, bassist Douglas "Dougie" Payne, drummer Neil Primsrose, and guitarist Andy Dunlop, they've been around for over 25 year by now, wrote the evergreen 'Why Does it Always Rain on Me', and have been awarded best band at the BRIT Awards twice.
Now, they've recorded their eighth record 'Everything at Once' at Hansa Tonstudio, a sound studio in Berlin, and shared their first single last November as a free download. So, if you want to enjoy a great setlist of classic TRAVIS oldies to sing along and some fresh tunes from 'Everything at Once', catch TRAVIS live at the LMH!
Please enjoy our pictures from the concert.
Chester Travis (Great Danes)

Berlin based Chester Travis from the band GREAT DANES was supporting TRAVIS with a little acoustic solo performance.
https://www.facebook.com/greatdanesmusic
/
https://soundcloud.com/greatdanes
Travis

With many old hits like 'Why Does it Always Rain on Me', 'Sing' or 'Driftwood' as well as several new songs, the band convinced the audience in a packed Live Music Hall.
http://www.travisonline.com
/
https://www.facebook.com/travistheband
Setlist

01. Everything at Once
02. Sing
03. Selfish Jean
04. Writing to Reach You
05. As You Are
06. Love Will Come Through
07. Driftwood
08. Animals
09. My Eyes
10. 3 Miles High
11. Re-Offender
12. Side
13. Moving
14. Idlewild
15. Where You Stand
16. Closer
17. All I Want to Do is Rock
18. Turn
---
19. Flowers in the Window
20. Magnificent Time
21. Why Does It Always Rain on Me?
All pictures by Daniela Vorndran (
http://www.vorndranphotography.com
/
http://www.facebook.com/blackcatnet
)