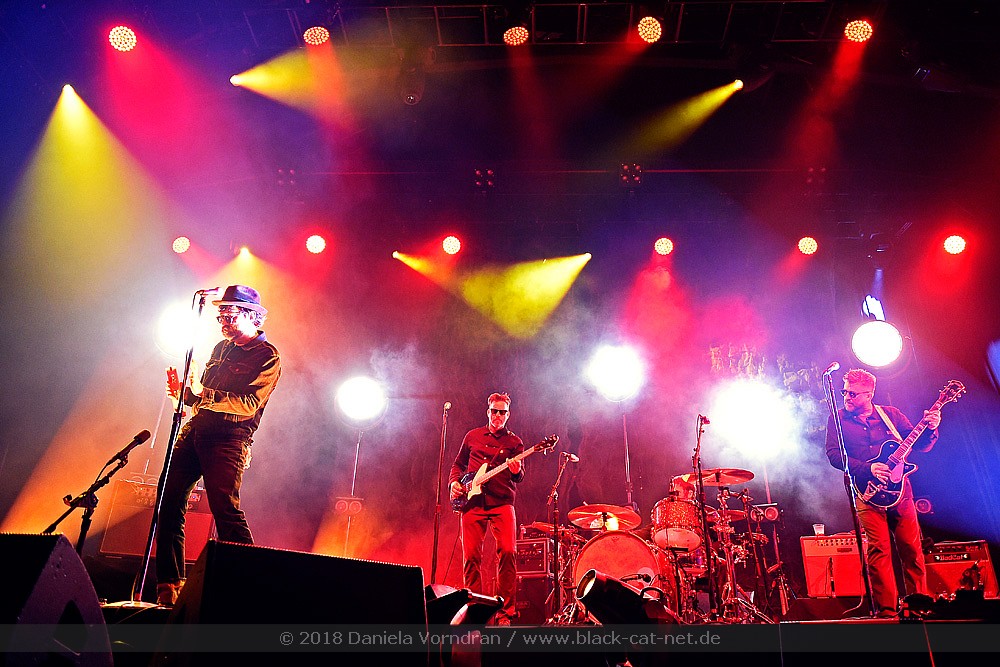 E-Werk, Cologne, Germany
26th June 2018
Eels - 2018 World Tour - Support: That 1 Guy

Anyone who has seen Mr. E and his band live more than once knows that basically everything can happen on an EELS concert. For example, in recent years at one tour, they rocked with doubled beards in their faces, baseball caps, and Adidas training pants through their oeuvre at twice the pace. They invited to a stylish evening with string accompaniment, where Mr. E read from his biography and in between presented his personal best of. And sometimes they were just the almost exceptional band, whose songs appear every few months in an American movie soundtrack, because they are so good, so timeless, so melodic, so profound, and so deep.
Now, mastermind Mr. E has completed his 12th studio album, which was released on April 6 and is called 'The Deconstruction'. 15 songs are on it - recorded by him, his occasional companions Koool G Murder and P-Boo as well as the "The Deconstruction Orchestra & Choir". About the album, but Mr. E already said, "Here are 15 new EELS tracks that may or may not inspire, rock, or not rock you. The world is going nuts." Just a few weeks after the release, the EELS are now introducing the new songs live - and these songs rocked, as well as the old gems EELS played live at the sold-out E-Werk last Tuesday. As support, they brought THAT 1 GUY with his "magic pipe", who already warmed up the audience very well for the things to come!
That 1 Guy

http://that1guy.com / https://www.facebook.com/that1guy
Eels

http://www.eelstheband.com / https://www.facebook.com/THEEELS
Setlist

00. Intro: Fanfare for Rocky
01. Out in the Street (The Who cover)
02. Raspberry Beret (Prince cover)
03. Bone Dry
04. Flyswatter
05. Dog Faced Boy
06. From Which I Came/A Magic World
07. Dirty Girl
08. That Look You Give That Guy
09. Prizefighter
10. Rusty Pipes
11. Open My Present
12. You Are the Shining Light
13. My Beloved Monster
14. I'm Going to Stop Pretending That I Didn't Break Your Heart
15. Climbing to the Moon
16. I Like the Way This Is Going
17. Little Joe!
18. Today Is the Day
19. Novocaine for the Soul
20. Souljacker, Part I
21. I Like Birds
22. P.S. You Rock My World
---
23. When You Were Mine (Prince cover)
---
24. Mr. E's Beautiful Blues
25. Fresh Blood
26. Love and Mercy / Blinking Lights (For Me) / Wonderful, Glorious
More on
Eels
All pictures by Daniela Vorndran (
http://www.vorndranphotography.com
/
http://www.facebook.com/blackcatnet
)