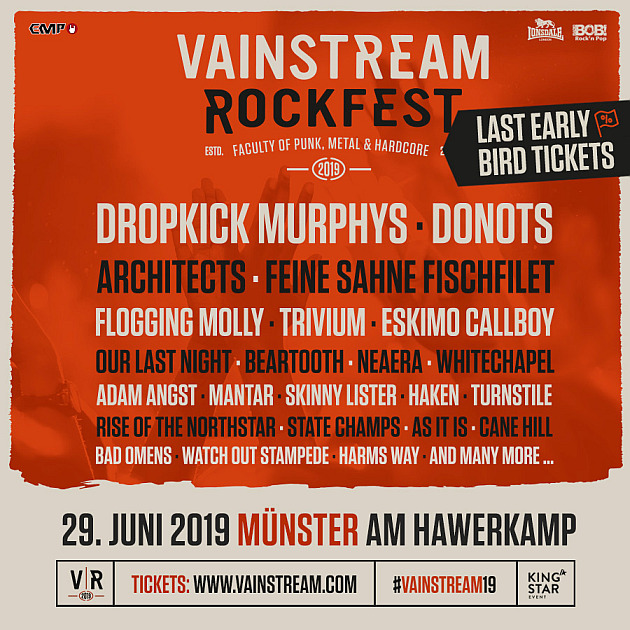 ALREADY MORE THAN 10,000 TICKETS SOLD - LAST EARLY BIRD TICKETS AVAILABLE!
The VAINSTREAM ROCKFEST is now in its 14th year! This event in Münster is popular with fans and bands and Rock fans can enjoy the best of Punk, Hardcore and Metal music this summer with three open air stages and one indoor. Waves rippled from the beginning with the announcement that such high-carat bands such as DONOTS, FLOGGING MOLLY, FEINE SAHNE FISCHFILET and TRIVIUM would be appearing, with further news that BEARTOOTH, NEAERA, ESKIMO CALLBOY, OUR LAST NIGHT & SKINNY LISTER would be joining this amazing line-up.
Now it is conformed that DROPKICK MURPHYS and the ARCHITECTS - acts from the top-tier in Punk Rock and Metal - thus forming the perfect rounding off for the Festival Billing of 2019! This year's incredible line-up will be the biggest to date and will appeal to all fans from near and far. With six months still to go the organizers have already sold more than half of all the tickets, thus creating another record another in the history of Münster based one-day festival!
Kingstar presents: VAINSTREAM ROCKFEST 2019

ADAM ANGST * ARCHITECTS * AS IT IS * BAD OMENS * BEARTOOTH * CANE HILL * DONOTS, DROPKICK MURPHYS * ESKIMO CALLBOY * FEINE SAHNE FISCHFILET * FLOGGING MOLLY * HAKEN + HARMS WAY * MANTAR * NEAERA * OUR LAST NIGHT * RISE OF THE NORTHSTAR * SKINNY LISTER * STATE CHAMPS * TURNSTILE * TRIVIUM * WATCH OUT STAMPEDE * WHITECHAPEL & MANY MORE...
29th June 2019 MÜNSTER, AM HAWERKAMP
Festival hard tickets at www.vainstream.com/tickets
Regular tickets are available at all known CTS ticket agencies and via
Eventim
Early-Bird tickets are still up for grabs from 31st Jan 2019
FREE TO FESTIVAL AND BACK

For all tickets purchased in advance, the authorization of the free use of public transport (bus / train) in the network of Münsterland area (VGM) on the entire day of the event (incl. up to 03:00 o'clock the following day).