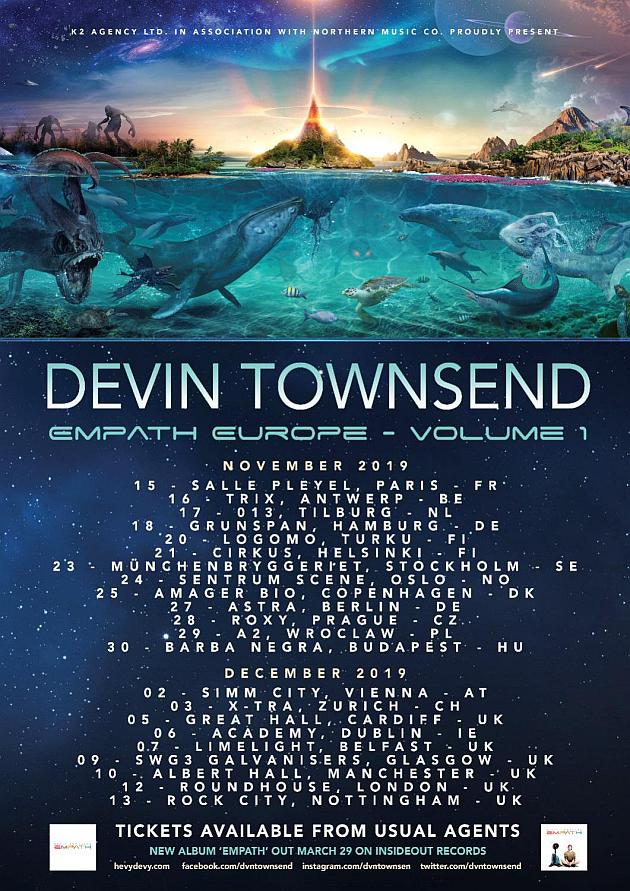 Canadian heavy music artist Devin Townsend has recently announced the release of his forthcoming new album 'EMPATH' for the 29th March 2019, and today he is pleased to reveal the dates for the 'Empath Europe – Volume 1' tour starting in November 2019. Tickets will go on sale Friday, February 1st at 10am local times and will be made available here: https://www.hevydevy.com/tourdates/ and all other usual outlets.
Devin comments:
"After a year of intensive recording, mixing, and reflection, I have decided where I want to take the next level of my career as a live performer. I have had success and great memories from both the Devin Townsend Project as well as Strapping Young Lad, but now I am fortunate enough to be able to follow the muse where it currently leads. I am proud to announce that for the first 'band' tour of the Empath cycle, I am going to stretch my wings in ways I have not had the opportunity to do before and tour with a 'backing band' that can shift and morph as the music dictates instead of adhering to a click track. 'Empath Europe Volume 1' will be the first example of this, and the first tour will be in Europe (other territories to follow).
I have spent considerable effort think about the things I wanted to do for these shows, and one thing I came out of DTP with was the awareness that I wanted to incorporate a more improvisational element to what I do. With the best players I can find, my plan is to interpret my back catalogue, as well as the Empath material, in ways that may change nightly. less computers, and less of a rigid structure. I want to use Volume 1 as a way to bring my music to people in a potentially new way. People playing music...
I hope you will consider joining me at these concerts. As a performer, it's important to be able to be willing to react, and my hope is that each of these shows will be a unique experience.
Thank you for allowing me to do what I do. See you there?
Devin Townsend
"
The full list of dates are as follows
15th November – Salle Pleyel, Paris, France
16th November – Trix, Antwerp, Belgium
17th November – 013, Tilburg, Netherlands
18th November – Gruenspan, Hamburg, Germany
20th November – Logomo, Turku, Finland
21st November – Cirkus, Helsinki, Finland
23rd November – Münchenbryggeriet, Stockholm, Sweden
24th November – Sentrum Scene, Oslo, Norway
25th November – Amager Bio, Copenhagen, Denmark
27th November – Astra, Berlin, Germany
28th November – Roxy, Prague, Czech Republic
29th November – A2, Wroclaw, Poland
30th November – Barba Negra, Budapest, Hungary
2nd December – Simm City, Vienna, Austria
3rd December – X Tra, Zurich, Switzerland
6th December – Academy, Dublin, Ireland
7th December – Limelight, Belfast, UK
9th December – SWG3 Galvanisers, Glasgow, UK
10th December – Albert Hall, Manchester, UK
12th December – Roundhouse, London, UK
13th December – Rock City, Nottingham, UK
In the lead up to the album's release, Devin will walk fans through how 'EMPATH' came together with a series of documentary episodes recorded as phone conversations during the course of the albums recording. Watch the first episode of that series here:
https://youtu.be/y4sJ8odko2Y
Over the past few years, the success that Devin has slowly worked for has fortunately come with the power to control his own creative destiny. The recent successes with the DVD from a sold-out Royal Albert hall, or his 2012 'Retinal Circus', or last year's 'Ocean Machine' live DVD with the Orchestra and Choir of State Opera Plovdiv has put him in a position where with the new album 'EMPATH', he will once and for all define himself as a musical force outside of any particular genre classification.
On this album Devin has decided to see what would happen if all the styles that make up his current interests were finally represented in one place. To finally shake the fear of expectation, and just do what it is he was meant to do creatively, 'EMPATH', true to the name, is about allowing the audience a feeling for a variety of musical emotions. The musical dynamics represented on this single album are broad, challenging, and immense. To approach this sort of work with a long history of what makes heavy music 'heavy', allows this to be done with a type of power rarely heard.
Joining Devin on this album is Frank Zappa alumni Mike Keneally as music director, as well as Morgan Ågren (Mats And Morgan, Frank Zappa, Fredrik Thordendal), Anup Sastry (Monuments, Periphery), Samus Paulicelli (Decrepit Birth, Abigail Williams), Nathan Navarro, Elliot Desagnes, Steve Vai, Chad Kroeger, Anneke Van Giersbergen, Ché Aimee Dorval, Ryan Dhale and the Elektra Women's Choir.
A bold statement with massive production values and dynamic, uncompromised musicality. This is a statement about not only pursuing creative freedom in a conservative scene, but also trying to show that heavy music is truly a valid musical tool.
'EMPATH' will be released on Limited 2 CD Digipak in O-Card (including an entire disc of bonus material), Standard CD Jewelcase, Gatefold 180G 2LP Vinyl + CD + LP-booklet & as digital album. Pre-order now here: https://devin-townsend.lnk.to/Empath
The full track-listing is as follows:
01. Castaway
02. Genesis
03. Spirits Will Collide
04. Evermore
05. Sprite
06. Hear Me
07. Why
08. Borderlands
09. Requiem
10. Singularity Part 1 – Adrift
11. Singularity Part 2 – I Am I
12. Singularity Part 3 – There Be Monsters
13. Singularity Part 4 – Curious Gods
14. Singularity Part 5 – Silicon Scientists
15. Singularity Part 6 – Here Comes The Sun
Last year Devin announced a special 'An Evening With' tour that would see him performing acoustically, as well as taking part in a fan Q&A at each show.
The full list of dates are as follows, many of which are already sold out
7th March – The Piano Man Jazz Club, New Delhi, India SOLD OUT
8th March – Levi's Lounge, Mumbai, India SOLD OUT
29th March – Savoy Theater, Helsinki, Finland SOLD OUT
30th March – Savoy Theater, Helsinki, Finland SOLD OUT
31st March – Sodra Teatern, Stockholm, Sweden SOLD OUT
1st April – Edderkoppen, Oslo, Norway SOLD OUT
2nd April – Bremen Theater, Copenhagen, Denmark
4th April – PassionKirchhe, Berlin, Germany
5th April – Stodola, Warsaw, Poland
6th April – La Fabrica, Prague, Czech Republic SOLD OUT
7th April – Freiheiz, Munich, Germany SOLD OUT
9th April – Kulturkirche, Cologne, Germany SOLD OUT
10th April – Grunspan, Hamburg, Germany SOLD OUT
11th April – Bravo Kerk, Haarlem, Netherlands SOLD OUT
13th April – Reading 3, Tel Aviv, Israel
24th April – Bush Hall, London, UK SOLD OUT
25th April – Bush Hall, London, UK SOLD OUT
26th April – St George's, Bristol, UK SOLD OUT
27th April – City Varieties, Leeds, UK SOLD OUT
29th April – Jam House, Edinburgh, UK SOLD OUT
30th April – Glee Club, Birmingham, UK SOLD OUT
Remaining tickets can be found here: https://bnds.us/hotp9q
Devin's varied back catalogue is also being celebrated with lavish vinyl box-sets under the name of ERAS. Having already released parts 1 and 2 earlier in early 2018, the end of the year saw the release of part 3, which features some of his most recent work with Devin Townsend Project, including the albums 'Accelerated Evolution', 'Epicloud', 'Sky Blue', 'Transcendence' & the first ever vinyl release of the second part of the DTP's now legendary Royal Albert Hall show. Order your copy of this deluxe 10 LP box-set here: https://devintownsendproject.lnk.to/ErasIII
Source: Press Relase