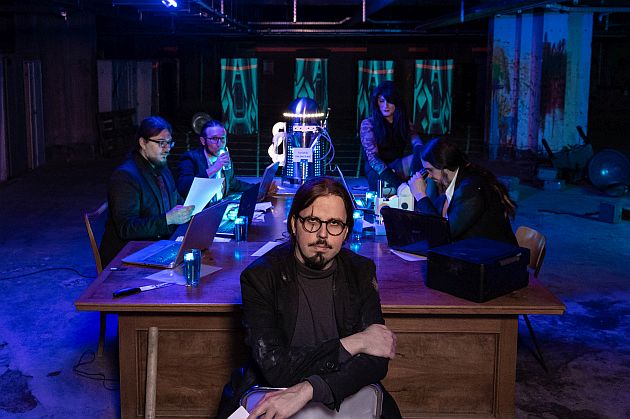 After four years of intensive songwriting, SLEEPERS' GUILT, supported by RockLab and the Rockhal, are pleased to present their second album 'What Remained' on June 3rd 2022 at the Rockhal in Belval, Luxembourg. With 'Posthuman', the opening track to the new album was released in advance on April 1st 2022 as a promotional single, including a new music video. The premiere was on April 1st 2022 at 18:00 on the band's YouTube channel.
Produced and directed by Marcel Dostert / VisualAberration, the video can be seen as a fictional short film that paints a thought-provoking picture of a plot set in a dystopian future where a mysterious machine is driving a group of scientists to the brink of madness. Have the machines taken control of humanity? Or is it rather those who control the machines? Following the example of Anton Corbijn's early works for DEPECHE MODE, 'Posthuman' is more than just a single music video - together with a second music video to be released at a later date, it will be a 15-minute musical short film that visually underlines the rather depressing mood of the upcoming album.
Musically, 'Posthuman' is the song on the album with the most pronounced industrial feel. Driven by Sanya Kaya Faihrmann's accusatory vocals, the rhythm section stomps through the song brutely and mechanically in 5/4 time, and for once there is no decorative accessory such as guitar solos.
The lyrics, written before the Covid-19 pandemic, in times of a youth that stands up for the planet and the environment, allow a number of interpretations. Is it a new, young generation strongly questioning the decisions of their forefathers and leaders? Or is it a higher entity that accusingly holds up a mirror to humanity itself, which continues to ruin itself?
Fans of the band can still support their Kickstarter campaign to fund the album until April 17th.
Sleepers' Guilt are

Sanya Kaya Faihrmann: Vocals
Chris T. Ian: Guitars
Marc "The Kraken" Froehling: Guitars
Philip "Rio" Ries: Bass
Ben Thuy: Drums
https://sleepersguilt.com / https://www.facebook.com/sleepersguilt2
Source: Press Release / Picture by Elena Arens