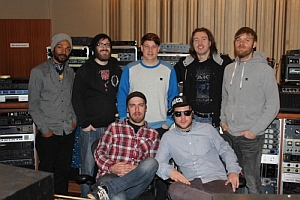 Munich based Rockers EMIL BULLS sign a contract with AFM Records. Their first album on the new label is due this year in late Summer. Currently the band stays in the Toolhouse Studios in Rotenburg/Fulda working on the new album with London based producer Dan Weller.
"We are delighted to welcome such an innovative band like the EMIL BULLS on AFM Records"
, says label boss Jochen Richert.
"The Emil Bulls are an enrichment to the Artist Roster of AFM Records. They have grown to an established brand in the music scene which stands for quality, passion and endurance - characteristics which also represent AFM Records' work and show the synergies of the Bulls and us."
Manager Niko Tsagarakis / Monster Artists also welcomes the cooperation.
"We are pleased that the cooperation with AFM Records has come about and are excited about what the future holds within."
The new EMIL BULLS album will be released in August. The band will be playing several European summer festivals as well as a headliner tour starting in October 2014:
Summer 2014
May, 3: Kelheim, Jukuu Festival
May, 31: Kronach, Die Festung Rockt
July, 4: Pfeffelbach, Pfeffelbach Open Air
July, 5: Flugplatz Roitzschjora, With Full Force Festival
July, 12: Straubenhardt, Happiness Festival
July, 18: 18.07. Velké Meziříčí, Fajtfest (CZ)
August, 1: Horb am Neckar, Minirock Festival
August, 9: Rotenburg o. d. Tauber, Taubertal Festival
August, 13 – 17: Übersee, Chiemsee Summer Festival
August, 23: Georgsmarienhütte, Hütte Rockt Festival
August, 30: Frankfurt/Oder, Beach Rock Festival
Emil Bulls Tour 2014
09/10/14 A-Wien – Flex
10/10/14 D-Regensburg – Airport
11/10/14 D-Ulm – Roxy
13/10/14 D-Frankfurt – Batschkapp
14/10/14 D-Hannover – Musikzentrum
16/10/14 D-Hamburg – Markthalle
17/10/14 D-Osnabrück – Rosenhof
18/10/14 D-Köln – Live Music Hall
21/10/14 D-Bochum – Zeche
23/10/14 D-Oldenburg – Kulturetage
24/10/14 D-Berlin – C-Club
25/10/14 D-Dresden – Alter Schlachthof
28/10/14 D-Nürnberg – Hirsch
30/10/14 D-Erfurt – HsD
31/10/14 D-Karlsruhe – Substage
01/11/14 D-Kaiserslautern – Kammgarn
Source: Newsletter