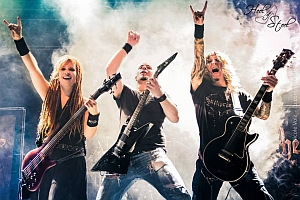 This weekend, the German Epic Metal outfit EQUILIBRIUM announced unexpectedly the leaving of founding members Sandra Van Eldik (bass) and Andreas Völkl (guitar). Andreas and Sandra have released following statements on their facebook sites:
"
Dear family, friends, fans and crew,
I would like to tell you my decision, that my sister Sandra and I left the band Equilibrium. With all of you together, and more than a decade, I had the most beautiful concerts and tours, an exciting time in my life that I do not want to miss. Happieness and sorrow, line-up changes of all kinds, there was always something going on. René, Robse, Hati and crew, thank you for the nice time. I wish you all the best, go full blast! Every end is a new beginning. There will be a new band for me, which I will stay with you, musically and on stage.
Best regards,
Andi "
"Dear friends, family, crew and fans!
Today is the day; for me the era of Equilibrium has come to an end. My brother Andi and I have decided to leave the band. In the past 13 years I got to learn a lot, had many ups and downs and I got to know a lot of people who enriched my life in many ways or have given me the opportunity to learn and grow. I would like to thank each and every one of you for all the energy, for the happy moments, feedback and support. I will keep it all in my heart for all times. René, Robse, Hati and crew. Thanks and all the best for you guys! For me it's time to open new doors and find new challenges, for this it was necessary to leave behind the old and move on to something new.
Thank you all!!!
Sandra"
EQUILIBRIUM Mastermind René Berthiaume states:
"
Many years have passed now since Sandra, Andi and I founded this band and I can still remember very well the first sessions playing Metallica songs. I owe both of them great thanks because they helped me a lot to build up this band and they always stood by my side. So I was really surprised by their announcement to leave the band. But I know Sandra and Andi and I understand if they want to concentrate on other things in their life. They are out of the band now but not out of the world. And of course we are still friends! My feelings are mixed: On the one hand I regret the departure of Sandra and Andi. On the other hand we are just before releasing an kick-ass new Equilibrium album and great shows. I'm someone who looks ahead and so we will intensively look for 2 musicians that fit into the band and will go the next steps with us in Equilibrium. To calm the concern of many fans: Equilibrium will continue as well as the music will not be affected in any way by this change inside the band.
"
Singer Robse adds:
"After all these great tours and friendly intensive concert-adventures it strikes me deep in my heart to hear that my bandmates leave so suddenly and unexpected. Before I can make my comments I have to digest this shock first.
"
And Drummer Hati adds:
"Last weekend was full with question marks and mixed feelings. Equilibrium had suffer a tremble, yet it is and will stay balanced! I would like to wish Sandra & Andi all the best with their future endeavours. I had the pleasure to work with you fine people and we did share a lot of moments together. will sure miss you guys... Rest assured that Rene, Robse and myself will continue the Equilibrium adventure and we are looking forward with positive and high expectations to what future holds.
"
The new EQUILIBRIUM album "Erdentempel" will be released June 06, 2014 via Nuclear Blast!
Source: Press Release / Photo: Nicole Volz