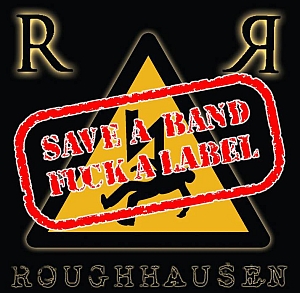 Dear readers, today we got an email from
Jeff Stoddard
(former guitar player for Front Line Assembly, Decree Will...) from the Electro Industrial Punk Rock band ROUGHHAUSEN, asking if we could spread some news and help the band. Reading his issues it was sure for us we will help. First read what he had told us:
"I am currently embroiled in a bitter war with my US label that has caused me to offer free CDS to anyone who wants one for $3 USD shipping anywhere in the world. We recently signed a deal with a US based record label for exclusive CD and merchandise distribution in the US. After a few months we started receiving a flood of emails from unhappy fans who had purchased CDS or merch from the label and had not gotten their stuff. All their emails to the label had been ignored and in desperation they contacted us.


By the end of the 3rd month we started refunding fans from our own pockets for their unreceived goods but that quickly became far too much of a financial burden for us to handle. The label ignored us and our emails as well, so in an attempt to shut down the flood of refunds and shut down the labels bullshit treatment of our fans we started offering free CDS. Our contract prevents us from legally selling them but we can give them away. We have gotten good coverage and support from US magazines but little or none in the EU, in fact the only refund requests we are getting anymore are coming from the EU.

We are contacting you in the hopes you might drop this story into you news or feature section and help us an excerpt from the pinned post on the band page `-----. In the time honored tradition of, "FUCK ME!?... No FUCK YOU!" we offer FREE Roughhausen CDs >>>>>> ..... We signed a bad contract that prevents us from selling CDS or merch in the US for another year, and it appears the Record label is either incapable or unwilling to sell them either, but they do seem willing to take money for orders and not actually send people their stuff...``found here:
https://www.facebook.com/Roughhausen.Army
So, we ask you, dear readers, to check out the band's Facebook page and help. And contact the band if you are one of the unhappy fans...