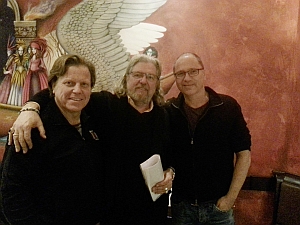 New captain to take the helm at Drakkar!
After thirty years of success in the hard & heavy music sector, Bogdan Kopec, company owner and managing director of Drakkar Entertainment GmbH, is handing over the helm to the new captains, Jochen Richert and Georg Schmitz of Soulfood GmbH.
Band manager Bogdan Kopec and his company Drakkar Promotion were among the pioneers of the German metal scene in the 1980s. Within a few years, Drakkar became a brand which enjoyed global esteem, celebrating international success with newcomers such as Kreator, Sodom, Running Wild and Rage. From an early stage, Kopec booked tours not only in Europe but also in the US, Japan and South America through his booking company, also paving the way for numerous overseas acts on the German market. Bands such as Sepultura, Biohazard and many others embarked on their first European tours in collaboration with Drakkar.
In the 1990s, Kopec was co-founder of the G.U.N. Records imprint, where he garnered lots of gold and platinum awards with the likes of Guano Apes and HIM.
The turn of the millennium saw Bogdan Kopec found Drakkar Entertainment and the Drakkar Records label. Alongside a number of luminaries from the alternative music scene, such as Emil Bulls, Letzte Instanz and Xandria, Kopec's most outstanding signing was the Finnish band Nightwish, whom he accompanied on their route from newcomer act to one of the most successful heavy metal ensembles worldwide, selling more than 1.5 million records in Germany alone and being awarded several gold and platinum awards. In 2006 Drakkar was able to present two more gold records to monster rockers LORDI, the winners of the Eurovision Song Contest.
Bogdan Kopec is delighted that Soulfood, a strong and successful independent company, will continue in his spirit the tradition of one of the oldest and most successful brands on the European metal scene. He will continue to provide support to Drakkar Entertainment as a consultant. His long-standing team member Sebastian Lube-Stähr will be part of the Soulfood team with immediate effect, remaining faithful to the scene with his expertise and creativity at Drakkar's new offices in Hamburg.
Bogdan Kopec will remain company owner and managing director of the music publishers, Edition Drakkar.
Source: Press Release