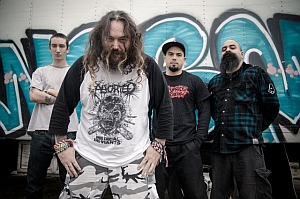 Metal icons SOULFLY have announced that former HAVOK member Mike Leon has joined as the band's brand new bass player.
"SOULFLY fans get ready,"
states guitarist/vocalist Max Cavalera.
"I'm really excited to announce that Mike Leon is going to be playing bass on our upcoming North American tour. I'm a big fan of Mike's work and having him in SOULFLY is going to bring some of the killer thrash metal vibe to the band! He's a great guy and I can't wait to be on stage tearing it up with Mike. See you in the pit!"
Mike Leon adds:
"It is an indescribable feeling to be joining up to shred with SOULFLY! I've been a fan of Max and his music since I was a little kid, and to be playing with him and the guys now is truly unbelievable! I cannot wait to bring the ruckus on stage for all of the Tribe around the world! Rest assured that I'm going to rock extra hard for you guys! See y'all on the road!!!"
SOULFLY recently unleashed the first music video from the album - for the title track,'Archangel':
https://youtu.be/0WMMdgttj_0
Check out the 360 degree footage taken from the making of the 'Archangel' music video here:
https://youtu.be/P5gIkeFc_B8
​
Comments director Robert Sexton:
"Not to overplay it, but the 360° aspect of this clip, and the fact that it's SOULFLY, is pretty epic. Sure, it's only one set up, but it's the whole room and the viewer is standing in the middle of the pit! No one in metal has really exploited this new tech as of yet. Definitely a cool perspective."
'Archangel' was released on August 14th via Nuclear Blast Entertainment and charted in several territories around the globe.
'Archangel' world chart positions include:
Austria 31
Australia 41
Belgium 29
Canada 60
Czech Republic 17
Germany 19
Finland 22
France 40
Netherlands 33
Spain 19
Switzerland 11
UK 57
USA 130
World Chart 23
The album was produced and mixed by Matt Hyde (SLAYER, BEHEMOTH, CHILDREN OF BODOM), and features stunning cover artwork of artist Eliran Kantor (TESTAMENT, HATEBREED, ICED EARTH, SODOM). Order 'Archangel' in a bundle, or by itself in multiple formats, from this location:
http://nblast.de/SoulflyArchangelNB
or order the album digitally:
http://nblast.de/SoulflyDownloads
.
'Archangel' track list:
01. We Sold Our Souls To Metal
02. Archangel
03. Sodomites (feat. Todd Jones of NAILS)
04. Ishtar Rising
05. Live Life Hard! (feat. Matt Young of KING PARROT)
06. Shamash
07. Bethlehem's Blood
08. Titans
09. Deceiver
10. Mother Of Dragons (feat. Richie Cavalera of INCITE, Igor Cavalera of LODY KONG, Anahid M.O.P.)
BONUS TRACKS FOR CD/DVD SPECIAL EDITION:
11. You Suffer (NAPALM DEATH cover)
12. Acosador Nocturno
13. Soulfly X
Bonus DVD: 'Live At Hellfest 2014' (SPECIAL EDITION ONLY)
01. Cannibal Holocaust
02. Refuse/Resist
03. Bloodshed
04. Back To The Primitive
05. Seek 'N' Strike
06. Tribe
07. Rise Of The Fallen
08. Revengeance
09. Roots Bloody Roots
10. Jumpdafuckup/Eye For An Eye
More on 'Archangel':
Studio trailer #1:
https://www.youtube.com/watch?v=O65x584R29I
Studio trailer #2:
https://www.youtube.com/watch?v=LQ5G5dtAr58
'We Sold Our Souls To Metal' lyric video:
https://www.youtube.com/watch?v=4YXRxGJPV2I
'Sodomites' feat. Todd Jones (NAILS) lyric video:
https://youtu.be/2Zj4bhARfWw
'Archangel' track video:
http://youtu.be/xq_qnN9SQcg
Source: Press Release