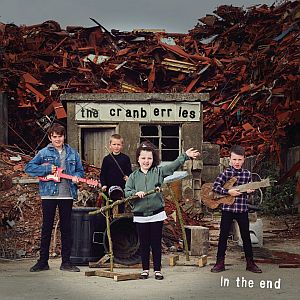 'In The End', the last album of THE CRANBERRIES, received a Grammy Awards 2020 nomination for "Best Rock Album". The eighth studio album of the band was released 30 years after foundation in Limerick, Ireland. Singer Dolores O'Riordan recorded the vocals before she died tragically in January 2018. The remaining band members - guitarist Noel Hogan, bassist Mike Hogan, drummer Fergal Lawler - continued their work at 'In The End' after long consideration and with help of Dolores' family.
Together with Stephen Street, who also produced four of their previous albums (e.g. 'Everybody Else Is Doing It, So Why Can't We?' and 'No Need To Argue'), they arranged the music all around the voice of Dolores. The output is that classic CRANBERRIES sound, which combines rocking, alternative, catchy, and almost trendy melodies. "We wanted to finish this album for our dear friend and band colleague Dolores. It is an homage to her, the band, and our fans of the last 30 years. The honor to be nominated for a Grammy made this process much more special." Noel Hogan.
"Dolores would have been so happy; she dedicated her heart and soul to the music. For us as her family, it is bittersweet: we are very proud of her, but also sad, that she is not here with us to experience and enjoy that moment. Although I believe, that she is here with us in spirit." Eileen O'Riordan (mother of Dolores)
'In The End' was released in April 2019 via BMG and brings a remarkable career to a dignified and powerful end. The album is a strong testimony of Dolores's life and creative work as well as of their musical brothers Noel, Mike, and Fergal. "This is a very emotional moment for all of us at BMG. We were so proud to work together WITH THE CRANBERRIES to release 'In The End'. Our common purpose at all time was to celebrate the life and work of Dolores. That the band now was nominated for a Grammy with their last album, is the best of all options to remember an iconic voice and to celebrate a great work." Alistair Norbury, President, Marketing & Repertoire UK
THE CRANBERRIES with their typical Indie guitar sound came out of the Pre-Brit Pop scene of the early 90s. Melody Maker once described the distinctive, Celtic seeming voice of Dolores as "the voice of a saint trapped in a harp of glass". Their rise to fame came with meteoric speed and with songs like 'Linger', 'Zombie' and 'Dreams' (classics by now), the band sold more than 40 million copies of their albums worldwide. 'In The End' streaming here: https://cranberries.lnk.to/InTheEndPR
The Cranberries - Wake Me When It's Over (Official Video)
THE CRANBERRIES 'In The End' (released 26th April 2019) is available as CD, Vinyl and digital release via BMG Rights Management.
Tracklist

01. All Over Now
02. Lost
03. Wake Me When It's Over
04. A Place I Know
05. Catch Me If You Can
06. Got It
07. Illusion
08. Crazy Heart
09. Summer Song
10. The Pressure
11. In The End
Source: Press Release