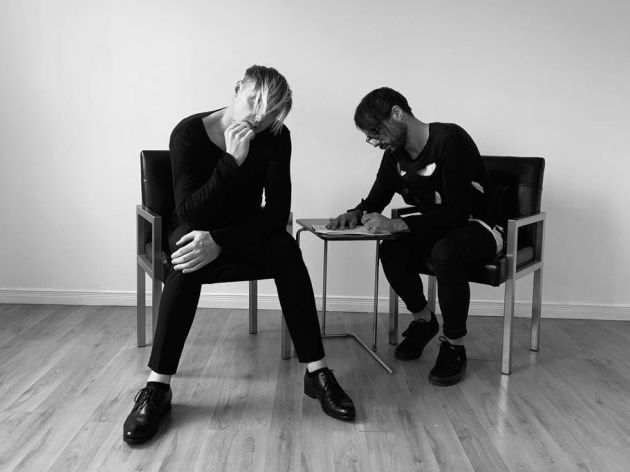 TRAITRS, one of the most up-and-coming and bustling Post Punk meets Cold Wave bands in recent years, have signed a record deal with the Freakwave label that was launched at the beginning of the year, under the rigors of Eric Burton and Thomas Thyssen, and agreed on a publishing deal with Schubert Music Publishing (SMP).
Sean-Patrick Nolan and Shawn Tucker have developed a large international fan base on the old-school path over the past four years: producing good music, playing live wherever possible, and then giving their best on every damned evening and - to put it bluntly - convince. Songs like 'Thin Flesh', 'Witch Trials', 'Youth Cults' and 'The Lovely Wounded' have been an integral part of the set lists of cool goth DJs around the world when you could still go to clubs and dance.
The Canadian duo used the COVID-19 self-isolation very creatively to work diligently on new material, which will see the light of day in 2021. Official news on this will follow in the coming weeks and months. As the rampant pandemic is currently dictating, TRAITRS met in a video call with their new label partners in the form of Celsius Management + Hardbeat Promotion Managing Director and Freakwave co-label-head Eric Burton and Schubert Music Managing Director / Head of Recorded Music and Freakwave co-label-head Thomas Thyssen to toast the signing of the contract and the future collaboration.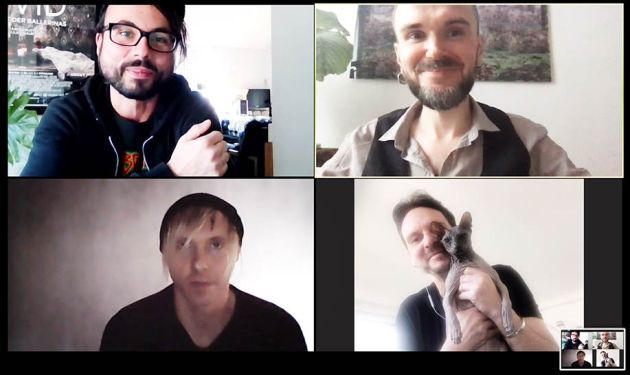 Photo (f.l.t.r.): Sean-Patrick Nolan (TRAITRS), Eric Burton (Celsius Management + Hardbeat Promotion, Managing Director + Freakwave, Co-Labelhead), Shawn Tucker (TRAITRS), Thomas Thyssen (Schubert Music, Managing Director/Head of Recorded Music + Freakwave, Co-Labelhead)
Photo credits: © TRAITRS / schubertmusic.com
Shawn Tucker (TRAITRS): "It is a great honour for TRAITRS to be the first band to be signed to Freakwave. For us it was crucial to find a new home where we can really feel at home, and that is what we found with Freakwave. I am very happy to start the next phase of our career with this talented team under the leadership of Thomas and Eric. With this support, Sean and I can develop and produce our art on a much larger scale to the best of our knowledge and belief."
Sean-Patrick Nolan (TRAITRS): "Our goal from day one has always been to create music and art in the most free and purest possible way, in the hope that one day we can possibly make a living from our art. At Freakwave and Schubert Music Publishing, this actually seems to be a reality. This is an exciting time for us and an exciting time for our fanbase. 2020 is an absolutely shitty year, there's no doubt about it, but Shawn and I and the entire Freakwave family worked our asses off to make sure next year was going to be a lot better."
Eric Burton (Celsius Management + Hardbeat Promotion, Managing Director + Freakwave, Co-Label-head): "Starting the machines of the Freakwave label with TRAITRS is great. The band is highly motivated and knows exactly where they want to go. I am very happy to be able to accompany TRAITRS on their way."
Thomas Thyssen (Schubert Music, Managing Director / Head of Recorded Music + Freakwave, Co-Label-head): "Since we have been working with TRAITRS on different levels for a long time, the step to the label and publishing deal was ultimately only a logical consequence. In any case, we are immensely pleased to be able to welcome one of what we believe to be by far the most exciting and promising Post Punk acts of the modern era as the first band to be signed to Freakwave."
Schubert Music Europe GmbH is music publishing house, record company, license hub and holding for all Schubert music companies and labels, especially for all Schubert Music Publishing branches in Europe and the U.S., as well as Celsius Management, Hardbeat Promotion and Schubert Music Live (SML). (www.schubertmusic.com)
Source: Press Release