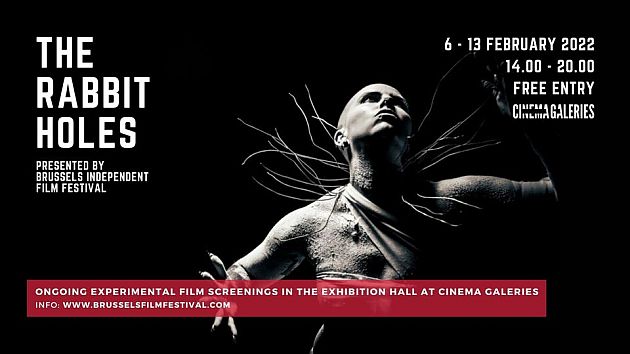 MILDREDA's sinister video clip 'Liaisons Dangereuses' has been selected by the Brussels Independent Film Festival in the short film category 'The Rabbit Holes'. This category is dedicated to a cinematic rabbit hole of offbeat, weird, wonderful, poetic, surreal, and abstract films. The clip had been created by the Belgian production house Pigeon Eggs and features Belgian actress and model Miss C.
MILDREDA comments: "The girl in the video played by Miss C symbolises a 'poisonous muse', which is what I like to call this type of character", explains mastermind Jan Dewulf. "In the short film, you will see that the girl evolves from white to black, which illustrates her allegorical shift from 'good to evil'. Though in fact, she was toxic from the start."
The Brussels Independent Film Festival is an annual 7-day event that highlights independent and experimental cinematic talent. This year's edition has been scheduled from February 6 to 13, 2022. A still from the MILDREDA's video featuring Miss C has been chosen to represent the category 'The Rabbit Hole' on the official flyers. Founded in 1974, The Brussels Independent Film International was originally focusing explicitly on Super-8 films and other technically experimental cinematic styles. The festival's early approach to cover only highly experimental pieces, has meanwhile been expanded to include many different types of independent offerings.
Inspired by the original movement, the revived Brussels Independent Film Festival continues to emphasize lesser known, vanguard cinematic works to further its tradition of galvanizing budding talent. Most importantly, The Brussels Independent Film Festival creates a space for unique visionaries and voices. True to its legacy, the festival screens films of both novices and veterans - with medium and low budgets - from around the globe. The festival aims to create a welcoming, open atmosphere in which filmmakers, fans, critics, and producers can watch the films of emerging talents, explore new cinematic techniques and styles, and award cinematic excellence.
'Liaisons Dangereuses' has been taken from MILDREDA's critically acclaimed physical debut full-length 'I Was Never Really There'. Check out the video clip here:
Album Tracklist

01. Backfire
02. Reinvention of Pain
03. Echoes (feat. Dirk Ivens)
04. Inner Judgement
05. Liaisons Dangereuses
06. Erased (feat. Numb)
07. In the Vacuum of Your Mind
08. Through the Fire
09. Blame It on the Moon (feat. Cyan)
10. Opposite Choice
11. Dream Machine
Seemingly out of nowhere, MILDREDA detonate onto the dark electro scene with 11 massive tracks on their physical debut album that breathe new life into this genre. 'I Was Never Really There' comes solidly based on the spirit of the 90s and takes influences from both Belgium EBM legends such as THE KLINIK as well as from such Vancouver giants as SKINNY PUPPY and FRONT LINE ASSEMBLY. Yet the album's crushing sound comes state-of-the-art 2021 with LEÆTHER STRIP's Claus Larsen signing responsible for the excellent mastering.
'I Was Never Really There' offers an amazing variety of songs that reaches from the big electro ballad 'Dream Machine' via a mid-tempo club-hammer such as 'Liaisons Dangereuses' to an explosive firework of adrenaline infused power-tracks. To top this delicious brew off, remarkable guest appearances add extra spice to MILDREDA's all over tasty record: 'Erased' features a production collaboration with NUMB's Don Gordon, and even Jan's original "muse" Dirk Ivens (THE KLINIK) and Cyan from THE ETERNAL AFFLICT contribute to this album with their distinct vocals.
At closer inspection, it is far less surprising that MILDREDA deliver such an outstanding record. The band is the brainchild of Jan Dewulf. In the early 90s at the tender age of 15 years, Jan got so entirely hooked by compatriots such as THE KLINIK with their cold and oppressive type of sound typical for the Belgian cult acts of this period that he borrowed a keyboard from a friend and spent his holidays washing dishes at a pizza place to afford some studio gear.
The 16 years old Belgian's first full-length under the MILDREDA banner was the self-released tape 'II Castrato' in 1995. With a steep learning curve from his raw first effort, this was quickly followed by a second cassette entitled 'De Laffe Denker' in 1996, which got widely copied and handed around in electro circles. MILDREDA gained a strong following and excellent reputation in the Belgian scene and beyond, which led to live performances sharing stages with such renowned acts as PLASTIC NOISE EXPERIENCE, TERMINAL CHOICE, COVENANT, VNV NATION, and many others.
Despite or maybe because of his astonishing success at such a young age, Jan Dewulf decided to put MILDREDA on hold after feeling somewhat disillusioned by the business side of the scene. In following years, Jan started a new project under the moniker DISKONNEKTED, which focused more on dance influences than continuing on the dark electro path.
Over time, MILDREDA continued to be a talking piece within electro circles and despite their absence grew their following by word of mouth alone. Encouraged by none other than Dirk Ivens, who personally asked Jan to revive MILDREDA at a party and by continued underground support, Jan Dewulf returned with his third full-length, the digitally released 'Coward Philosophy' in 2016. His deep love for clinical dark sounds had been re-kindled.
Now, MILDREDA are preparing to blast the world with their physical debut album, 'I Was Never Really There' (Release date: August 20, 2021), which is the collective sum of the mastermind's exponentially grown musical experience of the last decades combined with a burning desire to unleash another ripping electronic beast! Belgian dark industrial sound is coming home again! Get the album here: http://lnk.spkr.media/mildreda-i-was-never-really-there
Source: Press Release