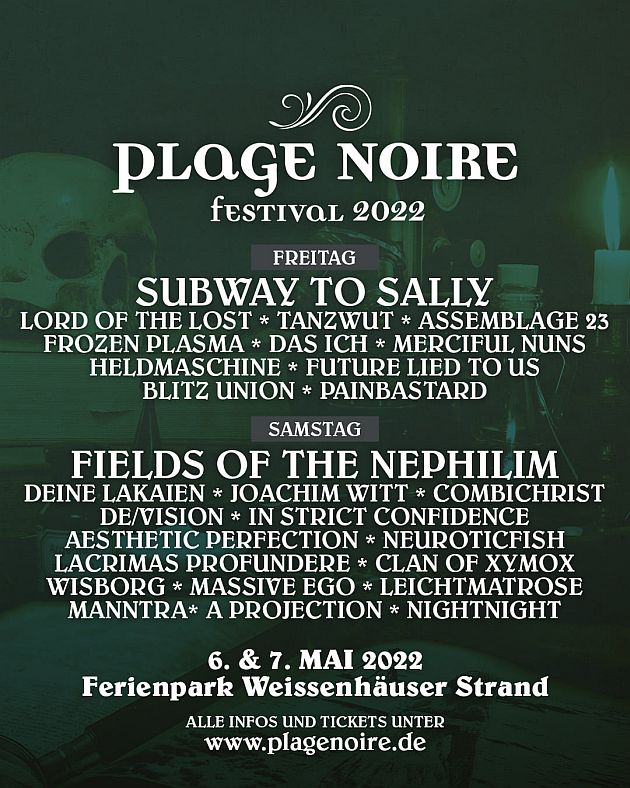 Cultural organizer FKP Scorpio is starting the 2022 festival summer with the indoor festival Plage Noire. Around 3,300 fans came to Weissenhäuser Strand to experience concerts and culture from the black scene, including shows by SUBWAY TO SALLY, AND ONE and numerous acts as well as a supporting program with readings by Markus Kavka and Christian von Aster.
After the guests at the warm-up party on Thursday evening got in the mood for two packed festival days, SUBWAY TO SALLY delivered an acclaimed headline show on Friday that not only delighted fans of medieval rock. The dark rock formation LORD OF THE LOST also earned a lot of jubilation, while TANZWUT once again lived up to their name. In addition to many other highlights, the performances of DAS ICH, NACHTMAHR and HELDMASCHINE, which made the tent tremble late on Friday afternoon, were also enthusiastic.
With AND ONE, Saturday was all about synth pop. DEIN LAKAIEN captivated their listeners with avant-garde Dark Wave and presented their epic 'Dark Star' in full length for their 30th anniversary, while JOACHIM WITT set a highlight with elegiac hymns and grand gestures. But before that there was a dark, varied program on three stages with bands like COMBICHRIST, AESTHETIC PERFECTION, IN STRICT CONFIDENCE and DE/VISION since the early noon.
As always, the Plage Noire was a mirror of the entire black scene, which is not only defined by music: For this reason, the supporting program included readings by Markus Kavka and Christian von Aster, fashion walks, live sessions with make-up artists, an extensive shopping mile including a medieval market as well as parties and autograph sessions. Of course, the group photo on the beach, which has become a tradition, was also a must.
Stephan Thanscheidt, CEO of organizer FKP Scorpio, was very satisfied with the smooth course of the festival: "With the Plage Noire we are officially starting the first festival summer since the pandemic began. We were very happy that the start at Weissenhäuser Strand was so well received and that we were able to share great concert moments with our artists and guests. We can't wait to continue this success at festivals like Hurricane, Southside, Tempelhof Sounds, Highfield or M'era Luna."
The date for the Plage Noire 2023 has already been set for April 28th and 29th, as has the first headliner FIELDS OF THE NEPHILIM, who will make up for their cancelled show this year. Tickets including two nights' accommodation are available from EUR 179 on the festival website: https://plagenoire.de.
Source: Press Release