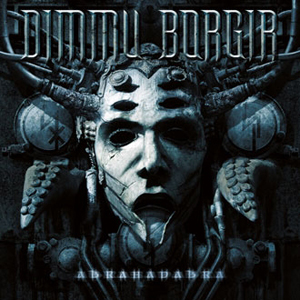 "Gateways," the first video released to support the new album ABRAHADABRA by Norwegian symphonic black metallers DIMMU BORGIR, is now available for viewing at the Nuclear Blast & DIMMU BORGIR YouTube channels.Created by Katapult Films (Rammstein) director Sandra Marschner (Marilyn Manson, Children Of Bodom, Mando Diao), the "Gateways" video features guest vocalist Agnete Kjølsrud (Djerv, ex-Animal Alpha) and regalia by Tod Waters and Giuliana Mayo of Junker Designs ("In Sorte Diaboli," "The Serpentine Offering," "The Sacrilegious Scorn").


ABRAHADABRA will be released in Germany on September 24th, in the rest of Europe on September 27th, and in North America on October 12th. Fans purchasing the new album will find an inserted coupon good for $2/2€ off any band merchandise redeemable at any upcoming DIMMU BORGIR show.
DIMMU BORGIR's co-headlining tour with Korn launches September 19th in Amsterdam. Their headlining "Darkness Reborn World Tour" in Europe launches on September 21st in London with fellow countrymen Enslaved and Sahg as opening acts. Triptykon replaces Enslaved & Sahg at the following three shows: Milan on September 27th, in Zagreb on September 29th, and in Luxembourg on September 30th.
DIMMU's 32-date run across North America launches on Friday, November 5th in Worcester, Massachusetts and ends Tuesday, December 14th in Quebec City, Quebec, Canada. Support will come from Enslaved and Blood Red Throne, plus Dawn Of Ashes. Advanced tickets for this tour go on sale on September 15th.
Advanced ticket links for all tour dates are available at
www.myspace.com/DIMMUBORGIR
.
The "Gateways" single is now available for purchase on iTunes at
THIS
location and can also be streamed on the band's
MySpace page
.
Download the DIMMU BORGIR app for iPhone, iPod Touch, and iPad
here
.
Source: Newsletter