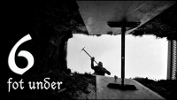 Lars Madsen, singer for the Norwegian oldschool EBM act Kant Kino, is featured on Visualdays.no (
http://visualdays.no/2010/09/23/23-september-2010/
) , a Norwegian site bringing visual stories from Oslo about ordinary people with quite unusual jobs. Every day in September the magazine published a new story and the magazine happened to pick out Madsen because of his job: gravedigger. You can view the "6 foot under" video right here.


When asked how his job makes him look at life, he gave this answer: "When you follow a child to the grave, the father carrying the small coffin and all the family walking behind you in total silence. All you can hear is crying, footsteps and the wind. You, pretty fast, learn that life is fragile and unfair. That's the only thing that I have a problem dealing with in my job, the small children. The smell of death, the old bones and stuff like that don't really bother me, it's just a part of my job.
Off course we (me and my collegues) have a pretty rough and cynical sense of humor, and I'm pretty sure that's some kind of defense mechanism kicking in. But on the whole I don't think my job makes me think any different on life than I did before. I always been kinda dark and cynical, so no change there!" Kant Kino recently released their debut album "We are Kant Kino - You are not" at
http://www.alfa-matrix.com
and have been recording some tracks for an upcoming label compilation project.
Source: Press Release