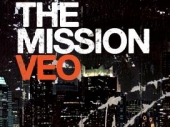 Spiralchords Music inked a deal for Europe with Florida's new wave/electronic dance punk band The Mission Veo! Formed in 2004, The Mission Veo up to now played shows with bands like Peter Murphy (Bauhaus), 3OH!3, Paramore, The Sounds, Foxy Shazam, VHS Or Beta, Surfer Blood, DeadStar Assembly and Black Kids amongst others.


Their self-titled debut, produced by Matt Laplant (Skindred, Nonpoint, Sikth), was released in the States in 2007 and managed to gain the band a lot of attention and a large fan base (f.e. the songs on their MySpace page have been played up to 725.000 times!). The album offers a great rocking drive, huge melodies, remarkable vocals and seductive charm. In addition, the band shot a video in 2007 for the song "New York Scum" (
www.youtube.com/watch?v=f-73qGLEFzk
) with director Dan Dobi (Paramore, A Life Once Lost, Bleeding Through). The Mission Veo played the renowned Warped Tour (2008 & 2009), and their music was aired multiple times on MTV's Fuse and Fresh Meat "Real World Road Rules Challenge".
Another highlight: The band was selected to represent the hockey team "The Florida Panthers" for the team's "Rock the Rink" campaign in 2009-2010! Their gig at the Bank Atlantic Center in Sunrise, Florida was filmed in September 2009 and used for commercials and game footage to promote "The Florida Panthers". Watch their live set here:
http://www.youtube.com/watch?v=RU9PIUS2AZc


Early spring 2011 will see the remastered debut album being released in Europe via Spiralchords.

Alternative Press:
"They've got the talent to back up their good fortune. You like Franz Ferdinand, The Faint, The Killers? You like The Mission Veo."

Sputnikmusic:
"The Mission Veo fuse new wave, alt-rock, dance and more on their way to crafting a vibrant, moody euphoria. The Mission Veo make their mission clear -to get bodies moving on the floor of a dark discotheque."

Check the band's catchy rockin' tunes here:

www.myspace.com/themissionveo
Source: Newsletter