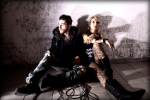 After Tamtrum and Krystal System, the Belgian label Alfa Matrix went fishing in the French electro punk rock pond again to discover a real hidden jewel: MALAKWA. Hailing from Marseille - South of France, is Malakwa. This combo (featuring a gorgeous female guitar player) fuses electro machine sounds with crossover assaults and distorted vocals which was quite well translated on their debut "Feed The Machine". The band is not exactly a new-bee having played well over 150, including gigs in China, Germany, Switzerland, etc.


The band has now joined the Alfa Matrix label where it will be the perfect fit for earlier signings such as Alien Vampires, and the before mentioned compatriots Tamtrum and Krystal System. The band's new full album "Streetpreacher", to be released next year, will hold a mix of elektro, industrial synths, noisy breakcore and provocative punk rock.
Alfa Matrix offers a free download from the track "Monster", taken from the band's upcoming album "Street preacher" for which the label is already accepting orders at
http://www.alfa-matrix.com
.
The album comes also as a carton box limited edition of "Street Preacher" and holds a bonus disc with 2 exclusive songs plus 9 remakes of "Monster" by KANT KINO, IMPLANT, AMGOD, PSY'AVIAH, AMBASSADOR 21, ESSENCE OF MIND, etc.
Source: Newsletter