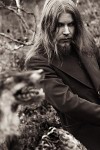 Prophecy Productions proudly announces the signing of Horns Emerging. Although an otherwise-unknown entity, Horns Emerging is a new sphere of activity of multi-instrumentalist Kim Carlsson, one of the masterminds behind the infamous Lifelover, and began as a project with Amesoeurs vocalist Audrey Sylvain. A purely spiritual work, Carlsson's Horns Emerging seeks to transcend both musical and aesthetic boundaries, focusing the innermost energies of the soul into cascades of melancholic, oft-beautiful sound.


"The concept is of channeling dormant energies from beyond the within, devotion and submission towards negativity within and around you," Carlsson explains further, "embracing its will and letting it enforce and amplify your own." For a musical reference, "even those familiar with what I create won't know what to expect," the mainman contends. "It's all a matter of perspective, and depending on how they listen, they will hear anything from black metal to post-rock, indie-rock to pop."
Although Sylvain has since departed the group, she will most probably contribute vocals to Horns Emerging's debut single which is due out in 2011. Carlsson is currently auditioning new female vocalists, and the group's debut album will see release later in 2011.
Source: Newsletter