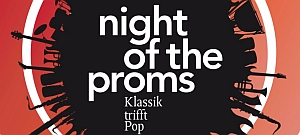 For over three decades now, the Night of the Proms is connecting nowadays pop music and classical music from the last 300 years by having the most well-known classical pieces as well as the pop hits from today played by a symphonic orchestra and sung by a classical choir. As in the previous years, the Orchestra Il Novecento, conducted by Alexandra Arrieche, and the choir Fine Fleur will be supported by some of the most well-known artists from the pop and rock music business. The line-up includes JOHN MILES, NATASHA BEDINGFIELD, SIMPLE MINDS, TIME FOR THREE and STEFANIE HEINZMANN. Another great name to feature this year's show will be announced in autumn.
Being familiar with the show since 1997 and filling in in 2002 for ROXETTE, who had to cancel their appearance due to medical conditions, Jim Kerr and Charlie Burchill of the Scottish Band SIMPLE MINDS have become diligent ambassadors of the Night of the Proms. After performing again in 2008 and 2011, they will be joining in this year to present their greatest hits in an orchestrated classical manner for the fifth time in a whole.
Described by a music critic as being a mixture of NELLY FURTADO, GWEN STEFANI, P!NK and CHRISTINA AGUILERA and being known for her charismatic, breath-taking voice, British singer NATASHA BEDINGFIELD, who had a huge success with her singles 'Soulmate', 'These Words' and 'Unwritten' and the top selling album of the same name, will for sure be one of the highlights of this year's Night of the Proms.
This year's local hero for the German speaking countries will be the Swiss singer and songwriter STEFANIE HEINZMANN. Starting her career in the year 2000 with her very well received debut album 'Masterplan' and gaining many awards and gold and platinum discs ever since, she has worked with some of the great names in pop business and will now play her songs for the first time with a whole symphonic orchestra.
It is said that Sir Simon Rattle once referred to this year's classical solo instrumentalists as "the future of music". And Indeed, there could hardly be any better representatives of the spirit of the Night of the Proms than TIME FOR THREE, the young ensemble from the United States, consisting of two violins and a double bass, who play classical pieces from Bach and Brahms as effortlessly as their own arrangements or songs from The Beatles, Coldplay or Kanye West.
Being among the artists having played on the first Night of the Proms in 1985, JOHN MILES has become not only a regular guest but one of the main cornerstones of the show, contributing his own songs, such as the very famous 'Music', as well as playing alongside the other participating musicians and singers.
Night Of The Proms 2016 with Simple Minds, Natasha Bedingfield & Stefanie Heinzmann:

25.11.2016 Mannheim, SAP Arena, 20:00
26.11.2016 Dortmund, Westfalenhalle, 20:00
27.11.2016 Oberhausen, König Pilsner Arena, 18:00
29.11.2016 Erfurt, Messehalle, 20:00
30.11.2016 Frankfurt, Festhalle, 20:00
01.12.2016 Frankfurt, Festhalle, 20:00
02.12.2016 Köln, Lanxess Arena, 20:00
03.12.2016 Köln, Lanxess Arena, 20:00
09.12.2016 München, Olympiahalle, 20:00
10.12.2016 München, Olympiahalle, 20:00
11.12.2016 München, Olympiahalle, 15:00
13.12.2016 Stuttgart, Schleyerhalle, 20:00
15.12.2016 Hannover, TUI Arena, 20:00
16.12.2016 Hamburg, Barclaycard Arena, 20:00
17.12.2016 Hamburg, Barclaycard Arena, 20:00
18.12.2016 Bremen, ÖVB Arena, 18:00
Tickets are available via
www.schoneberg.de
and
Eventim