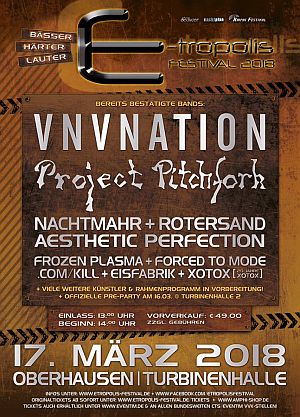 It begins, it ends and it begins anew, better-harder-louder than before! With finest EBM, electropop and industrial the E-tropolis Festival marks yet another mandatory appointment for the dark-electro scene in 2018. The upcoming eighth edition has been announced for 17. March 2018 at Turbinenhalle Oberhausen.
As it appears, this time the first part of the line-up includes greatness with:
NACHTMAHR + AESTHETIC PERFECTION + FROZEN PLASMA + .COM/KILL + EISFABRIK + XOTOX [20 years of XOTOX]
More artists being announced soon! Further a renewal of the official pre-party at Turbinenhalle 2 on Friday 16. March is currently in the works.
PRE-SELLING START MEETS EASTER-SALE
The pre-selling for the 8th E-tropolis Festival starts officially on 13th April 2017, coinciding with a current Easter-sale. Original E-tropolis tickets will exclusively be available at www.amphi-shop.de (or www.etropolis-festival.de/tickets), including 5+1 group tickets. From Holy Thursday, 13th April, 0:01 am till Tuesday, 18th April, 12:00 pm they give you the opportunity to purchase at Amphi Shop without delivery charges. The price rests at 49.00 € each, plus the usual pre-selling charges! Delivery of E-tropolis 2018 tickets will begin early May.
At a later time E-tropolis tickets will be made available at CTS/EVENTIM, www.eventim.de, www.eventim.nl, www.oeticket.at, www.ticketcorner.ch and PRINT@HOME edition. Further info at:
www.etropolis-festival.de | www.facebook.com/etropolisfestival
VIII. E-TROPOLIS FESTIVAL 2017
17. March 2017 GER – Oberhausen | Turbinenhalle
NACHTMAHR + AESTHETIC PERFECTION + FROZEN PLASMA + .COM/KILL + EISFABRIK + XOTOX [20 years of XOTOX] + many more
+ after-show party
+ merchant gallery + chill-out areas
+ official pre-party @ 16. March | Turbinenhalle 2 (admission free with festival ticket, standalone tickets available at the doors)
Source: Newsletter