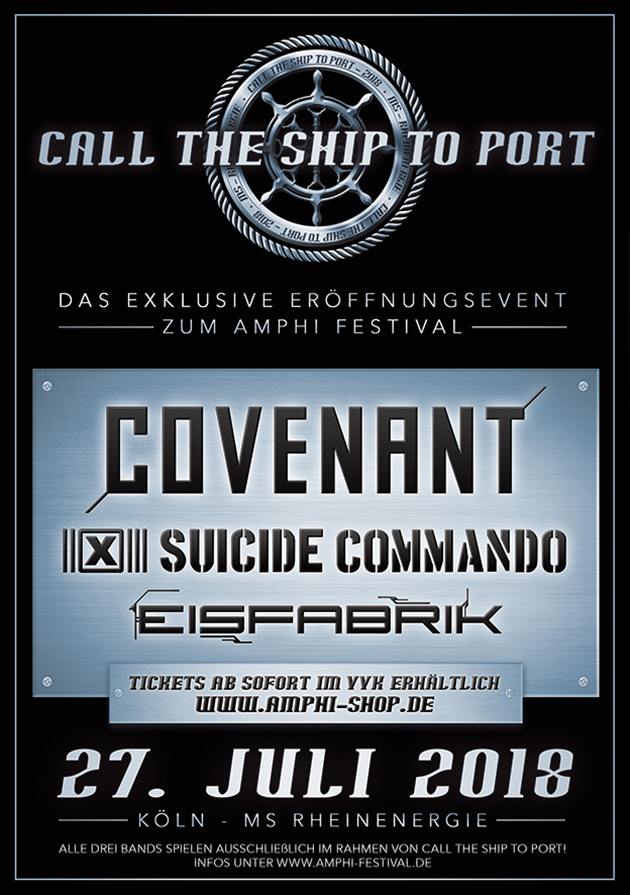 CALL THE SHIP TO PORT - THE AMPHI FESTIVAL OPENING EVENT 2018 - PRE-SELLING NOW!
With the sixth edition of CALL THE SHIP TO PORT it's "Anchors aweigh!" again on 27. July 2018 for a Rhenish river cruise between a romantic scenery, chummily relaxed anticipation and splendid live-shows aboard the MS RheinEnergie. As a matter of fact the unique atmosphere at the famous KD-owned catamaran continuously brought to light remarkably intense concerts all along since 2013! That's where we seamlessly continue and present you with two wonderful live-bands alongside those masters with whom it once all began. Buckle up for a fine three-course menu, only to be experienced on Friday at MS RheinEnergie:
COVENANT - SUICIDE COMMANDO - EISFABRIK
TICKETS
As always tickets for CALL THE SHIP TO PORT are strictly limited (to 1333 pieces) and only available in combination with Amphi Festival weekend tickets. Those of you who did already order their Amphi weekend ticket 2018 may, as usual, order the standalone upgrade ticket for CALL THE SHIP! Pre-selling opens 01.11.2017 exclusively at Amphi Shop. Buy your ticket(s) now at www.amphi-shop.de, while stock lasts.
Admission: 7:00 pm / departure: 8:00 pm
For further info please visit: www.amphi-festival.de/calltheshiptoport.html
XIV. AMPHI FESTIVAL 2018 -OFFICIAL PRE-PARTY- 27.07.2018 – COLOGNE | THEATER AM TANZBRUNNEN
Friday, 27th July 2018, the dancefloor at Theater am Tanzbrunnen will be shaken again by a mix of ELECTRO, INDUSTRIAL, SYNTHPOP, 80s, GOTHIC and ROCK, presented by a sublime DJ line-up, consisting of:
SVEN FRIEDRICH (SOLAR FAKE) - DANIEL GRAVES (AESTHETIC PERFECTION) - DER SCHULZ (UNZUCHT) + MSTH (ELECTRONICDANCEART)
In addition to the sonic pleasures at the Theater, when the weather plays along, the beachclub "KM 689" will add its relaxed holiday atmosphere, in close neighborhood to the party area. As usual you will be able to collect your weekend festival wristband at the pre-party as well.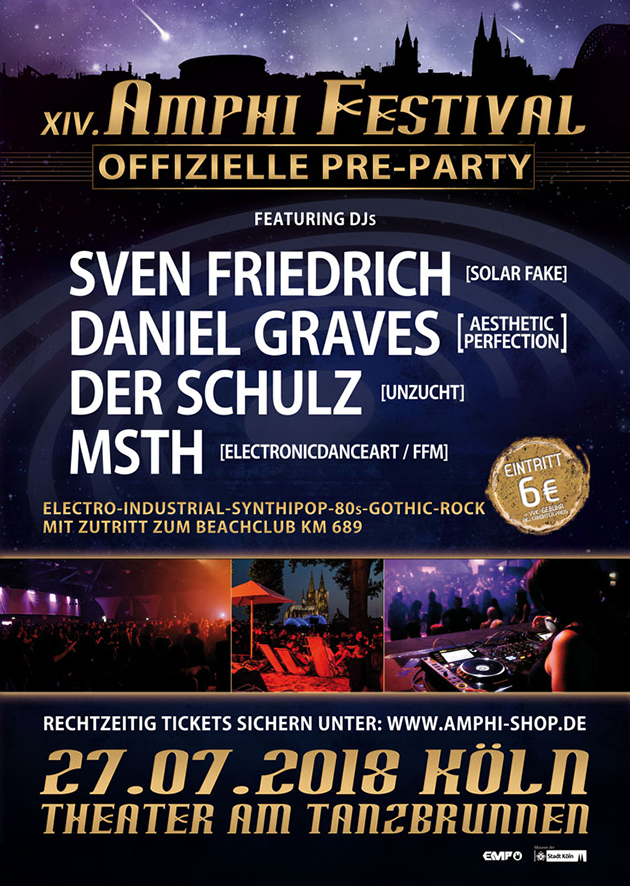 Doors | begin: 10:00 pm
Pre-sale: 6,00 € plus pre-selling charge & shipping
Box office: increased price
For further info please visit www.amphi-festival.de or www.facebook.com/amphifestival .
Official pre-party tickets are available now at Amphi Shop, www.amphi-shop.de, at all nationwide CTS/EVENTIM box-offices, online at www.eventim.de, www.oeticket.com, www.ticketcorner.ch and as PRINT@HOME edition.
Source: Newsletter