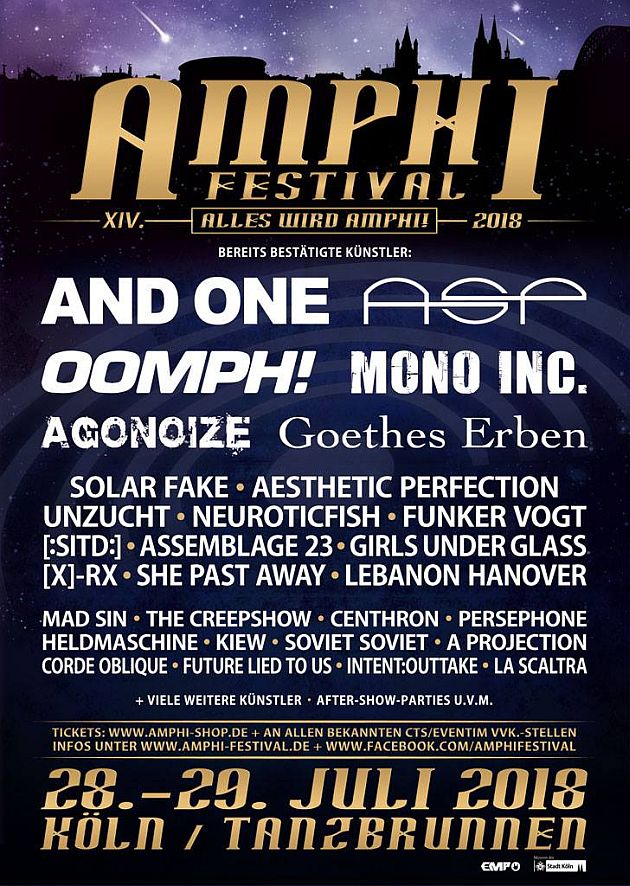 While fall is laying its grey gown across the land and the wind gusts the leaves from the trees, desire for Amphi Festival's next summer open-air fireworks in the Rhenish City of Cologne continues to rise every day. Speaking of the musical part, they already added a fair share of bands over the past weeks. This is where they seamlessly like to continue with eight additional highlights, pushing the dark heart for an even faster beat, as the promoters included the second headliner today! So clear the stage for: ASP + MONO INC. + AGONOIZE + [:SITD:] + ASSEMBLAGE 23 + SHE PAST AWAY + MAD SIN + CORDE OBLIQUE
Actually it feels a bit like the return of a long-lost son, finally seeing ASP back at the Amphi Festival to play his first show at Tanzbrunnen's stage since 2010. No doubt he must have a tad amount of stories to tell after his enduring journey. Exciting tales, clad into deeply enthralling gothic-novel-rock and an impressive show! So get ready for ASP as Amphi Festival's second headliner of 2018.
At the moment the Hamburg-based rockers MONO INC. are preparing a special celebration of their own, as they look back at some of their best works to date. Their best-of- & rarities album "Symphonies of Pain" is set to be released on 24.11. and offers a perfect occasion to return to Amphi Festival with an energetic live-performance.
AGONOIZE belong to the category of bands, whose heavy electrobeats and explicit lyrics literally translate into flesh and blood. Yes, "there will be blood on the floor" - the aggrotech-stars from Berlin warn precautiously. Thus, wherever AGONOIZE set the knife it shall soon be written all over the faces of their passionate followers. "Splatterdisco to the core", as the sound will shake you to the bone while the racing lifeblood pulsates through your veins!
Next up we proffer you a modern electro classic in the shape of [:SITD:]. 15 years have passed since the charismatic formation around Carsten Jacek and Tom Leszenski earned themselves immortality at the dancefloor with their legendary "Snuff E.P." and the follow-up album "Stronghold". Hits like "Snuff Machinery", "Laughingstock", "Richtfest" or "Kreuz:Gang" continuously paved their way. Not to mention their memorable concert during 2015's storm-Amphi. Slighty "gone with the wind", they mastered the challenge of gathering a massive crowd at the arena, setting the floor ablaze with a killer show on a very early Sunday!
In ASSEMBLAGE 23 from Seattle we recruited yet another long-term electropop-gem to adorn the Amphi line-up whose shows are comparably rare in Europe. As a matter of fact Tom Shear gets to celebrate the band's 20th anniversary in 2018. So we are happy to join the party, looking forward to some masterfully crafted danceable electro hymns.
Another highly fascinating phenomenon are SHE PAST AWAY. Long since Volkan Caner and Doruk Öztürkan managed to convert their exotic status as one of the few Turkish darkwave/postpunk formations into a highly addictive stand-out characteristic with a strongly growing fellowship. Currently the duo is more popular than ever, impressively proving how music will always be the ultimate language to unite people across the borders of cultural differences and spoken words. In a time like ours, the two Turks send out a powerful and precious signal!
If there is one thing for sure, psychobilly legend MAD SIN will get you into a chummy brawl, rocking out hell for leather. The band around mastermind "Köfte" truly remains an indestructible original from Berlin, plus Germany's best know representative of the psychobilly scene by counting hundreds of shows across the globe on their tally, including Europe, America and Japan. Right now MAD SIN enjoy their 30th anniversary. Even a new album is coming out soon. High time for us to activate the spin cycle for a little "Shake, Rattle & Roll". If you appreciate it a little rougher on the edges, this will be your ride for sure!
A virtuous combination of mediterranean folk and artful poetry awaits you with CORDE OBLIQUE. The ensemble from Naples, lead by guitarrist and composer Riccardo Prencipe, creates a unique magic, lifting the listener up on the wings of a beautiful daydream! Escapism in its purest and most emotional form!
Original Amphi Festival weekend tickets are exclusively available at Amphi Shop, www.amphi-shop.de! Furthermore festival tickets are available at all nationwide
CTS/EVENTIM
box-offices, online at www.eventim.de, www.oeticket.com, www.ticketcorner.ch and as PRINT@HOME edition.
Source: Facebook