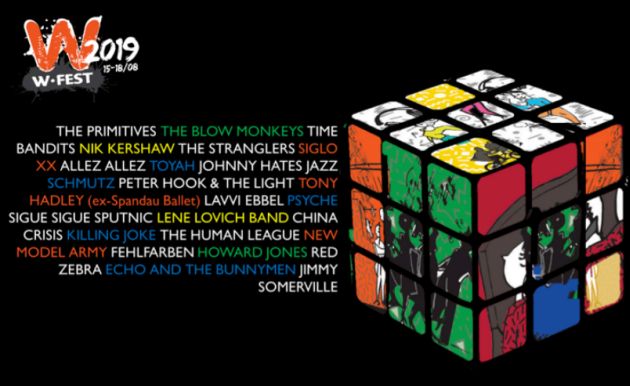 W-Fest in a few words is best live music from 80ies, unique experience area back2back concerts @ double stage, living room concerts, molecules ride4charity, super food, E-bike test drive, barbershop, more than 40 Bands, bedroom experience, VIP-village, wireless-wave, black & gold cinema, nonstop deejay sets, synth scene, wave cave, Olivier Daout stage and so much more...
W-Festival, that's music. Double feature stage with non-stop back2back concerts at the W-fest double stage (indoors). In addition, each day more intimate "living room concerts" on the experience space (outside) of the Olivier Daout Dome. Olivier was one of the biggest fans of W-fest from the very beginning. Unfortunately, last year, he died. W-fest pays homage to him with the Olivier Daout Dome. The three scenes of Deejay on the experience space (Coffee Lounge, Molecule Stage and Bavik Super Pils Stage) will guarantee an explosion of pleasant music!
W-Festival is Molecule Ride4Charity

Bike Rollers race for charity. Goal: get the best time and win a lifetime subscription to W-fest for two people. Each participant receives a 'healthy goody bag'. Participation costs € 5 per trip and goes integrally to the charity.
W-Fest Black & Gold Cinema

Movies, impressions of the late 70s and 80s from a beautiful long inflatable sofa. Imagine: a giant 8m by 2m seat and a giant screen. With at least three movies a day, the best of the 80s on the big screen with the "W-Fest Outdoor Black & Gold Cinema". You will enjoy the best sound possible with your own wireless headset.
W-Fest Permanent Deejay

The best music of the 80s non-stop at W-Fest. Three stages, including one with the Bavik Super Pils competition. Talents from everywhere will soon be able to register and participate in our selection tests. The other 2 stages will be reserved for fixed values.
W-Fest Experience water bed

Live the W-Fest experience on the experience area from a luxury waterbed, with exclusive room service included. When you are comfortable with your partner or friend, you will look at the main stages from a water bed. And through your personal headset: the sound of your favourite band on stage! Bavik will offer an exclusive drink. Then you will receive a personal photo. Souvenirs 4ever!
W-Fest Wireless Wave

Enjoy, under ideal sound conditions the shows or deejay sets in the experience area via the W-Fest Wireless Wave, UNIQUE at festivals-city!!!
W-Fest VIP formulas

(Re)discover the multiple VIP possibilities at W-Fest: Canal Z deck / VIP deck / Skybox
W-Fest = 100% FESTIVAL

Concrete stop! The outdoor setting will be completely decorated to festival standards. Full outdoor experience with among others
W-Fest Flight Simulator

Test if you know how to take off from the experience spot and make your first flight in the W-Fest flight simulator
W-Fest Relax-Beauty

The W-Fest Experience Zone offers relaxing massages, hairdressers, beauty treatments and more. With the support of Barbier Tom, Backstage Massage & Syntra, sponsored by WIDMER and Schminkkoppies' blacklight makeup (NL). Together they form the W-Fest Wellness Centre with a coffee lounge and a permanent DJ set
W-Fest Ev Testrides

By all means Bicycle! EZ-rides, E-Bike, BMW C-evolution motor scooters. W-Fest offers a test tour and an information booth on driving electric vehicles. Electric bicycles, scooters and steps will be available to try under supervision.
W-Fest Daily Festival Art

The artists of W-Fest will paint on a large painting canvas for the good cause! Every evening at 11 pm, an auction will take place. A 10m by 3m canvas divided into 30cm by 30cm parts, painted by the artists present; unique works that will be auctioned at the end of each festival day! Proceeds from the auction will go to charities selected by W-Fest partners.
W-Fest Private Skybox

A View To A Kill - Personalized Skybox with private bar for business or groups of friends of twelve people. Premium view main stages
W-Fest Bavik Super Pils

Deejay Contest. Who can perfectly mix the 80s soundtrack into a contemporary mix? W-Fest proudly presents the "Bavik Super Pils Stage", where they will make room for the talent of "DJ"! A "vibrant" scene with high quality non-stop music. The selected DJs will be the winners of the "DJ Bavik Talent Contest" and will rightly occupy one of the most wanted DJ venues in W-Fest.
The Wieze-stube

Back to the Octoberfest at W-Fest, with real Wieze pots of beer!
The St Bernardus café

A must for all W-festers. Enjoy the cosiest café at W-Fest with friends. With tasty beers from Sint Bernardus brewery on the menu.
Festival Address: Zuiderlaan – 8790 Waregem – Belgium
Source: Press Release