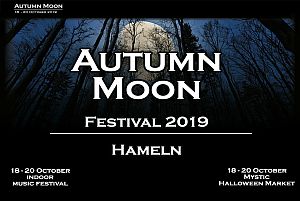 Festival creator, motor and soul, Dominik Wrehl, promises: "The 2019 party becomes bigger than all the other ones before." Besides the picturesque setting of the Hameln Weser Promenade, varying locations, short ways, a familiar atmosphere and the mystical, fanciful site decoration, the organizers show off with an exciting line up mix and long playtimes for every band. All bands get the chance to present themselves appropriately and to create the right mood. Overall, this festival is the right place for stage hopping friends, truffle searchers and fans.


Oct 18-Oct 19, 2019 – anniversary edition (plus Oct 18 – Oct 20, 2019 Mystic Halloween Market)
Now, the distribution of bands per day is fixed, day tickets are now on sale. The headliner for Saturday Oct 19, 2019 is yet to be announced.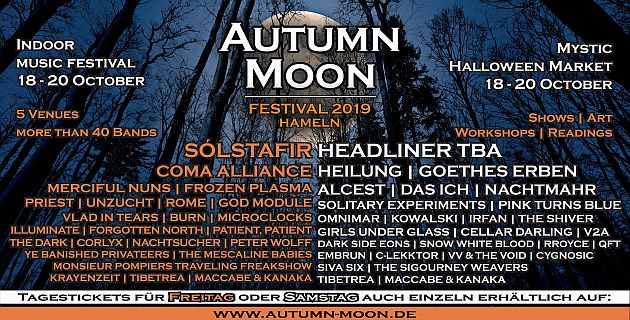 Sale:
http://pec-tickets.de/produkt-kategorie/tickets
EUR 78.00 incl. VAT, plus shipping – two-day ticket (Oct 18 – Oct 19)
EUR 54.00 incl. VAT, plus shipping – Friday (Oct 18)
EUR 56.00 incl. VAT, plus shipping – Saturday (Oct 19)


Source: Press Release