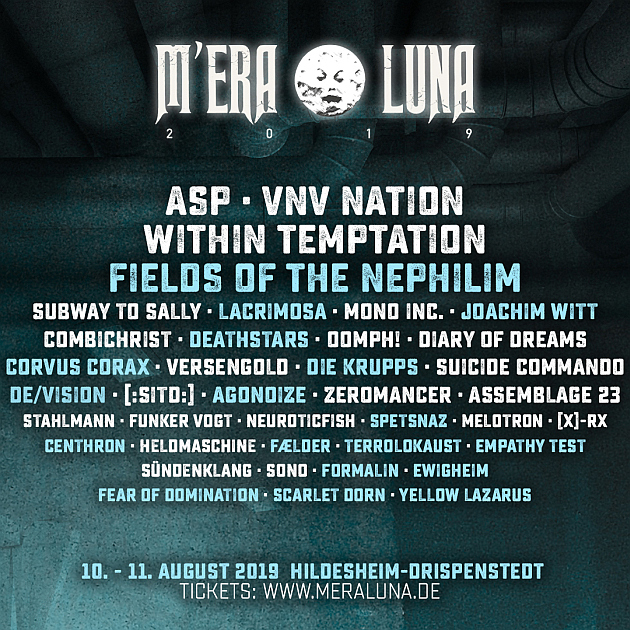 Dear night owls! Last year, once again the M'era Luna Academy with its numerous workshops got great response by the audience. There was the exciting "Geräusche machen den Film" workshop (noises make the film workshop), where you yourselves have added sound to a movie scene, or the sincerely honest statements of the "Express-Yourself!" lesson, or all further fascinating speeches - everyone got something to take home with. This year, the M'era Luna wants to take up the success of the last year, and so a black bouquet of Academy workshops was put together, and it will become very interesting. More information see below. But at first good news for all the planners:
The Timetable is here!

When is your favourite artist on stage? When is it time for a culinary food court travel? When is dancing time at the Hangar, and when is enough free time for a shopping tour at the traders mile? When is a cool met and Gaukeley calling at the medieval market? All those questions and many more can be answered with the M'era Luna Timetable 2019. Download: https://www.meraluna.de/de/interaktiv/downloads/
M'era Luna Academy

Witchcraft - Symbolism, rituals, myths

Witchcraft, the one who sits on a fence (Zaunreiterin), Hagazussa, protection circles, Walpurgis Night, the great goddess and the antlered god, rituals and magic. Since centuries, there are lots of ideas and myths about those terms. For more than 20 years, Amara is spiritually ingrained in the world of witches, and together with you, she wants to shed light into the darkness of different paths and magic communities.
Jewellery Workshop by Jane Nevermore from Attitude Holland

Jane Nevermore is a designer for alternative fashion and jewellery. She started very young to make her own creations come true. The workshop teaches you basic steps that you need to make your own chokers. The materials will be provided, all you have to bring is your own style and creativity!
Geräusche machen den Film - Sounds make the movie - Foley Workshop

What would a movie be without background noise, without the screaming of a chainsaw, the scared breathing in the dark, where water is dropping from the ceiling… or is it blood? Because of the success of the 2018 edition and the high demand, here is the sequel of "Geräusche machen den Film" (noises make the movie) with Elias Struck, who is a producer and sound designer. The genre of this year's noise making is still a secret…
InnerSelf - How to show your inner beauty.

Every human being is beautiful. The InnerSelf workshop teaches you, how to catch that inner beauty and immortalize it in a photo. Since 2004, the Black-Fascination duo takes photos of many dark festivals and concerts like the M'era Luna. Jessica and Benjamin attach great value to shoot all the different visitors, because a festival is nothing without the audience!
MakeUp Your World - powered by ROSSMANN

You miss the finishing touch of your make-up? Your friend just needs a few hours to achieve superb results, and you have no idea, how to do make it? Then the "MakeUp Your World - powered by ROSSMANN" is just the right thing for you! Dae Joon, make-up artist and model, and her team show you, how to bring new shine on your beautiful faces with customary products.
And many more!
Workshop Registration: https://www.meraluna.de/de/academy
More News

Deezer x M'era Luna - The official festival playlist 2019

Already downloaded the festival check list and made your purchase for the M'era Luna? No? No problem, it should not be overdone. What can't be done early enough, is to play the soundtrack of the upcoming festival. Check the line-up with the official M'era Luna festival playlist 2019 on Deezer, listen to your favourite artists or fall in love with that band or those. Here is the playlist: https://www.deezer.com/de/playlist/5430332182
Beck's Pre-Order - Pre-order and enjoy ice-cold

Dear beer friends, you already know how it works: Pre-order beer and get it on site ice-cold! The Beck's Pre-Order makes it possible! It's a minimum of carrying around, of stress, and of thirst. Pre-order: https://www.meraluna.de/de/interaktiv/shop/#beck-s-pre-order1
"Mein-Zelt-Steht-Schon" - "My tent is already My tent is already built up"
Final spurt, dear night owls! The #mera19 is within easy reach and so it's getting high up to get the right accommodation. For some, only the half-open igloo tent from the discounter comes into consideration, for others it may be a bit more space, quality and sustainability. Or you are looking for a relaxed alternative if you want to go to the festival by train, bus or bicycle. All this you can do with the service of "mein-zelt-steht-schon", where you can book accommodation of various sizes and facilities that are already available on your arrival. Book now: https://www.meraluna.de/de/wohnen/mein-zelt-steht-schon1/
Tickets

Combined tickets are available for EUR 104.00 plus EUR 5.00 waste pledge at www.meraluna.de, www.eventim.de or by phone at +49 (0) 1806 - 853 666 (20 cents per fixed network call, mobile max. 60 cents/call). Day tickets for Saturday are available from EUR 60.00 incl. fees, and for Sunday, day tickets cost EUR 55.00. Unfortunately, the caravan badges are sold out. In case you need power for your caravan, please book a Voltergeist update. Tickets: https://www.meraluna.de/de/tickets/
Source: Newsletter