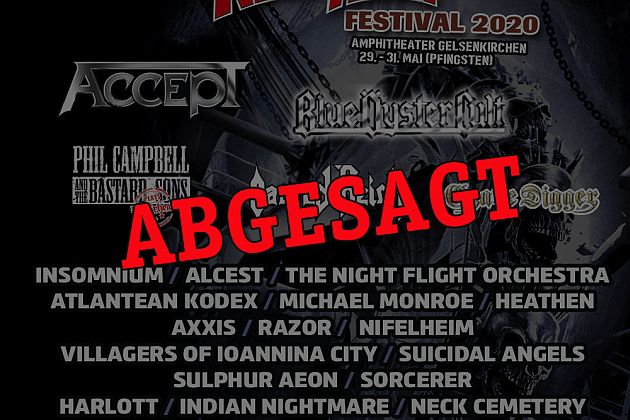 Dear Rock Hard Festival friends! As you have probably already learned from the press, major events (provisionally) in Germany are prohibited until August 31. Of course - and this has been evident for some time - also the family reunion at Rock Hard Festival in the Gelsenkirchen Amphi Theatre is also affected. Ultimately, the disappointment among the organizers is of course huge, especially because they would have had a particularly coherent program at Pentecost this year. The response, even in the pre-sale, was better than it has been for a long time. In addition, some organizational work is now disappearing. Both on the part of the bands and at the festival.
But of course we all also know that there are much more important things than a Rock festival and that risks - however unpredictable - are unfortunately part of an open-air event. Rock Hard Festival will make another attempt in 2021 and simply postpone the festival in this form for one year. This initiative is currently very well received by the bands. At the moment everyone understandably wants to have some planning security. Of course, promoters cannot foresee whether there will be any deviations in terms of dates or health. They assume that the last line-up will last for the time being and they have reopened the ticket shop.
The hard tickets already purchased from Rock Hard remain valid. Promoters therefore do not issue vouchers that only consume unnecessary resources. The tickets that will be purchased for 2021 from now on will also have the year "2020" printed on them. The Rock Hard team will be happy to answer any further questions you may have from Monday 11 May at +49 (0) 231 - 56 20 14 - 20 (10 a.m. - 5 p.m.) or
This email address is being protected from spambots. You need JavaScript enabled to view it.
. Fans who purchased their ticket from other providers should contact them directly. Rock Hard organizers do not have any influence on the procedure of these advance booking offices.
Pentecost 2021 is May 21-23. As always, organizers will make every effort to ensure the safety of the festival visitors as best as possible. They are looking forward to rocking the hut with you FINALLY again!
Source: Press Release