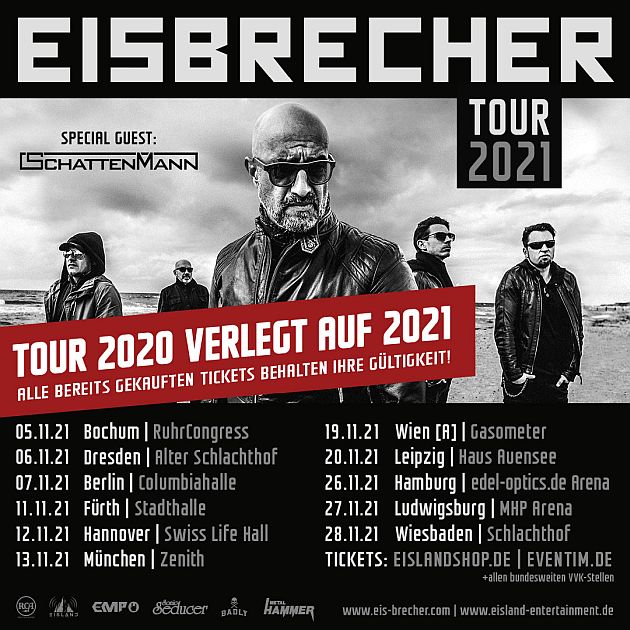 Here are the news about the Corona-based postponement directly from the band: "Dear Icelanders! Here comes the fist! Here comes the message that nobody wants to hear, that nobody wants to say… but unfortunately it has to be said and heard… please share, even if it is difficult, so that everyone who is concerned can get it quickly and directly. We have to take consequences based on the latest political decisions and the current situation. That is hard... and we want to leave it at this one adjective, even if one could think of a hundred words to describe the feeling that concerns us all. After months of waiting and hope, after the "out" for our first "Europe Tour", after the out for all spring and summer events, our "Volle Kraft Voraus" Festival on 12 September 2020 in Neu-Ulm and our complete tour in autumn are affected now. Rumms... that was the iceberg! Direct hit! How much we worked towards it, how much we looked forward to it... but we have no choice but to pull the plug and put live plans until the end of November 2020 on hold.
We have to go through this together now... that hits us all equally hard, totally and brutally. We all must not do what is so important to all of us: experience music together… live and directly and in real time and in colour, with people from all over the world who are close... who are one. In the right place at the right time, where euphoria and real empathy create what we all need: energy! We EISBRECHER want to play in front of people, close to close, skin to skin, sweat to sweat, aura to aura... there is no alternative for us. That's how we love it, we can't help it! Real emotions from people for people through damn loud music. Yes... We will all have to miss it for a long time to come, our beloved Rock and Roll live collective, which gives us all hope, strength and the certainty that we are not alone with our attitude to life in this strange world! United we stand... in the south, west, east and north. Rock knows no boundaries and systems. Rock only knows people! We know what we have in you, dear EISBRECHER fans, friends, families all over the world... now we can learn what longing and hope means, what waiting and missing means!
If you want our small, fine "Volle Kraft Voraus" festival to survive, please keep your tickets for 2021 as we will keep the line-up 2020 with all artists and friends. If we want to make the first big tour together since 2017 in 2021 a "welcome-back" spectacle and a "let's all go out as if there was no tomorrow" superboard party, then please keep your tickets. We want to keep you, our band, our crew, our way of living and playing music and our hope that every madness has an end! If you want to support bands and artists in this difficult time: buy records and visit the online shops... give away tickets for 2021...that secures jobs and helps many to survive. Stay strong, don't hang your head… and let's look ahead together… it comes as it comes… either way! Fortunately, we are crazy!
And we don't feel like bad news anymore! From now on: No more bad news! Bad news is banned from us with immediate effect! 2020 annoyed us long enough! We have not been idle in the past few months and have forged a few ice-cold, crazy ideas... 'Stoßgebet' was just the beginning... from September on it comes suddenly... you will not be able to save yourself from intensive EISBRECHER full operation can! Always forward! Stay informed, stay as you are, stay healthy... and... stay true to us! Your EISBRECHER"
VOLLE KRAFT VORAUS FESTIVAL 2020 postponed to 2021!

18 Sep 2021 - Neu-Ulm / Ratiopharm Arena
EISBRECHER
VNV NATION
LORD OF THE LOST
UNZUCHT
MAERZFELD
NULL POSITIV
All bought tickets for the 2020 edition of the festival remain valid for 2021!
www.vkv-festival.de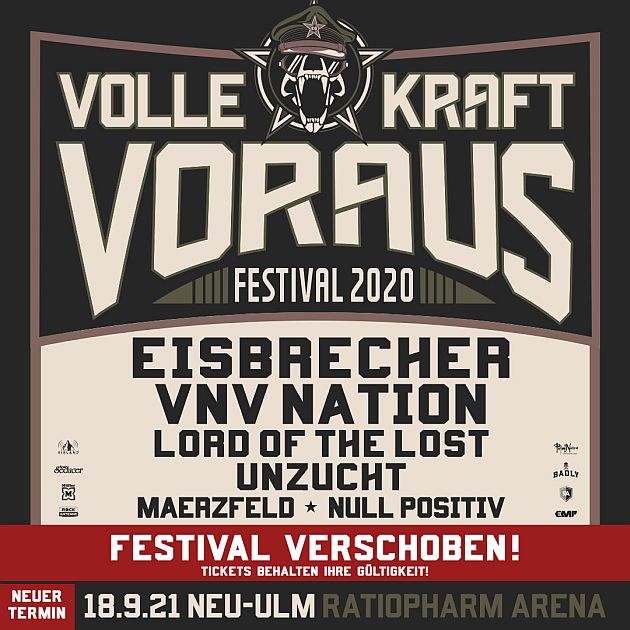 EISBRECHER TOUR 2020 postponed to 2021!

05 Nov 2021 - Bochum | RuhrCongress
06 Nov 2021 - Dresden | Alter Schlachthof
07 Nov 2021 - Berlin | Columbiahalle
11 Nov 2021 - Fürth | Stadthalle
12 Nov 2021 - Hanover | Swiss Life Hall
13 Nov 2021 - Munich | Zenith
19 Nov 2021 - Vienna (A) | Gasometer
20 Nov 2021 - Leipzig | Haus Auensee
26 Nov 2021 - Hamburg | edel-optics.de Arena
27 Nov 2021 - Ludwigsburg | MHP Arena
28 Nov 2021 - Wiesbaden | Schlachthof
+ Special Guest: Schattenmann
All bought tickets for the 2020 concerts remain valid for 2021!
www.eis-brecher.com / www.eisland-entertainment.de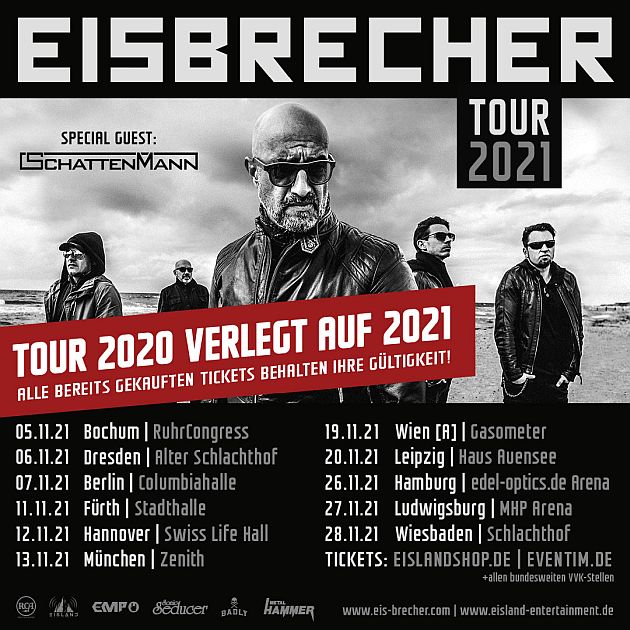 Source: Press Release