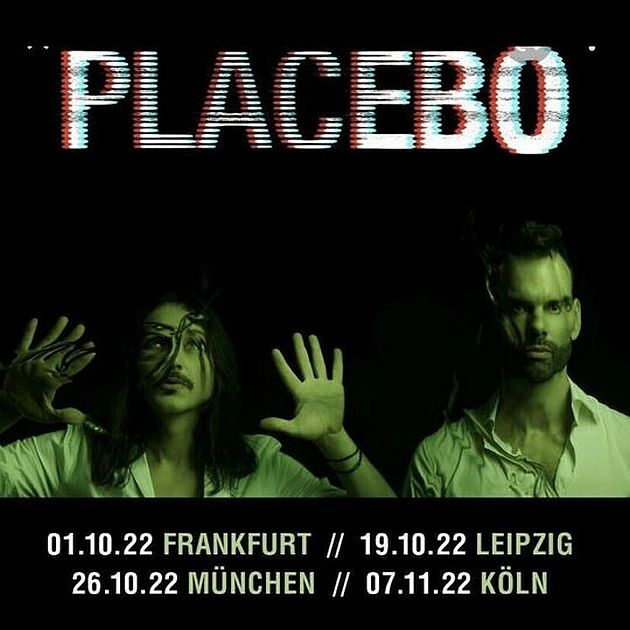 PLACEBO recently released their first single in five years, 'Beautiful James'. Now the London-based Alternative Rock band is backing up with the second track 'Surrounded By Spies' and an album announcement: The new work 'Never Let Me Go' will be released on March 25th and is the eighth studio album by the British. PLACEBO have also confirmed a tour of Germany for October / November 2022.
Founded in the mid-90s, PLACEBO have been one of the defining bands of the last 25 years and are considered visionaries of their genre. With 'Beautiful James' the band around singer Brian Molko returned for the first time. "If the song serves to irritate the squares and the uptight, so gleefully be it. But it remains imperative for me that each listener discovers their own personal story within it - I really don't want to tell you how to feel", tells Molko. What started out of an insomnia only with photographs and a song title, which evoked a very specific feeling in the band and thus determined the musical impression of the work, results in a song that is as powerful as it is delicate.
While 'Beautiful James' aims to normalize and celebrate non-heteronormative relationships as a kind of message of defiance, 'Surrounded By Spies' is about further political and social grievances. "I began writing the lyrics when I discovered my neighbors were spying on me on behalf of parties with a nefarious agenda", said Molko, who then began to think about the worldwide surveillance and restriction of privacy as well as the exploitation of our data by multinational corporations. "It's a true story told through a lens of paranoia, complete disgust for modern society's values and the deification of surveillance capitalism."
The band has always been anxious to grasp humanity in all its facets and to examine both its beauty and its flaws. Even the band's self-titled and platinum-certified debut album from 1996 paved the way for a major change in British music, which was saturated with Britpop at the time, acted as an antithesis to Britpop and inspired the following generation of bands to join PLACEBO right away to do. Since the beginning of their career, the Alternative Rockers from Great Britain have shown themselves to be more versatile than almost any other band. In October 2022 we can experience PLACEBO again in this country with new music live on stage.
The tour is presented by VISIONS and Sonic Seducer:
Oct 4, 2022 Stuttgart - Hanns-Martin-Schleyer Halle
Oct 16, 2022 Berlin - Mercedes-Benz-Arena
Oct 22, 2022 Hamburg - Barclays Arena
In addition, the following concerts organized by Live Nation take place:
Oct 1, 2022 Frankfurt – Festhalle
Oct 19, 2022 Leipzig - Quarterback Immobilien Arena
Oct 26, 2022 Munich – Olympiahalle
Nov 7, 2022 Cologne - Lanxess Arena
Tickets for the concerts will be available from Monday, November 15, 10:00 a.m. exclusively in the Artist Presale via placeboworld.co.uk and eventim.de. From Wednesday, November 17, 10:00 a.m., tickets are available from 41.00 euros plus fees at all known CTS pre-sale offices and on the hotline 01806 - 853653 (0.20 € / call from landline, mobile max . € 0.60 / call), on fkpscorpio.com and
Eventim
.