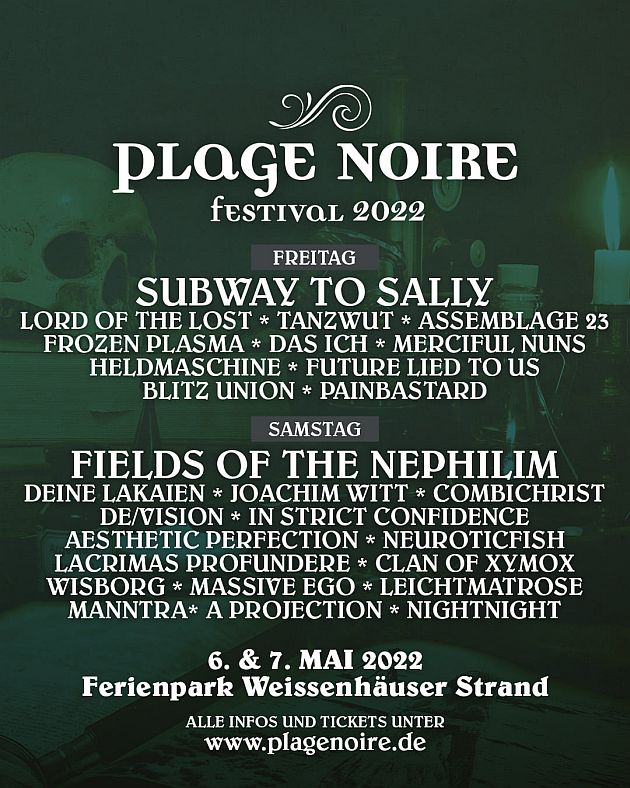 While the indoor gothic festival PLAGE NOIRE 2021 was still in full swing, advance sales began for the next edition, which will take place on May 6 and 7, 2022 at the Weissenhäuser Strand holiday and leisure park. In addition, the first eleven names for the line-up 2022 were announced at the same time, including the titans of the Gothic movement FIELDS OF THE NEPHILIM and the Medieval Rock institution SUBWAY TO SALLY. Now, the organizer FKP Scorpio announces sixteen more bands and completes the music program. This means that the days of the individual acts are now set and a limited contingent of tickets without an overnight stay is on sale in advance.
The band wave is led by DEINE LAKAIEN, who inspire their fans with a mixture of Electronic Avant-garde and Dark Wave, as well as the Dark Rock band LORD OF THE LOST around front man Chris Harms, who move musically skillfully between hardness and melody. The Norwegian-American Electro Metal group COMBICHRIST mixes a multitude of different genres into a captivating, explosive, musical inferno. The guests can also look forward to a pompous spectacle of the art of playing with the Medieval Rock band TANZWUT as well as the melancholy and glorious Synth Pop by FROZEN PLASMA.
The American Aggrotech project AESTHETIC PERFECTION and the creators of the New German Death Art DAS ICH could also be won over for the next edition of the indoor festival. With CLAN OF XYMOX, one of the most important representatives of the Dark Wave scene joins the line-up. In addition, music fans get their money's worth with the Dark Rock band LACRIMAS PROFUNDERE and the Gothic Rock trio MERCIFUL NUNS. The Goth Rock duo WISBORG, the bittersweet Indian Rockers LEICHTMATROSE, the Croatian Folk formation MANNTRA, the EDM quartet BLITZ UNION, the Future Pop and Aggrotech artist PAINBASTARD and the Swedish Post Punk band A PROJECTION complete the line-up.
In recent years, PLAGE NOIRE has not only developed a reputation for artistic stage performances but also for its detailed and scene-true supporting program. Accordingly, guests can expect surprising productions related to the festival legend, aesthetic fashion walks, interesting workshops, autograph sessions for the performing bands, a Gothic bazaar and much more in the coming year.
At the moment, the majority of tickets are already sold out. Tickets are available on the booking hotline +49 (0) 1806 006660 (EUR 0.20 / call from German landlines, max. EUR 0.60 / call from cell phones) or on plagenoire.de/tickets. Tickets without an overnight stay are also new on sale. Tickets for both festival days cost € 140.25 including advance booking fees. Tickets are also available for Friday (EUR 75.00 including advance booking fees) and Saturday (EUR 75.00 including advance booking fees).
PLAGE NOIRE 2022 confirmations

Friday: Subway To Sally | Lord Of The Lost | Tanzwut | Assemblage 23 | Frozen Plasma | Das Ich | Merciful Nuns | Heldmaschine | Future Lied To Us | Blitz Union | Painbastard
Saturday: Fields Of The Nephilim | Deine Lakaien | Joachim Witt | Combichrist | De/Vision | In Strict Confidence | Aesthestic Perfection | Neuroticfish | Lacrimas Profundere | Clan Of Xymox | Wisborg | Massive Ego | Leichtmatrose | Manntra | A Projection | NightNight
Source: Press Release