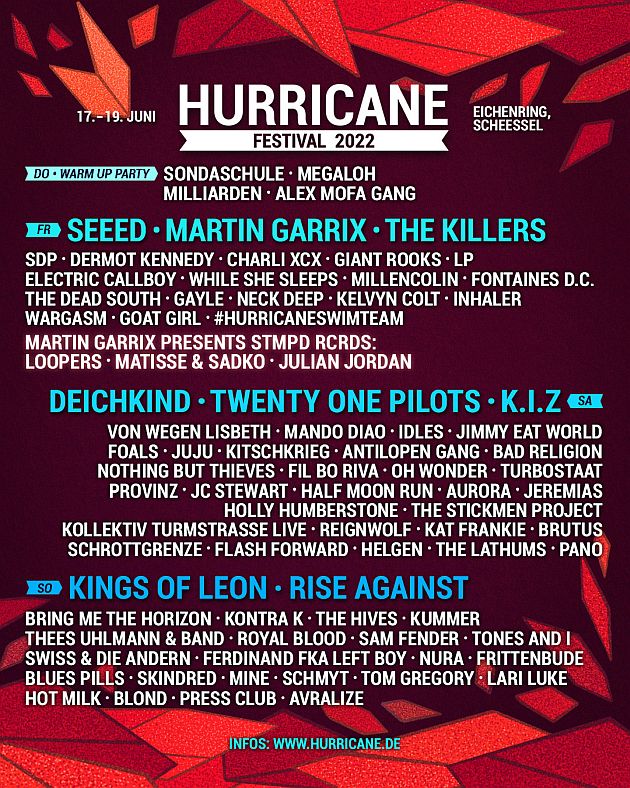 WE'RE BACK, BABY, they scream! YES, DAMN! Get out of the deep, up onto the field! Music at majestic volume, summer at your back, the best people around and the only, really ONLY true way of camping - with patched camping gear and pallet beers to the full escalation - AND SO MUCH FURTHER! It's finally time to fire up the good old open-air engine and meditate mentally and physically on the three-day state of emergency between canned ravioli and mobile toilets. Because the Hurricane Festival is happening! Yes, ma'am!
Glad you brought this up though - they have a colourful bouquet of news for you that urgently needs your full attention, not least new acts! Attention, it starts straight away: CHARLI XCX, ELECTRIC CALLBOY, GAYLE, SCHMYT, JEREMIAS, TOM GREGORY, THE STICKMEN PROJECT, WARGASM, GOAT GIRL, PANO, AVRALIZE. But we don't want to hide a few cancellations from you at this point. Because due to the pandemic situation, CHVRCHES, BOMBAY BICYCLE CLUB, KILLSWITCH ENGAGE, MAYDAY PARADE and MIYA FOLICK unfortunately cancel their gigs on the Hurricane. The party starts already on Thursday evening, it's a matter of honour! Promoters know how to get you up to speed as quickly as possible and the following acts will help at the Hurricane Warm-Up party: SONDASCHULE, MEGALOH, MILLIARDEN and ALEX MOFA GANG.
SafeBOXes - your festival locker

Enjoy the Hurricane to the fullest - without worrying about your valuables. SafeBOXes lockers keep your valuables safe in an easily accessible place. Thanks to the built-in socket, you can supply your technology gadgets. The entire locker system at the Hurricane will be looked after and monitored on the day of the event until the end of the event. We recommend booking your locker online before the event. If enough lockers remain free, you can also book them on site.
My tent is already up ("Mein Zelt steht schon")

Do you want to make the journey to the Hurricane completely relaxed? Completely without haste and time pressure, with little luggage and towing? Do you want to take part in the Hurricane and camp, even though you don't have your own camping equipment? The service from my-tent-stands-already makes it possible! Before the festival, you can book a tent and accessories at your leisure, which will be set up for you on site. All you have to do is move in! https://pier-and-peer.com/channel/Hurricane2022/step/Intro