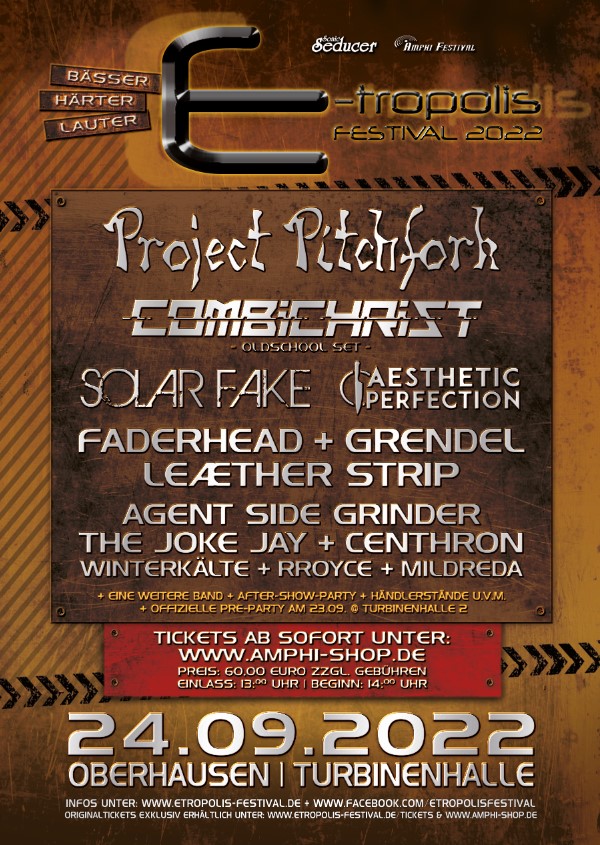 Where COMBICHRIST hit the stage, they shatter the floor! For this year's edition of the E-tropolis Festival, Andy LaPlegua and his crew are diving deep into the electronic toolbox to serve you a peppered OLDSCHOOL SET with massive steam under the hood. "Darker - harder - louder" and completely in line with how we like it best here at our electro powerhouse in Oberhausen! Considering this most recent addition, the following bands are now confirmed for the E-tropolis Festival 2022:
PROJECT PITCHFORK + COMBICHRIST (OLDSCHOOL SET) + SOLAR FAKE + AESTHETIC PERFECTION + FADERHEAD + GRENDEL + LEÆTHER STRIP + AGENT SIDE GRINDER + THE JOKE JAY + CENTHRON + WINTERKÄLTE + RROYCE + MILDREDA
The fantastic line-up will be rounded off by another band, which we are proud to announce to you soon. The 11th E-tropolis Festival will take place on 24.09.2022 at Turbinenhalle Oberhausen! Tickets are available online at https://www.amphi-shop.de (here exclusively also as 5+1 package), at all known CTS/EVENTIM pre-selling offices and online at https://www.eventim.de.
Source: Press Release