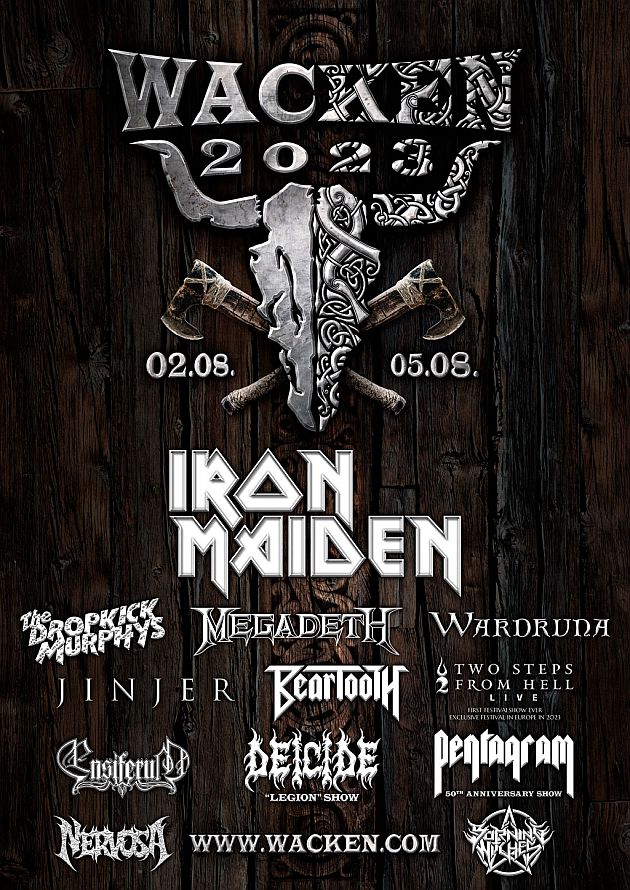 Wacken Open Air 2022 ends successfully - first bands confirmed for 2023! IRON MAIDEN will be headlining next year - pre-sales start on Sunday evening! The sold out 31st Wacken Open Air came to an end this Saturday evening. 83,400 fans celebrated gigantic shows by JUDAS PRIEST, SLIPKNOT and POWERWOLF at the world's largest metal festival. A total of over 200 bands played on nine stages, the Swedes AMON AMARTH even gave an unannounced secret concert directly under the huge Wacken skull between the main stages.
The joy of finally being able to experience live music again and a diverse open air with like-minded people from all over the world could be clearly felt everywhere. The organizers Holger Hübner and Thomas Jensen also comment: "Wacken Open Air is back - finally! We missed the festival as much as the fans. Now we are already looking forward to the next edition in 2023, which will offer four days of live concerts for the first time. Tickets go on sale as early as Sunday evening."
The police, rescue service and fire brigade as well as the responsible public order office in Schenefeld also drew an exceptionally good balance at a press conference on the afternoon of the last day of the festival: All trades report "no special incidents" and an extremely low frequency of use below the level of the last W:O:A in 2019. The fire brigade only recorded a number of operations in the low double-digit range, and the number of offenses dealt with by the police even fell by 60 percent.
First bands confirmed for 2023, live for four days for the first time

Before the end of the event, the first bands for the next Wacken Open Air were announced on the main stage to thunderous cheers from the metalheads. It will take place from August 2 - August 5, 2023, which means four days in a row for the first time. The line-up is led by a sensation: The mighty IRON MAIDEN are returning to the "Holy Ground" and will be headlining Wacken for the fourth time in 2023. Hardly any other band has defined classic Heavy Metal as much as these British legends, which promise a tremendous production, immense joy of playing and of course their monstrous mascot Eddie.
Also announced are US-based MEGADETH, ranked among the "Big 4" of Thrash Metal worldwide, Irish-American Folk Punk institution DROPKICK MURPHYS, and Ukraine's JINJER, one of the hottest bands in modern Metal today. Behind TWO STEPS FROM HELL is a Californian composer duo whose Epic Music can be heard in thousands of films, trailers, series, spots and games. For the first festival appearance of their career and the only festival show in Europe in 2023, they promise a tailor-made, unique Wacken performance with Epic Music at an epic open air. Fans can also look forward to a "50th Anniversary Show" by Doom pioneers PENTAGRAM, while the Death Metal guys of DEICIDE also want to celebrate their genre-defining second work 'Legion' with a special performance. Other endorsements include: WARDRUNA (Atmospheric Nordic Folk), BEARTOOTH (Hardcore), ENSIFERUM (Viking Metal); NERVOSA (Thrash) and BURNING WITCHES (Heavy Metal). More bands will follow.
All in the spirit of the Vikings

In 2023, the Wacken Open Air will once again be pervaded by a theme: the culture of the Vikings. This will be reflected in the overall appearance as well as in artistic performances, program content and other offers on the site.
Advance sales start on Sunday

Tickets for Wacken Open Air 2023 are available from Sunday, August 7 at 8 p. m. on metaltix.com. The fast tickets, which are limited to 10,000 pieces, come with an exclusive special shirt. If the fast tickets are sold out, the hard tickets go on sale. Details on the presale modalities can be found on metaltix.com and from Sunday noon on Wacken.com. A special bonus awaits all fast metalheads: Anyone who orders within the first 24 hours after the start of advance sales will automatically be entered into a draw for a real Harley Davidson. This motorcycle was decorated with a high-quality W:O:A finish and is a one-off worldwide.
Source: Newsletter